Mystical City of God Catholic Ebook

Awesome Spiritual Reading For Lent!
Venerable Mary of Agreda's The Mystical City of God is a spiritual reading treasure! It was translated by Fiscar Morison and we offer it as a huge download of 4 Catholic ebooks.

Order Mystical City of God PDF eBook $12.98


---

---
You'll find that it is a lovely book of Mary.

It is often recommended as spiritual reading for Lent. 
It defends the Immaculate Conception nearly two hundred years before it was a defined dogma of the Catholic faith. 
It emphasized Our Lady as Co-redemptrix and Co-Mediatrix of all graces.
We are pleased to note that we have many satisfied customers of this ebook. The PDF format is a super convenient way to carry and read this four volume set.
PDF Ebook By Venerable Mother Maria d'Agreda
Our Lady herself dictated this book to Ven. Mary D'Agreda. It contains revelations from the life of Mary and God's plan for creation and the salvation of souls.

Mystical City of God - Lenten Spiritual Reading
Four Catholic eBooks In One Download
St. Anne's Helper offers the Mystical City Of God, by Maria d' Agreda as an ebook PDF download of all four volumes. This is a HUGE download of four books, so you'll want to have your computer ready to accept long files.
Then cozy up and treasure your time reading it! :-)
If you're going to put it on a tablet, it is best to download to a computer first and then upload to a tablet. This ebook is in PDF format so it can be read on any device.
At one point TAN Books increased its price to $160 and now you can get it in many places for a lot less. You'll like ebook version is clean of library markings. There are four volumes ready for immediate download in one bundle of four Catholic ebooks:
City of God: The Incarnation
City of God: The Conception
City of God: The Transfixion
City of God: The Coronation
Venerable Mary of Agreda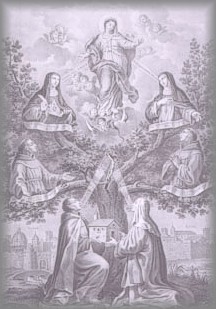 Plate from the Mystical City of God: Family Tree
We would like to let the four volume book speak for a moment about the virtues of the beautifully incorrupt Venerable Maria de Jesus de Agreda:
"Mary of Agreda "was the daughter of Francis Coronel and Catherine of Arana, born April 2, 1602, in the small town of Agreda near Tarazona in Spain. In 1617 she entered the convent of the discalced Franciscan Nuns in the Convent of the Immaculate Conception in Agreda and took her vows one year later. In 1625 she was chosen abbess, much against her wishes, and, except during a short intermission, was re-elected every three years until she died, in 1665. The fame of her prudence and foresight, not only in the government of her convent but in other matters, soon spread outside the convent walls and persons of the highest rank in state and Church were eager to obtain her counsel in important affairs. King Philip IV visited her several times in her convent and corresponded with her about national affairs for many years."

---
Virtues of Mother Mary of Agreda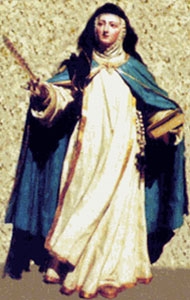 Mother Mary of Agreda
"But she was no less famous for her exalted virtues. In many respects her life was a faithful copy of that of St. Francis. The miracle of bilocation related of her is in fact more remarkable and lasted a longer time than that recorded anywhere in the lives of the saints. Her good sense, her truthfulness, her sincerity, her humility, her unselfish love of God and man eminently adapted her for the communication of messages from God to men." (p. xiv-xv)
An evidence of this today is that she is still beautifully incorrupt!
Order Mystical City of God PDF eBook $12.98


---
Writing The Mystical City Of God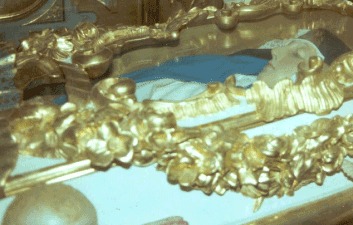 Incorrupt Body of Mother Mary of Agreda - Author of Mystical City of God.
We are so edified by Ven. Mary of Agreda's heroic reserve and obedience in writing the Mystical City of God:
"Though she was urged interiorly and exteriorly to record the facts of history revealed to her concerning the Mother of God, she resisted for twelve years and was finally induced to write only through the positive commands of her superiors. Reluctantly she began her history in the year 1637 and finished it in the year 1645, continually asking to be relieved from the task because she thought herself unworthy. As soon as the insistence of her superiors relaxed and an error of judgment on the part of an outside confessor gave her a plausible excuse, she burned all her writings, thus destroying the labor of many years. When this came to the knowledge of the higher authorities and when they insisted on her rewriting the history which continued to be supernaturally made known to her, she again succeeded in delaying the task for ten years. Only the strictest command under obedience and the threat of censures finally induced her to write the manuscript which she began in 1655 and finished in 1665, and which is still preserved in the convent of Agreda." (p. xv)
Can you imagine writing such a large book in one year? With pen and paper? Or more amazingly - as one sweet visitor remarked:
"Wouldn't she have been using a quill - which is even more difficult than a pen - and parchment? ...to my mind, knowing she was writing with a sharpened feather makes it an even more extraordinary feat! (Of course, you can get a lot done when there's no television...)"
Indeed! :-)
About The Mystical City Of God Book
From: A note from the Note To The Reader:
"The Church has as yet given no public and full ap proval to private revelations of any kind; nor will she ever do so, since that would be really an addition to the deposit of faith left by Christ. But tacitly and indirectly she has approved many private revelations, and among them the writings of Mary of Agreda. She could well do so, since there are no writings of that kind which exhibit more reliable human proofs of divine origin than the 'Ciudad de Dios' of the Venerable Servant of God, Mary of Jesus of Agreda." (p. ii)
We would like to ask your prayers for the repose of the souls of Fr. Albert Drexel and my parents who were instrumental in our finding the Mystical City of God and presenting it to you as a download of 4 Catholic Ebooks.
Order it at the Add To Cart buttons on this page.
Order Mystical City of God PDF eBook $12.98


---