Saint Anne's Helper Printable Catholic Confirmation Preparation Booklet
Printable Catholic Confirmation Catechism Details
PRINTABLE Baltimore Catechism No. 2 Catholic Confirmation Preparation PDF booklet.

Confirmation symbols, holy days of obligation, Gifts of the Holy Ghost.
Print on 8.5x11 paper double sided, fold, and staple. Print again!
Print keepsake individual booklets.
Personalize with confirmand's name and dates.
Imprimatured questions and answers.
Catholic Confirmation prayers.
Confirmation Preparation Booklet EBOOK

30 Pg. Download - $3.98
---
St. Anne's Helper printable Catholic Confirmation preparation ebooklet has the Confirmation Baltimore Catechism answers and Catholic prayers.

If you want your students or children to learn the basics quickly, this is an awesome at-a-glance short cut to some long and windy programs out there. If you're already using another program, this booklet will be like using Cliff Notes or a short review of the main Catholic doctrines.
---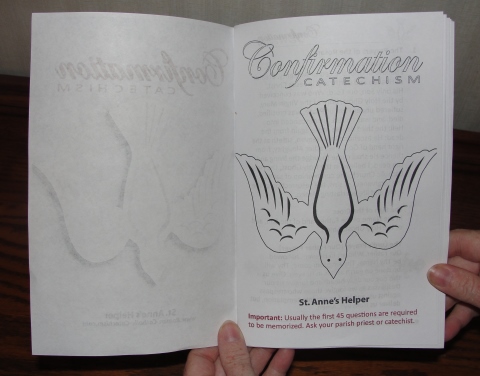 Catholic Confirmation Preparation: Download the Baltimore Questions and Answers In A Printable Confirmation Booklet.
Printable Confirmation Booklet Picture: Communion of Saints. The Baltimore Catechism text covers the sacraments.
Catholic Confirmation Answers
Throughout my life I wish that I had known the Catholic Confirmation answers well. There were so many times that I could have answered arguments, if I'd had these answers memorized.
Teaching our own children was the first time that it occurred to me that it would be good to memorize the Ten Commandments. In teaching them I also learned them as well and many other Confirmation answers. You can do the same!
In a way, it was good that I had not had an over-academic Confirmation catechism course as I simply believed and have believed ever since; yet as long as one has to study, it's good to have the best answers in the study guide. :-)
What follows on this page is an explanation of the Saint Anne's Helper Confirmation preparation, the audio catechism, and worksheets.
For all three the first 49 of 76 questions are in exactly in the same order as as in the Preparation for Confirmation Baltimore Catechism booklet. 
The other questions and answers are often asked questions are the answers suggested to be memorized. The prayers and answers are exactly the same as in the editions published by the old Neumann Press and the old Tan Books.
Confirmation Preparation Booklet EBOOK

30 Pg. Download - $3.98
---
Easy Catholic Confirmation Preparation
Catholic Confirmation preparation is important to study for final perseverance. The information is actually quite simple.
Catholics preparing for Confirmation usually need to memorize such facts as the Ten Commandments, the Laws of the Church, and the Holy Days of Obligation; and this booklet makes it easy to learn them.  They're easy to learn with this booklet especially if you also get the audio and the worksheets (which see below).
The main preparation necessary is to be spiritually well disposed.

After Baptism, the best Confirmation preparation during the week before the ceremony is to receive the sacraments of Penance and Holy Eucharist. The disposition of one's soul is the most important element.
"To receive Confirmation worthily it is necessary to be in the state of grace." (Baltimore Catechism No. 3, Q 691) 
"Persons of an age to learn should know the chief mysteries of faith and the duties of a Christian, and be instructed in the nature and effects of this sacrament." (BC No. 3, Q 692)
Remember that this next was written in the late 1800s:
"It is a sin to neglect Confirmation, especially in these evil days when faith and morals are exposed to so many and such violent temptations." (BC No. 3, Q 694) 
What would these authors have written were they to have lived today?
Is it important to be Confirmed? Yes! To the point that the answer to BC Q 696 concludes that
"Persons who have not been confirmed in youth should make every effort to be confirmed later in life." 
Buy this ebook to download and print in just a few minutes.
Confirmation Preparation Booklet EBOOK

30 Pg. Download - $3.98
---
Other questions and answers that are included in the Saint Anne's Helper Confirmation Catechism are those asking
who the enemies we are to fight and 
what are the weapons we are to use. 
These are very helpful Catholic Confirmation answers, the knowledge of which is most useful in daily life.
If one knows the basics like "Thou shalt not kill." one easily understands the pro-life issues like abortion and euthanasia. The Fifth Commandment makes the right to life certain.
If one knows that "Thou shalt not steal." one better understands the evil of socialism and communism. The Seventh and the Tenth Commandments offer certitude.
The older age at which one receives the sacrament of Confirmation, the more that should be studied; but it remains that the basic disposition necessary to pray and practice the Faith. High school students and adults should choose a large catechism that covers examples, Bible stories, and saints stories to go with this printable Catholic Confirmation preparation booklet.
Confirmation Preparation Booklet EBOOK

30 Pg. Download - $3.98
---
Related Catholic Confirmation Preparation Downloads:
Audio Baltimore Catechism, Catholic Worksheets, Catholic eBooks, and Catholic Coloring Pages:

If you use the Baltimore Catechism, you'll love SaintAnnesHelper.com!
Use printables in your Roman Catholic catechism class, Faith formation, or Sunday school lesson; Pin a picture to remember Saint Anne's Helper; and share with family and friends on Facebook. Thank you so much!
~Mary Fifer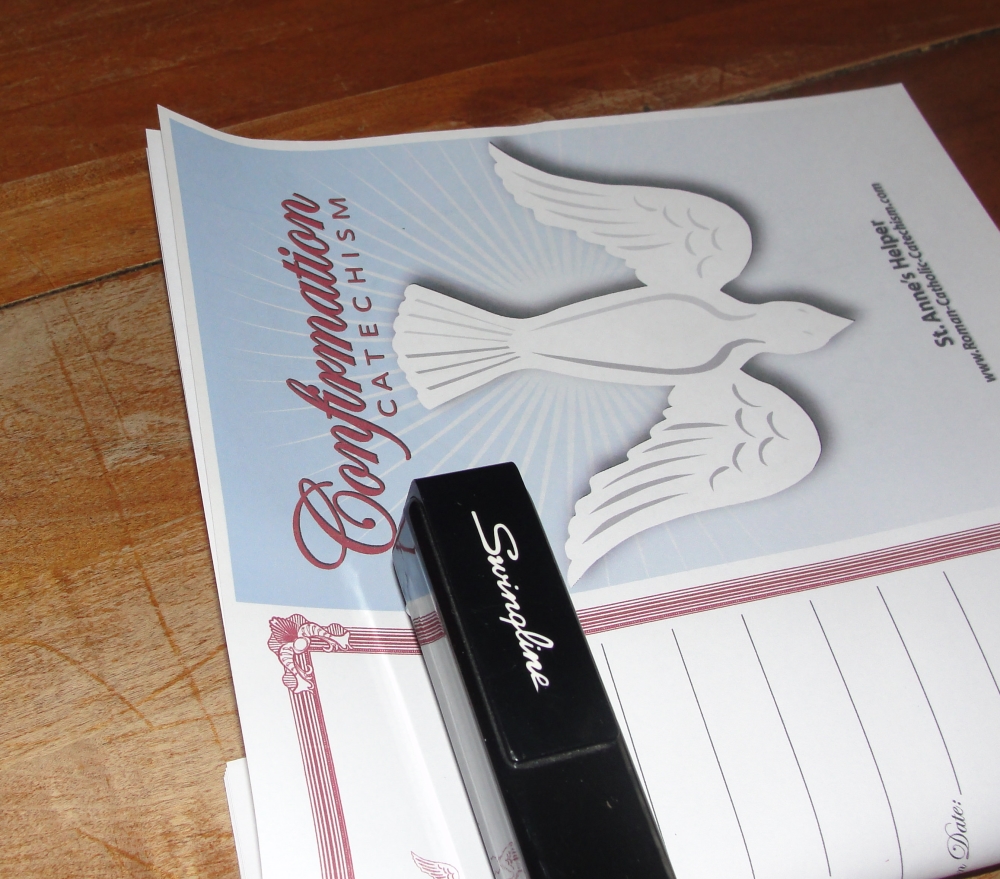 Make this printable Catholic Confirmation Preparation Ebook your child's keepsake by personalizing the back cover with names and dates.
---
---