Order Audio Baltimore Catechism
And Catholic Ebooks
BOGO Sale! Free Shipping - December 12, 2019
Buy the Baltimore Catechism First Communion CD and we'll include the Confirmation CD. 
And vise versa. 

No code. 
Buy one, get one.
CDs only.
Free shipping. :-)

---
1. First Communion Baltimore Catechism
Audio Baltimore Catechism And Worksheets
---
These three First Communion downloads each cover the same audio Baltimore Catechism No. 1 material in different ways: audio, copywork, or booklet. To know, love, and serve God!
MP3 AUDIO RECORDING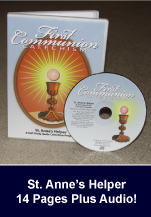 Communion Audio CD
Audio CD

14 Page Text
Audio Baltimore Catechism
---
 COPYBOOK WORKSHEETS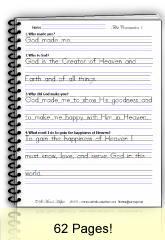 Catholic First Communion Worksheets
 Download - $14.98 

---
---
PRINT CATHOLIC EBOOK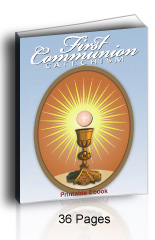 First Communion Catechism EBOOKLET
36 Pages
Pictures To Color
Baltimore Catechism Ebook

Communion Catechism Ebooklet
Download - $3.98

---
---
2. Catholic Confirmation
Audio Baltimore Catechism And Worksheets
---
These three Confirmation downloads each cover the same Baltimore Catechism No. 2 material in different ways: audio Baltimore Catechism, copy work, or booklet.

MP3 Baltimore Catechism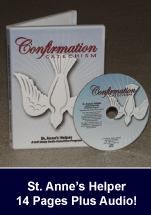 Instant DOWNLOAD Confirmation Audio and 13 page text
Confirmation Audio CD
COPYBOOK WORKSHEETS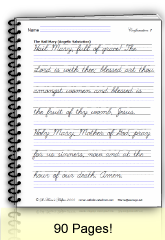 Confirmation Catechism Copybook
174 Pages:

84 Manuscript and 

90 Cursive Writing 

Confirmation 

Baltimore Catechism

 Worksheets
Manuscript or Cursive Writing Worksheets and Quizzes 
Download - $14.98

---
PRINT CATHOLIC EBOOK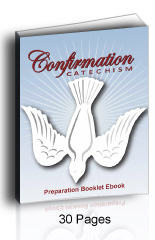 Confirmation Preparation Booklet EBOOK 
Confirmation Preparation Booklet EBOOK

30 Pg. Download - $3.98

---
---
3. Saint Anne's Helper
Coloring Pages to Print Ebook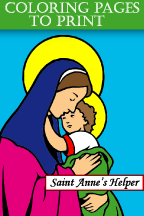 See Sample Pages
St. Anne's Helper Catholic Coloring Pages to print has a treasure trove of PDF fun coloring pages. Print your own Catholic coloring book and other fun coloring pages:
Animals, seasons, patriotic, Easter, and Christmas coloring pages.
Grouped in files for your convenience.
There are over 450 pictures. 
Customize our interactive PDFs with your favorite fonts, colors, and SIZES.
Catholic Coloring Book Download   $ 6.98

---
---
4. Catholic Ebooks: History and Children

---
St. Patrick Apostle of Ireland (1911) Catholic Ebook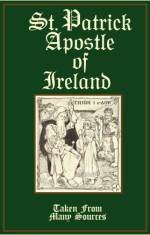 St. Patrick, Apostle of Ireland, Ebook
The best St. Patrick book I've read! Beautiful pictures. Includes Archbishop Healy's "Life and Writings of St. Patrick", "Legend of Saint Patrick - Confession of St Patrick" by Aubrey de Vere, as edited by Dr Whitley Stokes for the "Notre Dame" Series or Lives of the Saints. "Old stories retold!" Great history of Saint Patrick! "It is full of the Catholic Faith in God's power and Saint Patrick's power!
I love this oft repeated line: "In this way God's name and Patrick's were once more magnified." (p. 11) 275 pages indexed.
Order St. Patrick Ebook Download $4.98


---
---
Children of the Kingdom Catholic Ebook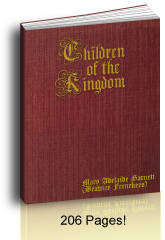 Children of the Kingdom Ebook
Really sweet saint book for children: Children Of The Kingdom, by Mary Adelaide Garnett (Fernekees) 1915, is a true Alphabet of Roman Catholic saints who were children, one of the sweetest children's books online!
After Mary, Queen of all Saints and St. Joseph, the book covers boy saints and female saints for nearly each letter of the alphabet, A-Z. Forty-eight saints stories. You can read these from your eReader or print them and bind them since they are in pdf format! 206 pages. 

Order Children of the Kingdom 206 Page Ebook  $4.98

---
---

---
---
---
Group Discounts and Offline Orders
10 or more CDs. Mix and match. Bookstores? 
RCIA? God-children? Many Grandchildren? Gifts?

Catholic homeschool curriculum? Several families?
(International? - Consider purchasing the Ebooks and downloads above.) 
Contact us for all of these. We're happy to hear from you!
 Blog or website? See our Catholic affiliate program to sell our downloads for a 40% commission.
Saint Anne's Helper Audio Catechism
St. Anne's Helper Order page: audio Baltimore Catechism resources.
100% Satisfaction Money Back Guarantee!
Use PayPal (or debit and credit cards), 2CheckOut, or personal check: info at the bottom of this page. 
You can buy Saint Anne's Helper Audio Baltimore Catechism CDs And Catholic ebooks offline. Free Shipping on all CDs that we mail in the continental USA. 
Of course, no Shipping and Handling For Download. See instructions toward the bottom of this page for paying by check.
Bookstore Order Form PDF - Companies And Groups
Bloggers And Webmasters - Join Our Affiliate Program
*************************

Be encouraged to call for explanations:

St. Anne's Helper
P.O.Box 7
Belvue, KS 66407-0007
1-785-456-1711
Customer Service Hours: 9 am to 9 pm Central time, USA.
Catholic Booksellers and Bulk Orders
* CD Prices For Check, Money Order, or PayPal Email Payments
1 CD $19.98
2 CDs $39.96
3 CDs $59.94
4 CDs $79.92
5 CDs $99.90
6 CDs $119.88
Etc...

Booksellers, Individuals, and Groups - $11.00 per CD, mix and match.
Ten or more CDs receive free shipping for both booksellers and individuals. Consider forming a group with those around you. Consider those to whom you would like to give CDs as gifts of Faith. 
* Audio Baltimore Catechism 
Downloads
The downloads are simply the prices shown above with the product images with no shipping or handling. You may send a PayPal payment or a check. If you use PayPal, Contact Us to learn our PayPal email account. If you send a check, you will need to include the email address to which we should send the downloads.

Contact us on the form below for
bookseller,
affiliate and
volume order discounts (ten or more).
We also ship to booksellers free and can arrange to send your first orders directly to your customers if you send us the customer address. We will not approach your customers unless they sign up for our ezine, etc.
See more Catholic Homeschool products and recommendations here.
Search Saint Anne's Helper Roman Catholic Catechism