Catholic Cursive Writing Worksheets
* March Only! Free Saint Patrick Ebook Here.
Use interactive catechism worksheets with your favorite fonts, colors, and SIZES.
You'll love our cursive writing worksheets. Cursive writing is such a beautiful art! Not only is it beautiful, these worksheets help you teach the Catholic Faith, I have found that cursive can also help with reading.
How? Well, I have seen children who simply could not get the idea of words and their separations in sentences until the moment they started writing words in cursive hand. They saw the letters that linked together to form words and they saw the spaces better when they were writing in cursive.
Many schools today do not teach cursive - that's why it is highly sought by parents - on the Internet.
Manuscript & Cursive Writing Worksheets
Print these sample worksheets below. The First Communion copybook (from the Baltimore Catechism No. 1) comes with both manuscript and cursive writing as does the Confirmation copybook (from the Baltimore Catechism No. 2). Print all three!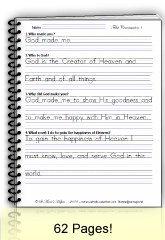 First Communion Manuscript Sample
1. Who made you?

March: Free St. Patrick Ebook!
Communion Worksheets
 Download - $14.98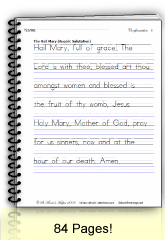 Confirmation Manuscript Sample
Hail Mary Prayer

March: Free St. Patrick Ebook!
Manuscript/Cursive Copybook and Bonus Quizzes 
Download - $14.98
---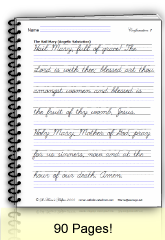 Confirmation Cursive Writing
Hail Mary Prayer

March: Free St. Patrick Ebook!
Manuscript/Cursive Copybook and Bonus Quizzes 
Download - $14.98
---
Order our First Communion and Confirmation copybooks here.
Are you looking for Catholic cursive writing worksheets? It is a proven fact that the more ways a student sees, hears and writes his studies, the better he learns them.
If your students must practice handwriting, why not practice on Catholic material? Which better than the answers to the Baltimore Catechism? Our St. Anne's Helper First Communion and Confirmation copybooks are each done in manuscript and cursive.
Anyone can use these to improve his handwriting and his knowledge of the Catholic Faith. Our older children as well as our younger children appreciate these.
Catechism Cursive Writing Worksheets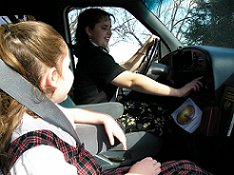 Audio Matches Worksheets
These sentences are verbatim from the Baltimore Catechism. No more wondering, "What are they teaching my children?" You can see the texts that our audios and worksheets use for 
First Communion and 
Confirmation copybooks here. 
One of the basics to learning fancy writing or cursive writing is to acquire the habit of using the top line, mid-point, and base line. Sometimes it can take quite a lot of practice. Now you can print at will.
Once your student knows the catechism answers, the handwriting practice is easy and can even help form good spelling and reading skills.
We have made these downloads

interactive

. You can copy the files to your children's file and they can choose their font, size, and color to have typing practice as well as catechism class. Great for older children.
Cursive Handwriting Projects
Cursive handwriting projects are more fun when you make an artful project. Your children will spiritual graces as they learn artful handwriting with this project. Have them use their best handwriting. It's like a spiritual bouquet:
Make First Communion or Confirmation day a great day spiritually by providing a coloring page or a card with a chart on it (for older students) to keep track of prayers and sacrifices. Write notes or sayings related to the sacrament.
We particularly like the idea of marking diamonds for attending Mass and saying Rosaries; pearls for prayers, little crosses for sacrifices, and hearts for acts of love. This really brings these little acts to mind as the child rejoices to see how many prayers and sacrifices are helping him to prepare to receive Jesus well!
The idea is to increase the student's desire to please God and fortify himself with these devotions. It is encouraging to see the effect on older children, too.
Higher Level Cursive Writing Worksheets
First through third grade - Print our cursive writing worksheets as they are for a larger print or cursive font size.
Fourth through eighth grade - Print them two-up to have a smaller size.
High school - Print these four-up to have a professional size writing paper.
If you know other Catholics who want their children to have cursive writing worksheets, we really appreciate your sharing this page with them. Thank you!
Order them here:
Audio Baltimore Catechism, Catholic Worksheets, Catholic eBooks, and Catholic Coloring Pages to Print:

If you use the Baltimore Catechism, you'll love SaintAnnesHelper.com!
Use our printables in your Roman Catholic catechism class, Faith formation, or Sunday school lesson; Pin a picture to remember Saint Anne's Helper; and share with family and friends on Facebook. Thank you so much!
~Mary Fifer