200+ Catholic Coloring Pages To Print

Catholic Coloring Book Download   $ 6.98
---
---
Buy St. Anne's Helper's Coloring Pages to receive:

Over

200

specifically Catholic coloring pages including saints, etc.
New! All are interactive. Add messages!
Customize with your favorite fonts, 

colors

, and 

sizes

.
Easy to navigate PDF files.
Advent and Christmas.
Lent and Easter.
Bonus! Over 300 extra coloring pages with themes like: 
Animals, seasons, and patriotic coloring sheets.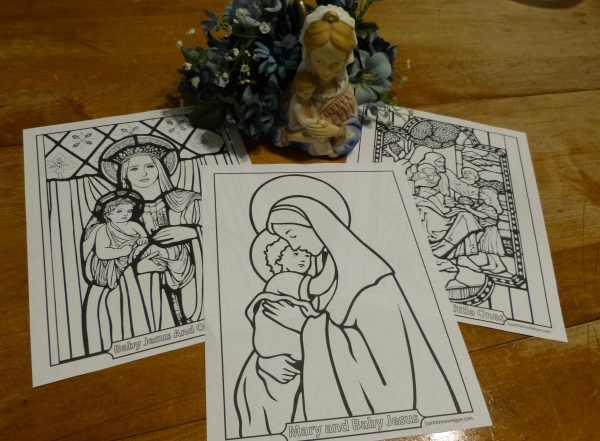 Over 100 Catholic coloring pages to print: Jesus, Mary, Joseph, saints, churches, and more.
Beautiful Catholic Coloring Pages To Print Through The Year!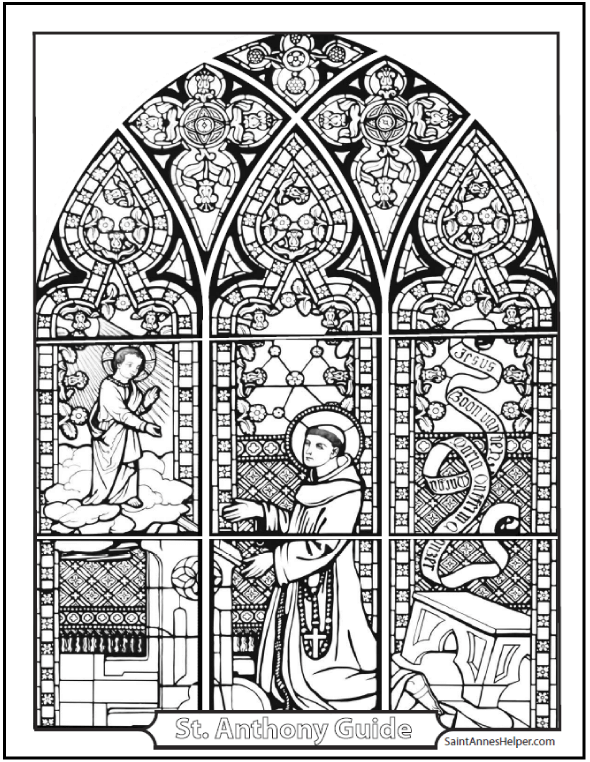 Saint Anthony Coloring Page
Saint Anne's Helper has a wonderful selection of Roman Catholic, seasonal, patriotic, sports, and secular images that you can use in your classroom or at home.
Religious, catechists, teachers, and parents love being able to mix and match images for their students and children throughout the year.

There are over 200 free Catholic coloring pages to print from the many links on this page to other pages on this site.
You can download them free from those pages or you can download them all at one time as an ebook download complete with files for the different seasons and selections like Advent, Christmas, Easter.

Bonus: Over 300 pages with generic themes such as the four seasons, animals, and flowers, etc. all for the same price.
New! After you download your copy you can type titles, greetings, messages, and instructions directly on the pages. Use the Typewriter function in Adobe Reader.
Customize with your favorite fonts, 

colors

, and 

sizes

.
This is so handy on holy days, feast days, and other holidays for greeting cards, feast day cards, and birthdays. Enjoy!
Sunday School And Bible Coloring Pages
Catholic Coloring Pages To Print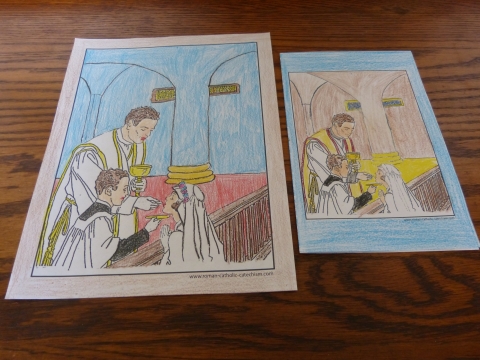 Catholic First Communion Coloring Pages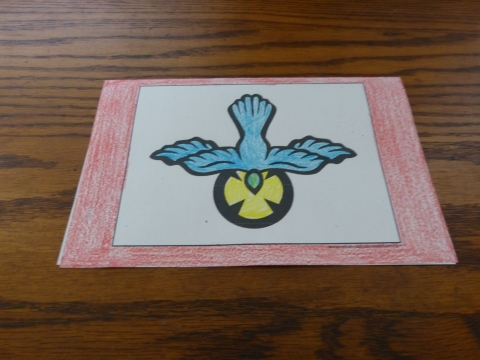 Catholic Confirmation Symbols and Coloring
Many Catholic themes can be used with other themes. Holy days of obligation pages like Christmas and the Circumcision can be used to teach or honor the Mysteries of the Rosary, and Bible story coloring pages. Animals like cows, sheep, and donkeys can be used with Christmas and Easter themes.
See our list of coloring pages below these images.

Churches To Color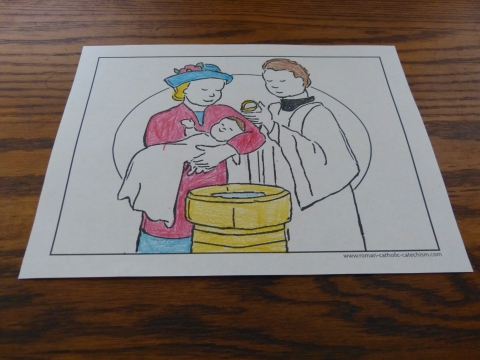 Baptism At The Font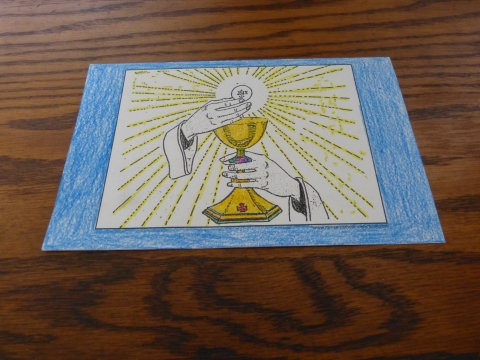 Holy Eucharist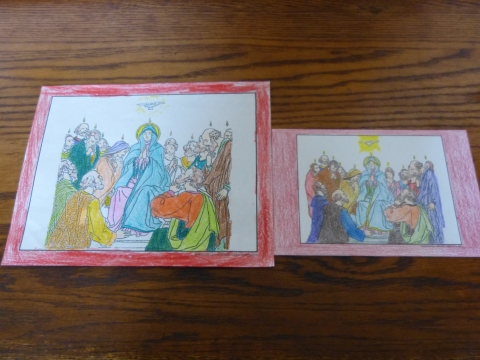 Descent of the Holy Ghost, Pentecost, and Confirmation Coloring Pages. Make greeting cards by using the booklet printer setting.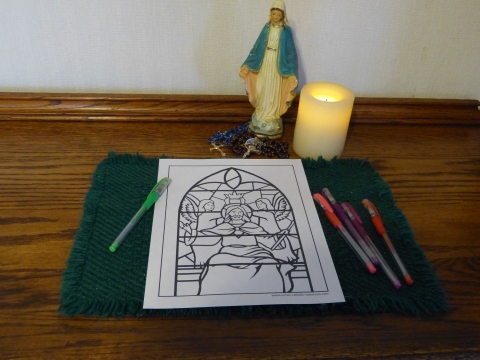 Coloring pages about Jesus.
Catholic Coloring Book Download   $ 6.98
---
Catholic Catechism Coloring Ideas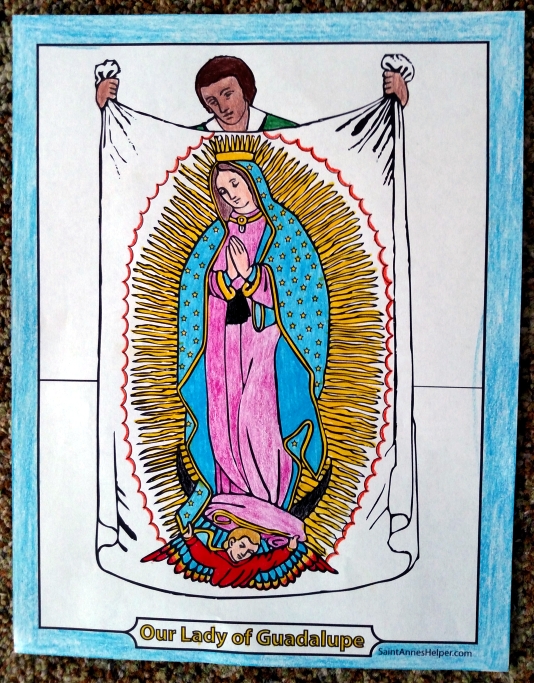 Our Lady of Guadalupe Coloring Page Photo
Buying our downloadable PDF coloring pages to print is the handiest way to use them. You can:
 

Print many copies for multiple students.
Use your printer booklet setting to create printable birthday cards

and

 feast day cards. 
Use the printer "multiple" setting to print holy cards, pieces for Catholic games, etc.
Customize with your favorite fonts,

colors

, and

sizes

.
Print copies for classes in successive years. Once you buy it, you own it for your own use through the years. 'Same for catechism teachers.
Create personal booklets to give as gifts or party favors. Use report holders or spiral binding.
Create themed booklets for Advent, Christmas, Lent and Easter, the Rosary, and secular themes.
Create saints , First Communion, and Rosary booklets.
Seasonal Coloring Pages To Print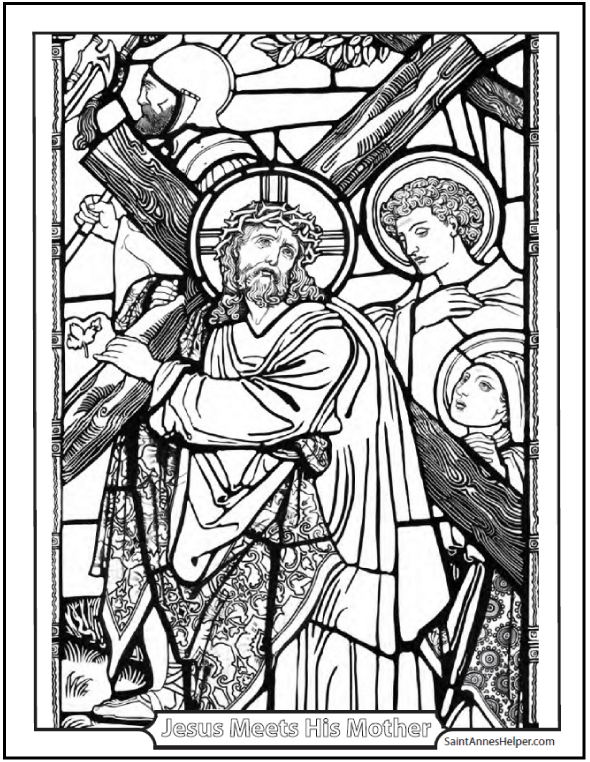 Lent Coloring Page
Some of these free coloring sheets are from church stained glass windows. Church windows show beautiful color pictures of Catholic saints, pictures of various stories from the different Catholic Bible books, and pictures about basic Catholic truths like Christmas traditions and the events before Easter Sunday.
Enjoy our collection of Catholic coloring pages to print your own custom coloring book or decorate a copy book or lap book.
Our goal is to help you make your Catholic catechism class come alive for your students and to help you incorporate the Catholic religion in all other classes! You can make your own Catholic workbooks with St. Anne's Helper First Communion and Confirmation Copybooks.
Our free coloring pages include many printable coloring sheets from Roman Catholic Bible stories and old Catholic books.
Catholic pages are fun to use many ways: 
Book report covers, 
Dress-up printable copybooks, 
Printable coloring books - give as gifts,
Busy-work for little ones, 
Gifts for grandparents and God-parents, 
Cut and past onto other projects.
The icons below open a new window with an 8.5x11 inch printable PDF that you can print or download to your own computer.
If you use the booklet setting on your printer, each page can be printed as a card.
If you use the multiples setting on your computer you can print each page as small images for holy cards, lapbooking and other projects.
Catholic Coloring Book Download   $ 6.98
---
Free Sample Coloring Pages To Print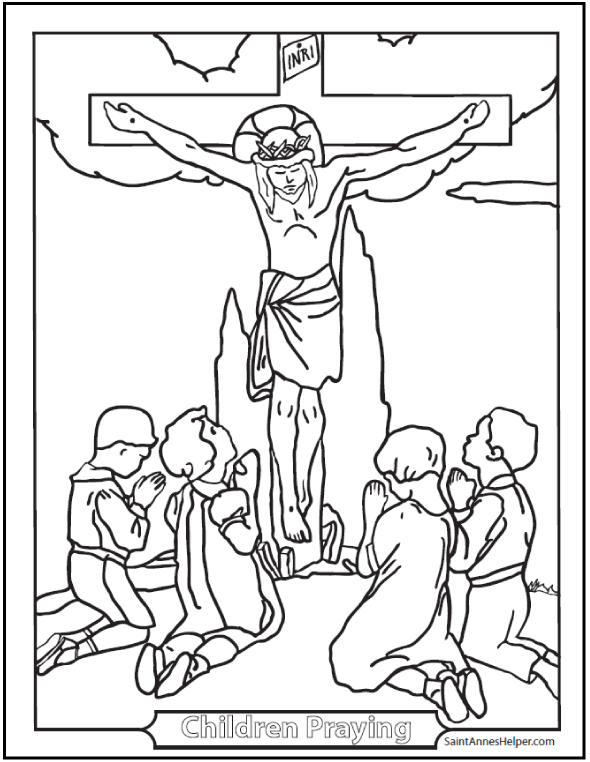 Children Praying At The Cross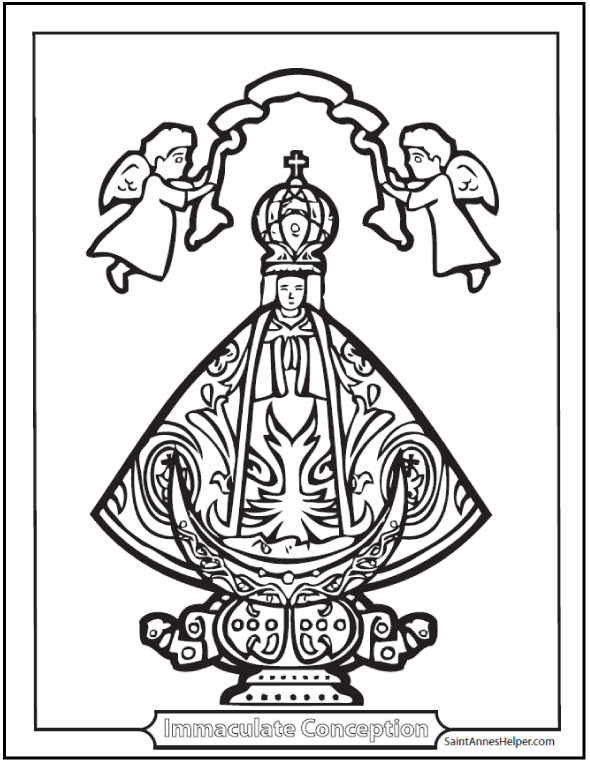 Immaculate Conception Holy Day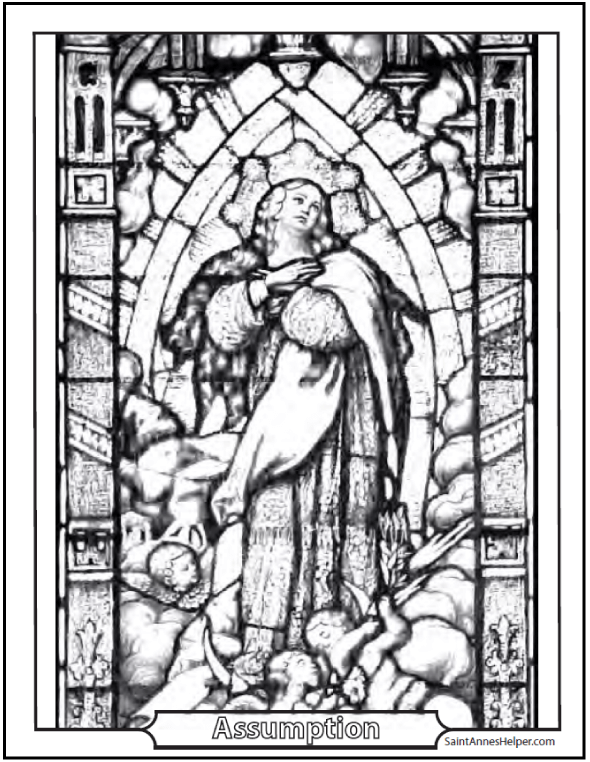 Assumption Day Holy Day Of Obligation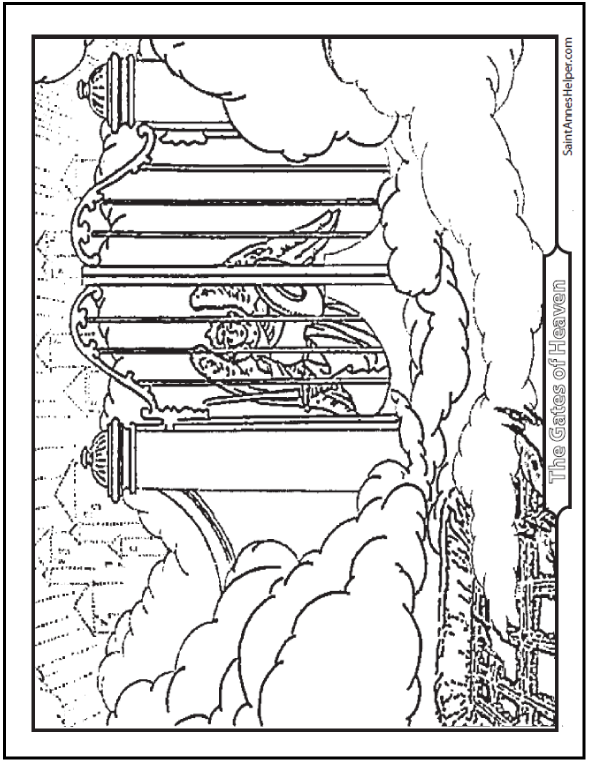 Gates Of Heaven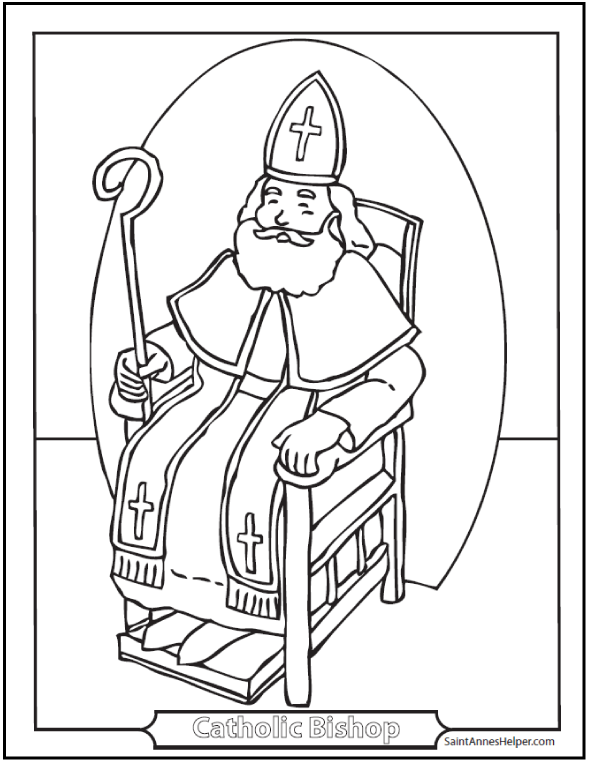 Bishop To Color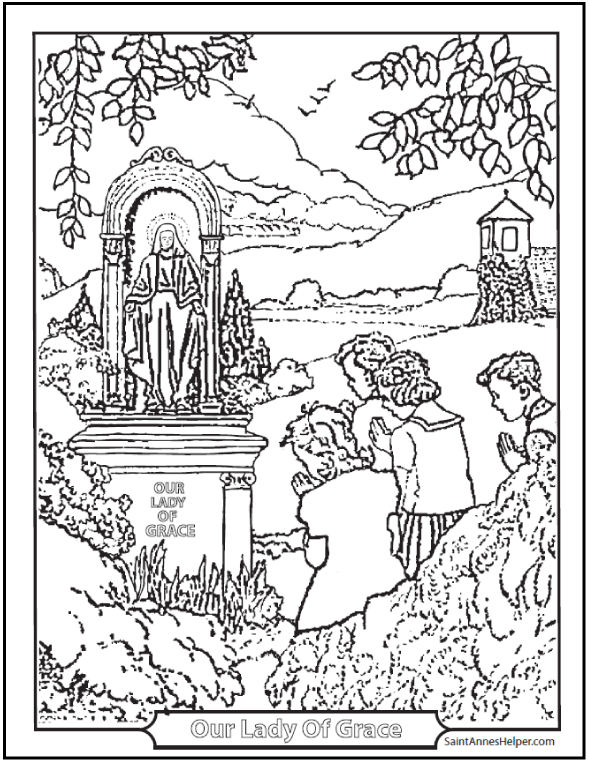 Children At Shrine
More Free Printable Coloring Pages To Print
Many of  our Saint Anne's Helper Catholic coloring pages to print are free on this site. Make your Catholic catechism class fun and memorable. Enjoy this alphabetical list!

As you are teaching about Advent and the coming of Jesus at Christmas use the Rosary and Joyful Mysteries pages; Lent use the Sorrowful Mysteries pages; Easter and Pentecost use the Glorious Mysteries. When you are teaching about the Ten Commandments you can use the Bible pages.
Are there sacraments coming up? Use our Baptism, First Communion, and Confirmation pages to teach about the sacraments or to make greeting cards.
An image of the Descent of the Holy Ghost upon the Apostles and the Blessed Virgin Mary (from the Glorious Mysteries or Pentecost files) is handy to use as a present from little ones for someone who is receiving the sacrament of Confirmation. Use your printer's booklet setting to print a Confirmation card. You can do the same with all our coloring sheets.
Have a holy day, saint's day, or feast day coming? Use the Rosary and saints pages. Not only can you print pages for many different saints, you can also make a booklet about the saint or feast day. You can also use your printer settings to print multiples to use as holy cards.
Catholic Coloring Book Download   $ 6.98
---
Bonus!

Fun Coloring Pages For Kids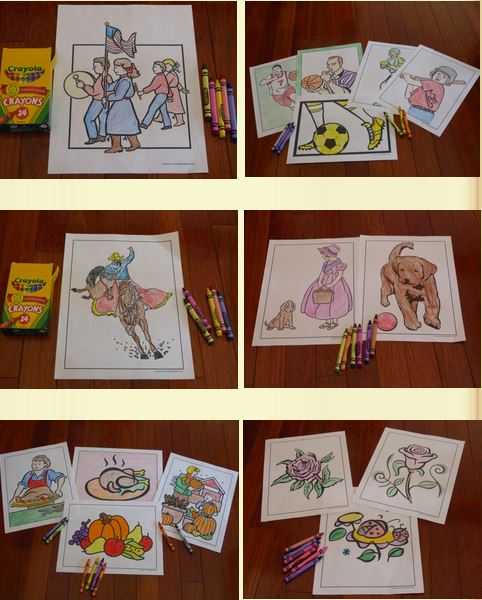 BONUS: Other Wholesome Printables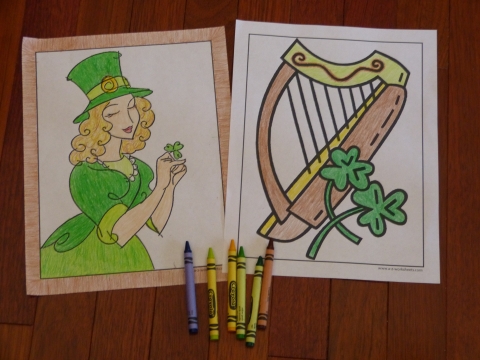 Religious and secular St. Patrick printables.
Catholic Coloring Book Download   $ 6.98
---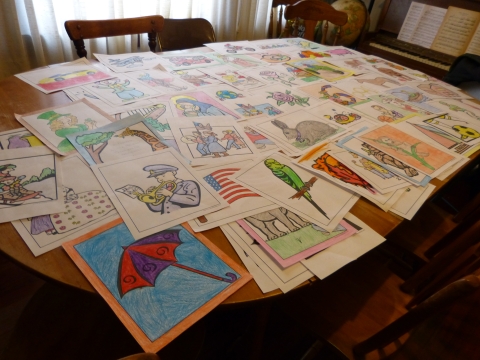 Hundreds of wholesome coloring pages arranged in files.