Audio Catechism Downloads for the Baltimore Catechism
Use interactive catechism worksheets with your favorite fonts, colors, and SIZES.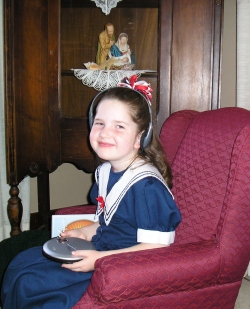 St. Anne's Helper audio catechism (CDs for gifts and Downloads for immediate use) are a giant help in reducing the effort necessary to memorize the Roman Catholic beliefs.
Help your children learn the Baltimore Catechism answers and prayers like
the Apostles' Creed,
the Ten Commandments,
and the prayers of the Rosary. 
We also have copybooks which help with both memorization and handwriting. Together the audio and the copybooks offer multi-sensory help for busy Catholic families.
---
Audio Catechism Clips
---

Audio First Communion With Printable Text
Many parents have let us know that the audio versions have been like having a tutor to help with the review. This is exactly why we made these. As we had five, six, seven, and eight children it became hard to find time to review the children's catechism well enough for them to memorize the answers.
We have had letters from pastors, catechists, teachers and parents who appreciate having Baltimore Catechism CD help with the memorizing.
We've had letters from grateful parents whose children were dyslexic or auditory learners, meaning that they learned their catechism answers faster using the audio version. Using headphones was mentioned several times as the biggest help as they headphones or ear buds help block distractions.
Using Audio Catechism CDs

Audio Confirmation with printable text.
The CDs are meant to relieve some of the burden of drill and to help the student retain many questions for any cumulative review before reception of the sacrament.
Listening to audio clips of St. Anne's Helper audio recordings can give you an idea of what the audio Baltimore Catechism CDs (or audio book downloads) sound like. It's nice to have a sample before you buy.
Most Catholic parishes and home school programs use the Baltimore Catechism and most of them ask that a certain numbers of the answers and Roman Catholic prayers be memorized, so these are very handy for young Catholic families.
Listen to clips of St. Anne's Helper audio CDs (or Downloads) for First Communion and Confirmation according to the Baltimore Catechism at the links below. We have an enhanced CD help page here.
To make these clips load faster we separated them to their own pages. If you are interested in First Communion listen to Mary's Voice clip. If you are interested in the Confirmation CD listen to Anthony's Voice, then go to the Order page to order. 
The audio feature is a God send for Catholic converts, too!
Benefits of St. Anne's Helper audio catechism?
Easy to memorize the Apostles Creed and Ten Commandments.
Easy review the basic Roman Catholic beliefs.
Easy to download - or
Easy to give the CDs as gifts.
Each prayer or question with its answer is on its own track.
Repeat for longer answers like the Apostles' Creed And Catholic Ten Commandments
Audio Catechism with Text File
St. Anne's Helper hereby gives you permission to print as many copies of the audio and the text (from the same CD or download) as you want for your own home and vehicle, etc. You can copy the audio to the computer and to MP3 players, make a working copy on another CD to use in the van or car. Copy to more than one computer for safe keeping and for playing. Sometimes my children are listening while I work on the computer.
The prayers are at the end of the First Communion CD to make it easier for the child to search for a question track, yet the prayers should be learned before the questions and answers.
If you can, have the children start memorizing the prayers early in the First Communion year or even the year before, which might lessen stress during the First Communion year. Many children already know the last half of the prayers that we use in the Rosary, but they'll usually be required to learn the whole prayer before receiving Communion since these are also used as penances in confession.
The Living My Religion series used three books to teach the First Communion questions, which means that it is usually good to start memorizing the prayers in Kindergarten.
Be sure not to overload children. Ambient learning can be good enough for most of these answers.
Use "repeat one", "program", and pause to better memorize the more important questions.
The Confirmation questions and answers are placed after the Catholic prayers on the Confirmation CD since older students are able to navigate past them easier than younger students. Refer to the text for the numbers on the tracks.
Generally, these CDs are not meant to be listened to straight through. This can be fine for an adult catechumen review the Roman Catholic beliefs, but it would not be appropriate for a young child. They consist only of a list meant to be learned three to five questions per week.
The "repeat one" and "program" features on CD players is a God-send for rehearsing a troublesome answer. Using headphones or ear buds can help some children to concentrate better. We know one who could not sit still long enough for the simplest answers, yet he was thrilled when he was given ear buds to try with his new CD and the difference was like night and day. The catechism was right in his ear and made it easy for him to pay attention. He and his parents were thrilled! The "pause" function can be used by older children to simulate a quiz with self correcting answer.
May God grant us each the grace of a holy life and final perseverance. We pray for you and hope that you will pray for all of those who have helped to produce these CDs. Thank you for your interest. Click here for help using an enhanced-CD and running the audio catechism or retrieving the reproducible text of the exact words of the catechism verbatim.
Catholic Catechism Copybooks
Our Catechism Copybooks are downloadable for immediate use for memorizing and for handwriting and spelling practice.
The First Communion Catechism Copybook uses either Manuscript or beautiful Cursive. You choose.
The Confirmation Catechism Copybook uses either Manuscript or beautiful Cursive. You choose. 
It can be nice to have both for further handwriting practice through the years.
St. Anne's Helper has the matching First Communion Copybook (manuscript) and the Confirmation Copybook (cursive or manuscript). These copybooks also are verbatim from the same Baltimore Catechism text of the CDs.
They are also excellent Catholic handwriting practice from an instructive and trustworthy catechism copybook.
Expand these worksheets with our free coloring pages to print so that your children know and love the material they are studying.
Many who are learning English as a second language, ESL, appreciate having the text available while they listen to the audio catechism. Having at least seen the text once can help a person remember the correct pronunciation and the correct spelling of words.
Each question and answer comes from Baltimore Catechism books with an Imprimatur.
Print these for your Roman Catholic catechism class or Sunday school lesson; Pin a picture to remember Saint Anne's Helper; and share with family and friends on Facebook. 
Thank you so much!
~Mary Fifer

Audio Baltimore Catechism, Catholic Worksheets, eBooks, and Catholic Coloring Pages to Print:

If you are using the Baltimore Catechism, you'll love SaintAnnesHelper downloads!
---