Jun 11, 2018
BOGO Sale Audio CDs: 2 For 1 First Communion and Confirmation
Hi Everyone,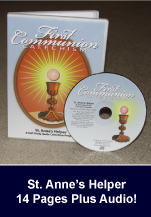 Audio Baltimore Catechism No. 1 questions and answers for First Communion
June BOGO Audio CD sale: If you order our First Communion or Confirmation CD during June, we'll add the other CD to your package.
That's right! You add one to your cart, and we'll add the other one to the order. Free shipping for both. :-)
The Audio CDs are super for:
* Gifts of Faith: Grandparents, Godparents, and friends.
* Audio learners: especially with headphones or earbuds.
* Catechists where students have no help at home.
* Audio matches the text verbatim for the worksheets and ebooklets.
* Program your computer to repeat the questions for the week.
You'll receive two files:
1. Audio file: Copy to your computer or MP3 player.
2. Text file: Print to have the exact wording.
You can use these throughout the years. No need to purchase again.
Me? I printed mine and put it on a clip board next to the couch for review each night before Rosary.
It's best for little ones to see and hear you say the words well first. Then, after they can repeat after you, the CDs make excellent review - especially of the Ten Commandments and the prayers! :-)
Older students really appreciate being able to listen and learn while driving or doing chores. Multi tasking at its highest form - studying the Faith. +
More!
* The Sacred Heart here
* St. Anthony of Padua here
* St. Peter here
* St. Paul near the bottom of the page here
May the Sacred Heart grant you a wonderful summer!