Catholic Catechism Blog ❤+❤ Digital Downloads
Saint Anne's Helper Catholic Catechism blog's particular apostolate is to help you to teach children the simplest way to learn God's Will according to the timeless Baltimore Catechism with our digital downloads and catechism CDs:
He wants us to know, love, and serve Him.... to be happy in Heaven....
Catholic Catechism Blog List - Recent Pages
Aug 01, 2019
Feast of the Assumption: First Friday and Saturday
Catholic Feast Days In August
---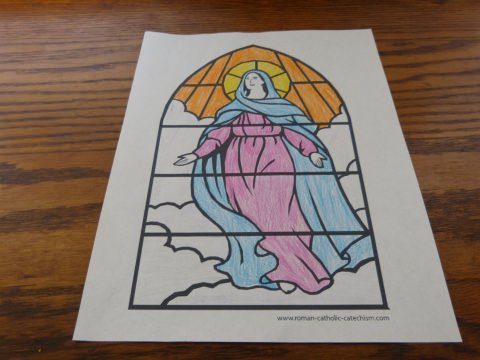 Feast of the Assumption coloring pages.
The Assumption  is a Catholic feast day in August. It is also a Catholic Holy Day of Obligation. Check your local Ordo to see what your diocese asks.
The Holy Maccabees, Martyrs, August 1
St. Alphonsus Liquori, Bishop, Confessor, Doctor, August 2
St. Stephen, Pope, Martyr, August 2
Dedication, Church, Our Lady of the Snow, August 5
Transfiguration Of Our Lord, August 6
Sts. Sixtus II, Pope; Felicissimus & Agapitus, Martyrs, August 6
St. Cajetan, Confessor, August 7
Donatus, Bishop, Martyr, August 7
St. John Mary Vianney, Confessor, August 8
Sts. Cyriacus, Largus & Smaragdus, Martyrs, August 8
Vigil of St. Lawrence, Martyr, August 9
St. Romanus, Martyr, August 9
St. Lawrence, August 10
St. Tiburtius and Susanna, Martyrs, August 11
Sts. Hipolitus & Cassian, Martyrs, August 13
Vigil of the Assumption, August 14
Feast of the Assumption, August 15 - Holy Day of Obligation
St. Joachim, Father of the Blessed Virgin Mary, Confessor, August 16
St. Hyacinth, Confessor, August 17
St. Agapitus, Martyr, August 18
St. Helena, Empress, Widow, August 18
St. John Eudes, Confessor, August 19
St. Jane Frances de Chantal, Widow, August 21
Immaculate Heart of Mary, August 22
Sts. Timotheus, Hippolytus & Symphorianus, Martyrs, August 22
St. Philip Benizi, Confessor, August 23
St. Bartholomew, Apostle, August 24
St. Louis IX, King, Confessor, August 25
St. Zephyrinus, Pope, Martyr, August 26
St. Joseph Calasanctius, Confessor, August 27
St. Augustine of Hippo, Bishop, Confessor, Doctor, August 28
St. Hermes, Martyr, August 28
Beheading of St. John the Baptist, August 29
St. Sabina, Martyr, August 29
Sts. Felix and Adauctus, Martyrs, August 30
St. Raymond Nonnatus, August 31
Saint Anne's Helper Catholic Catechism Blog
There are so many wonderful helps now for preparing for the sacraments, and we want to help you with what we've found.
The Catholic First Communion and Catholic Confirmation catechism cover most of the truths in any Roman Catholic catechism so they're a great place for children and adults to learn or review the basics.
Did you know that the main difference in levels is greater explanation of the truth? Most catechisms, both child and adult, cover the very same questions:
Simple! A child's catechism is merely an outline of an adult catechism. If you're an adult, read an adult catechism for more details and stories from the Bible and the lives of the saints.
If you're new, be encouraged that you don't have to go through all the "levels".
Apostolate: 

Catholic Catechism Blog

It all began years ago when our pastor asked us to teach the First Communion class, early in our marriage. Later, and after we had taught the Roman Catholic catechism to our own children through the years, using many different catechisms and programs; I was thrilled to find that the catechism is super simple.

In the course of time we developed First Communion and Confirmation catechism worksheets and audio recordings that you can use in CCD, RelEd, Catholic schools and Catholic homeschool. 

Whether you're using the Baltimore Catechism for children or a giant compendium for adults, the exact same topics are covered. What a relief to new students!

Be encouraged by this knowledge and encourage your students with the same. Once they've made it through the basics, you've got a great outline to use for the rest of your life unto the great pearl of final perseverance.
Learn the Catholic Ten Commandments now and you'll know ethics for a lifetime. 
Learn the Apostles' Creed and you'll be able to state what you believe as a Roman Catholic easily.
Learn the Roman Catholic prayers and you can gain many graces.
Learn the virtues and live a holy life.
See especially our
We also have a near monthly Holy Day reminder email list here.
Thank you for visiting Saint Anne's Helper Catholic Catechism blog. 
---
---