Contact Us
Welcome to Saint Anne's Helper.
Contact us for more information or to just leave us your regards!

Be encouraged to Contact Us for more details about our Saint Anne's Helper products or Catholic catechism questions and answers.
Monthly Ezine: Feast and Holy Day Reminder
We also appreciate when you let us know of typos. Please know that when you use the grey Contact form we do not keep your address as with a subscription and only use your email when you need a reply. If you'd like to sign up for our Catholic Holy Day of Obligation Reminder, use the box below.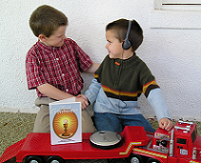 It's good to know you!
Booksellers and Volume Orders
Booksellers can buy St. Anne's Helper Audio CDs at large Discounts with Free Shipping!
We also have school, family, and homeschool groups that order ten or more CDs-MixAndMatch to receive large discounts, too. Or sign up as an affiliate to receive 30% on each sale. We do the shipping and the audio book downloads are automatic.
Hours of operation: 9 am to 9 pm
Be encouraged to call for help and ideas:
St. Anne's Helper
202 E. 6th Street
Belvue, KS 66407
1-785-456-1711
Sign Up For Our Holy Days Reminder
We send a near monthly reminder of the Catholic Holy Days just before the First Fridays and the First Saturdays so as to have several handy reminders in one.
If you'd like to be reminded of Catholic Holy Days and Catholic feast days sign up by entering your email address and first name. Adding your first name helps remind you that our note is not spam. Also, we hate spam, too, so please know that this is a mechanically automatic list that even we do not use for other purposes.