Audio Baltimore Catechism CD
Audio Baltimore Catechism CD
Pro Multis Baltimore Catechism CD No. 1 - 1885 Version
We have used this CD many times and compared it to the text as published by several publishers including the old TAN Books reprint. The No. 1 matches this audio CD exactly. The #2 has the rest of the answers that are good for younger students to know, but are not necessary for receiving the Blessed Sacrament.
I love that it is the mother asking the questions while one of her children gives the answers. Listen to a sample below.
First, you help your children read and pronounce the words first, 
Then they can review the audio CD to memorize the answers and prayers.
Audio Baltimore Catechism CD - Purchase At Amazon.com
Old Baltimore Catechism Version
You will want Pro Multis Media's wonderful audio Baltimore Catechism CD before, during, or after your child is finished studying for First Communion. It uses the old version of the catechism answers.
Matthew Arnold and his family arranged audio questions and answers for the BC No. 1 in a super clear and pleasant recording. The Baltimore Catechism #1 is a  subset of the BC No. 2. All of the First Communion Q&As (BC#0) come from the No. 1. If you do not yet have a booklet to match the recording, you wouldn't need three booklets, just skip the questions and answers that are not needed.
Great For Everyone Reviewing The Catechism
Some children can simply hear the answers and learn them while listening on their own. Reading is not really necessary. Learning the truth is necessary. This is perfect for
Small children learning early, 

Older children just beginning to learn, 

ESL students, 

Audio learners, and 

So many more like adult learners.
If you're studying on your own you can choose a list of several questions to review each week which is a super help for studying the questions for a catechism quiz.
If you're studying for catechism class, you can skip to the required answers. It's like having a religion class tutor. :-)
Easy Way To Learn The Baltimore Answers
This audio Baltimore Catechism CD can help you and your children learn:
The Catholic prayers.

Preparation for Baptism, Penance, and Holy Eucharist.
Many questions fit Confirmation.
Lessons arranged on 33 tracks for easy navigation.
Great to use before, during, and after First Communion.
Wonderful gift of Faith. 
Useful for adults preparing for the sacraments.
Also, this makes a great gift of faith for those adult catechumens preparing to be Baptized. They can listen to it in their spare time as an easy review.
Disclosure: I show products that I think will help you. If you use my links, I may earn ad commissions at no extra cost to you. As an Amazon Associate I earn from qualifying purchases.
1. Audio Baltimore Catechism CD: Audio Clip
Buy the Baltimore Catechism CD at Amazon here.
2. Audio Baltimore Catechism Text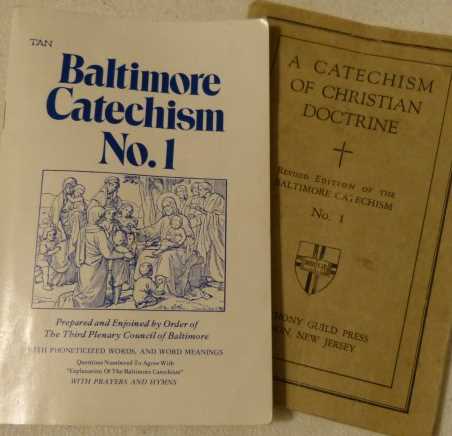 Same text as the Baltimore Catechism No. 1
If you're looking for the text to the audio Baltimore Catechism all you have to do is use the booklet you already own. Or...
You can also search online at Gutenberg or Archive to find text of the questions and answers. You can download and print the complete text from these sites.
The Baltimore Catechism No. 1 is a subset of the No. 2; so if you already have the No. 2 you won't have to buy another book. Simply mark the No. 1 questions. 
Buy Pro Multis Media's audio CD of the Baltimore Catechism at Amazon.
3. Catholic Parishes Use The Baltimore Catechism
Many parish schools still use the 1885 Baltimore Catechism and most Catholic homeschools recommend it.
If you're looking for discussion starters the Baltimore Catechism is an excellent booklet.
It gives you many apologetics moments.
Children often wonder why the answers are written the way they are, or they give you an occasion to discuss important elements of the Faith that you might not have otherwise remembered.
4. Catholic Homeschools Use The Baltimore Catechism
Most Catholic homeschool companies use the Baltimore Catechism in their lesson plans:

Our Lady of Victory School, 
Seton Home Study, 
Mother of Divine Grace, and 
Our Lady of the Rosary School.
If you need someone to help your children learn the prayers and the answers, this audio Baltimore Catechism CD is an awesome tutor. A recording can be played over and over to help your children memorize the answers and prayers.
You can also use it to review the questions before a quiz or test while driving or doing other things. Load it on your MP3 players to keep it handy.
The Baltimore Catechism is the short cut to know, love, and serve God in this world, and to be happy with Him for ever in Heaven. 
Even though this version is the 1880s version, it can also be used with most other Catholic catechisms especially for memorizing:
The Ten Commandments
The Apostles Creed and prayers of the Rosary
The seven sacraments
And other lists.
5. Pro Multis Media Audio Baltimore Catechism
You'll love that this was produced by a Catholic family with a mother/daughter team asking and answering the questions with beautiful diction. They are so easy to understand, saying the words clearly and distinctly.
At a time when it is hard to find good Catholic materials that are not filled with fluff, this CD is a welcome addition to our library. May God grant them saintly children.
You'll be glad to know that they have put their business under the protection of the Blessed Virgin Mary.

Our Lady of Good Success, pray for us.
Buy Pro Multis audio Baltimore Catechism CD at Amazon here.
---
6. First Communion Audio Baltimore Catechism
Audio Baltimore Catechism, Catholic Worksheets, Catholic eBooks, and Catholic Coloring Pages:
Get Catholic catechesis resources for your Roman Catholic catechism class, Faith formation, Catholic homeschool, religious education, or Sunday school lessons. ~Mary Fifer
Order our Baltimore Catechism worksheets . Choose your favorite  fonts,  colors, and SIZES on our fillable digital interactive worksheets. Paperless or printable.
You may want to have each of these for your Baltimore Catechism Communion students: audio, ebooklet, and digital worksheets for kids and adults. Verbatim text in all formats. 
Audio Communion Recording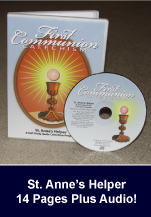 Audio Baltimore Catechism No. 1 questions and answers for First Communion
First Communion Worksheets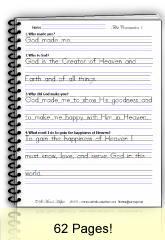 Baltimore Catechism No. 1 worksheets for First Communion: eCopybooks With Cursive Writing Practice
First Communion eBooklet to Print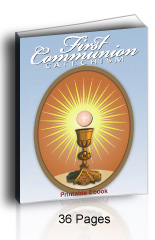 Printable Baltimore Catechism No. 1 Questions for First Communion Ebook
Catholic Coloring Pages To Print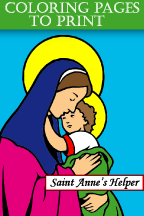 Catholic Catechism Coloring Pages For Saints and Liturgical Calendar