Catholic Confirmation Quiz: Baltimore Catechism No. 2 Worksheets And Quizzes 

Which questions will Sister ask on her Catholic Confirmation quiz? 

See the main questions and answers.
Your kids can practice several ways with Saint Anne's Helper Confirmation worksheets and quizzes. They use the Baltimore Catechism No. 2 questions and answers in 
Manuscript and 
Cursive writing worksheets
that you can bind in a workbook or use individually as worksheets. Excellent for handwriting class, too!
Bonus: You will find four different printable Confirmation quizzes in separate files in this digital download.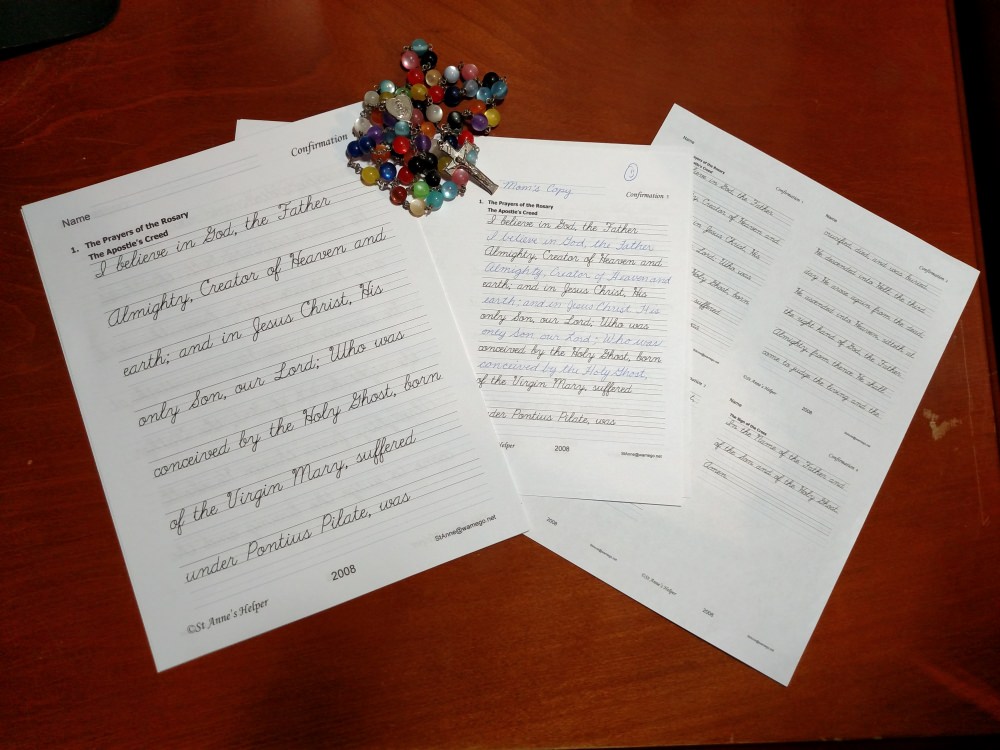 Catholic Confirmation Quiz Download: printable Confirmation worksheets and quizzes.
Printable Catholic Confirmation Quiz, manuscript and cursive worksheets.
Confirmation Catechism Copybook Print And Cursive
Plus Tests/Quizzes
90 Page Download $14.98
---
---
Your kids can practice till you're ready to give a quiz. You receive these downloads:
84

Manuscript pages 

Confirmation Catechism
90

pages Cursive Confirmation Catechism

Four 3 page Confirmation quizzes.
St. Anne's Helper Catechism Confirmation Manuscript Copybook  and Cursive Copybook have:
fully reproducible pages with the same track by track numbering as the Audio, 
the same Baltimore Catechism No. 2 questions and answers, 
and Catholic prayers. 
Jump down to see:
Free Sample Pages Confirmation Worksheets To Print:
Catholic Confirmation Catechism Copybook Details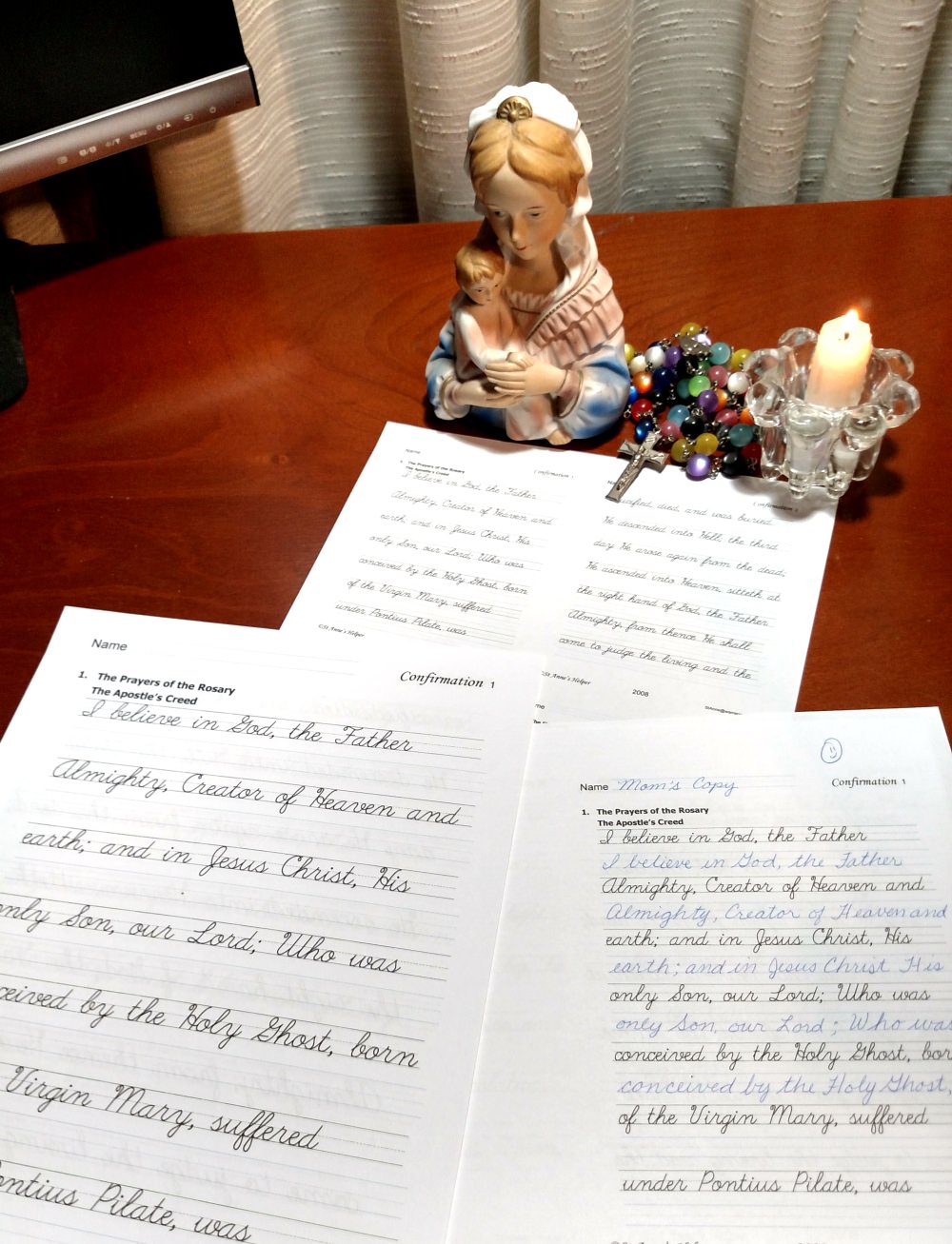 Four Catholic Confirmation Quizzes and Baltimore Catechism No. 2 worksheets. Print in three sizes, both cursive and manuscript.Click to enlarge.
The Catholic Answers to the Baltimore Catechism No. 2. No wondering if your student is being misled by fluff. No NSJBC here.
Giant Money Savings. Once you own these you have permission to print off as many writing worksheets as you need. For as many students or years as you need.
Flexibility. You can print the whole catechism copybook on predrilled 3-holed paper for use in a binder; spiral bind the set at an office supply store (email them the job!); and/or use them as printable worksheets, busy work or review.
Catechism Copybook samples (above) give you an idea of how useful St. Anne's Helper Copybooks can be. You can print as many copies as you need throughout many years.
Print these pages and bind them as a book.
Use your own binder or email it to an office supply store to be spiral bound.
Print them on three holed paper to use in a binder.
Print them on low weight paper so they fit nicely in a folder.
Print them as penmanship practice sheets and use them to review manuscript and  cursive writing skills.
Use them as printable Confirmation worksheets to review the Baltimore Catechism.
Confirmation Catechism Copybook Print And Cursive
Plus Tests/Quizzes
90 Page Download $14.98
---
1. Printable Catholic Confirmation Worksheets
Both Manuscript and Cursive Included

Confirmation Quiz Worksheets
Once your students have memorized the Baltimore Catechism answers for Confirmation; copying the text helps them to be able to learn to spell the words well.
These are also great for the years between sacraments, what better review than preparation for Confirmation?
Rewriting the answers on these Catholic handwriting worksheets gives handwriting practice which improves penmanship, too.
I have seen students that who struggled to read, simply continue to write the words and learn the phonograms as they copy these timeless truths. Copywork can really improve reading skills for some children. The extra copywork forms good habits and makes the words easier to recognize.
Using Catholic catechism copybook sheets as worksheets individually and with dictation-style teaching gives explicit instruction as to what the words say. This can really boost reading and writing skills for all other courses of study - all on great material! Try practicing the Hail Mary or Our Father several times and find how many words young students learn to read easily.
When you are busy with other students, extra pages can be printed as extra work for students who are finished early. This is very handy for homeschool when unsupervised work or busy work is needed to keep busy minds and hands busy.
Since these pages are reproducible, you can choose to print the specific page that you need from the catechism copybook downloads. Perhaps your children are learning the Our Father. Well, they can copy the prayer for catechism and penmanship.
These worksheets can be printed over and over for special questions like the Ten Commandments and the Confirmation prayers. This way pages can be reprinted for extra practice on a particular answer.
Idea: Use pre-drilled three-hole punched paper that can be written on and placed in a special binder for the purpose.
2. Binding Your Catholic Confirmation Quiz Workbook

Catholic Confirmation Quiz Copybook
A spiral binding at an office supply store can remove the need and the hassle of using a binder (losing worksheets anyone?). 
The spiral bound book seems more special when it is spiral bound and it is less cumbersome to write in it. It is easier to keep all of the work together, too.
The whole copybook can be printed and bound for a keepsake practice book. 
Even our high school children like these. They especially like the effect of printing them 2 up for a small and elegant font. See below.
Confirmation Catechism Copybook Print And Cursive
Plus Tests/Quizzes
90 Page Download $14.98
---
3. Catholic
 

Confirmation Worksheets For Handwriting or Typing Practice

Catholic Cursive Writing Worksheets
Catholic Sunday School Worksheets: Printing Ideas
You can print these worksheets in several sizes depending on the grade level of your students. Small children sometimes do well with larger fonts, yet older students love the small small font. Small, medium, large. Your choice.
1. Full Sized Worksheets: Simply print full sized and double sided if you'd like to save paper. This is great for first, second, and third grade catechism work. Awesome preparation for a Catholic Confirmation quiz.
K-2 Large Font Cursive Writing Worksheets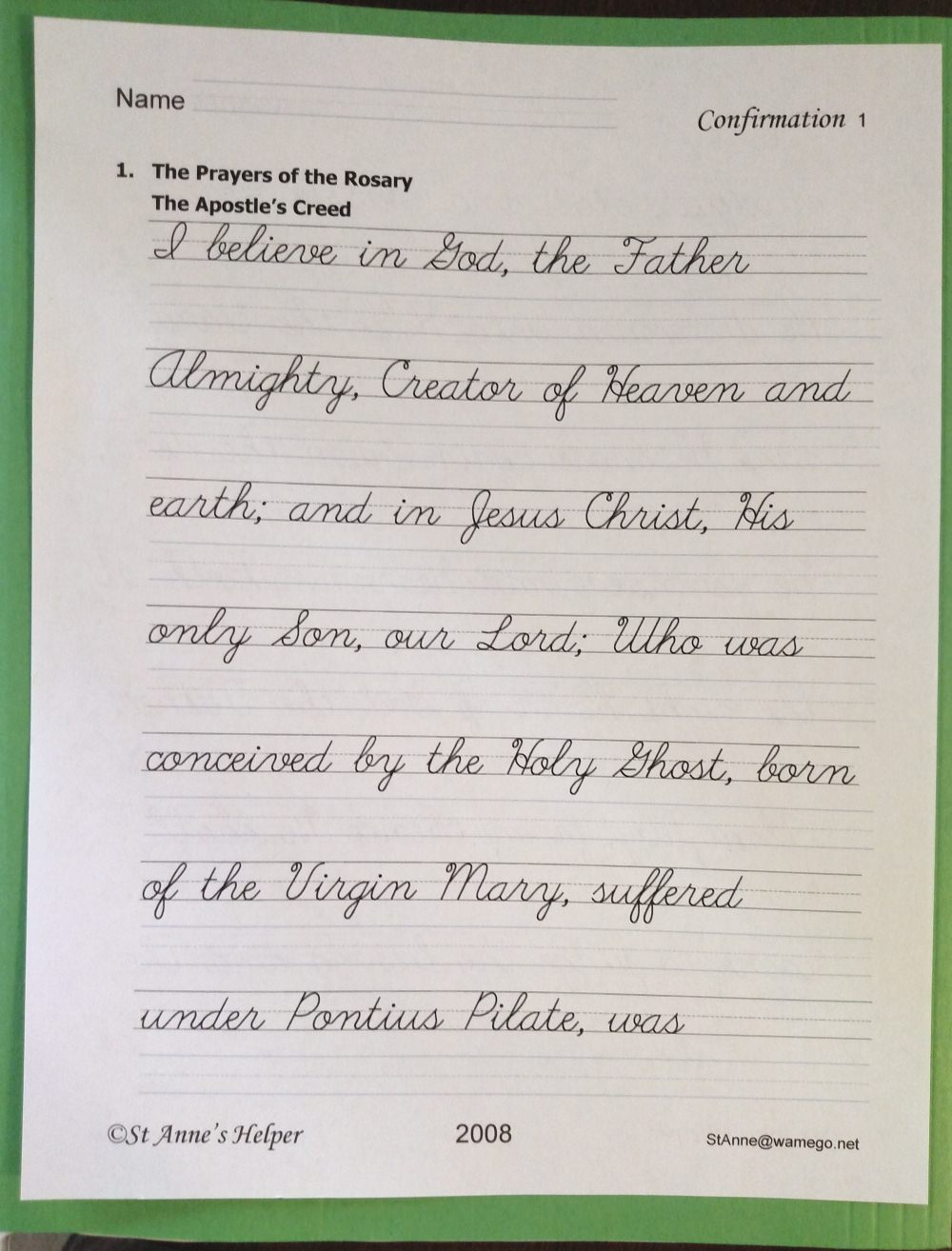 Baltimore Catechism Worksheets: Large Font printed full sized.
3rd Grade Medium Cursive Writing Worksheets Booklet Or Multiples
2. Booklet: Your older children will love this as handwriting practice if you print the download as a booklet. Great for third through eighth grade penmanship. Use thin paper because 23 pieces of paper is hard to fold and staple. You can also sew or zip-tie these together.

Multiples: Print two-up for middle school handwriting practice size. See below.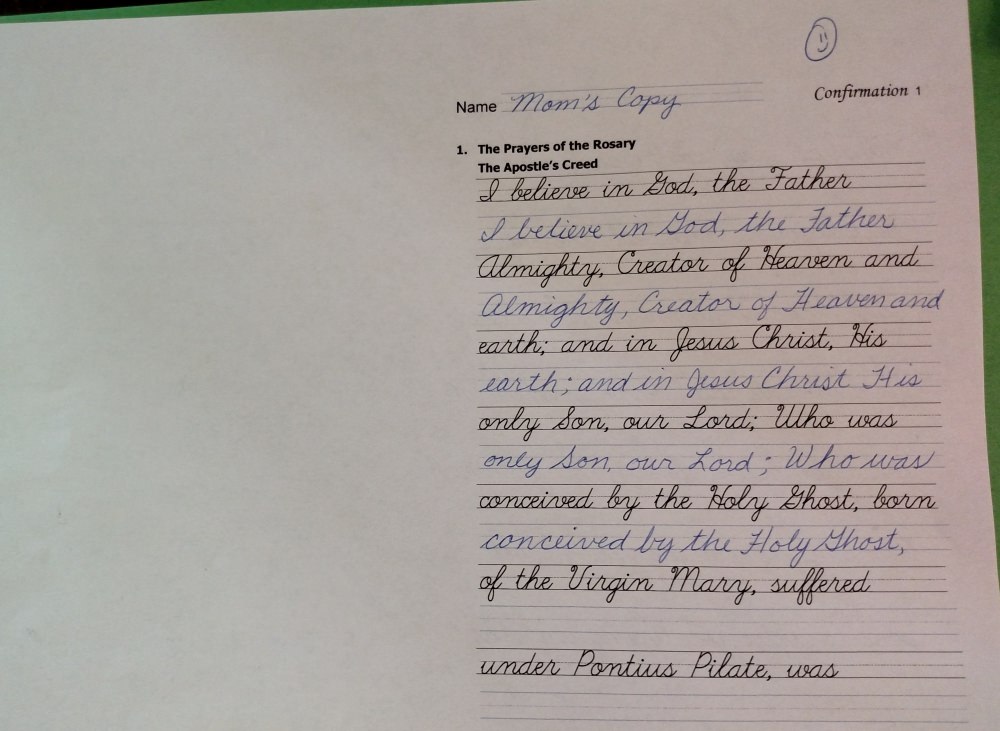 Baltimore Catechism Worksheet: Medium font, booklet setting or print two-up.
7th & 8th Grade Small Font Cursive Writing Worksheets For High School
3. Small Font Worksheets: You can also get your printer to print this download two-up so that the questions will be in consecutive order (ask me why I do that - it's so confusing to the children if the questions are in scrambled order on individual booklet sheets). You can chose Multiple, 2 by 1, horizontal, and landscape orientation for a middle school font.

4. Elegant High School Handwriting Worksheets: For even smaller print you can print these Multiple, 2 by 2, horizontal, and portrait orientation. This looks super elegant! Part of the secret of beautiful writing is control of the pen and a small size. 'Perfect for high school handwriting practice and saves ink and paper.
Both cursive writing and manuscript print.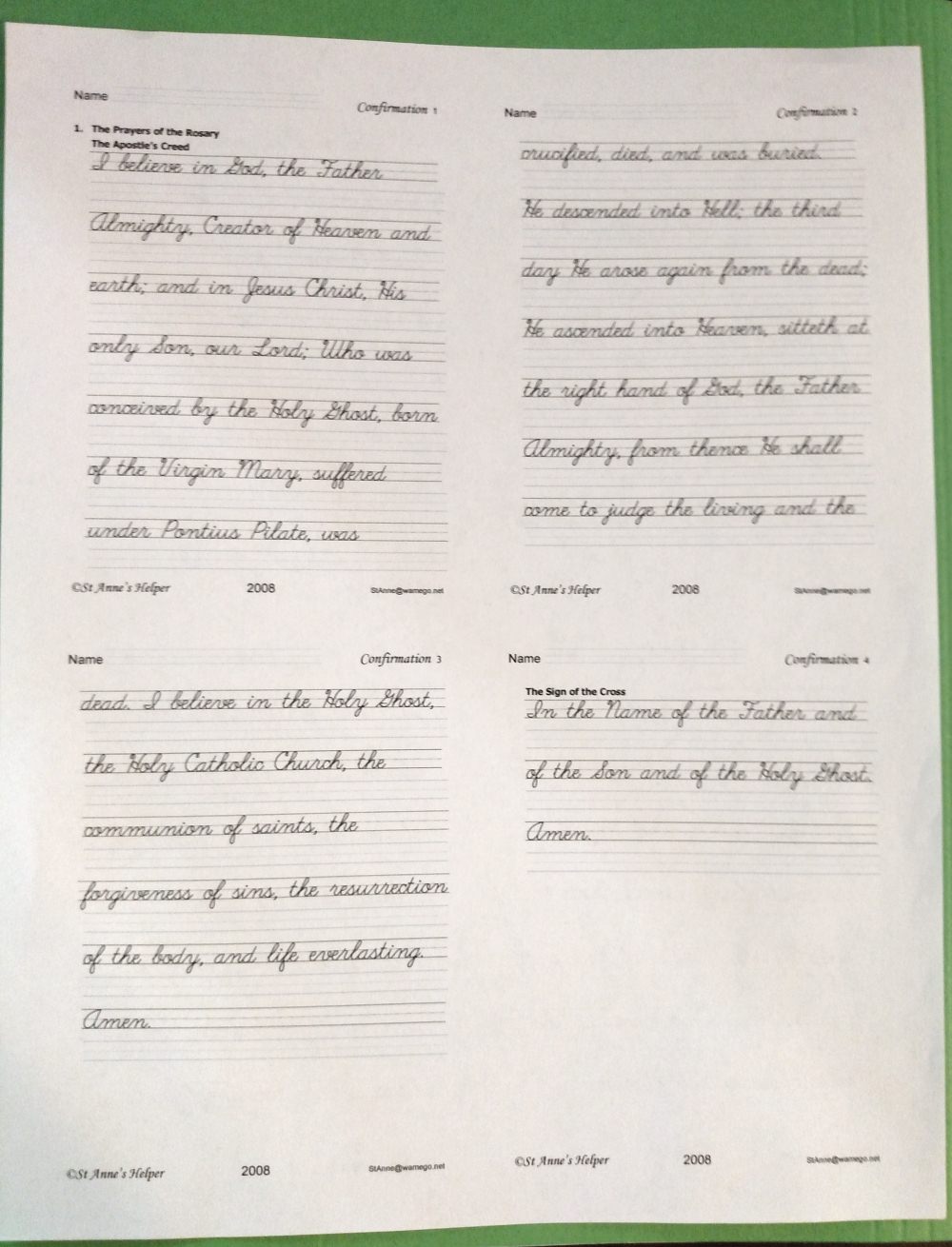 Baltimore Catechism Worksheets: Small font, print four up.
5. Typing Practice: You can also copy the text file to your students' computer files so they can practice typing.
What better than the Baltimore Catechism for learning to use the keyboard?

4.
Bonus!
 4  Confirmation Quiz Variations
New in 2017:
Four different 3-page quizzes where the questions are in different order.
Use each page as a separate quiz, or open book practice.
Use them as a cumulative review or test.
The Baltimore Catechism is your teacher answer key. :-)
Page 1 covers the Ten Commandments, the precepts of the Catholic Church, and the Holy Days of Obligation for all four sets.
Page 2 covers many questions about the Blessed Trinity, the Gifts of the Holy Ghost, and Jesus Christ. This page varies with each of the four sets.
Page 3 covers chief teachings about the Catholic Church: Jesus Christ, His nature, Redemption, definitions of Baptism and Confirmation and the effects of Confirmation.
We're including this useful treasure for free, keeping our price the same as it has been for years.
You have our prayers that your children score well on their next Catholic Confirmation quiz!

Confirmation Catechism Copybook Print And Cursive
Plus Tests/Quizzes
90 Page Download $14.98
---
5. Related Catholic Confirmation Quiz Downloads:
These audio downloads and ebooklet have the exact same wording as the worksheets above. Buy them once and you'll have them for all your children. :-)
Have an audio learner? You'll love our Audio Confirmation download.
Find a handy little printable Confirmation Preparation ebooklet here. Or see below.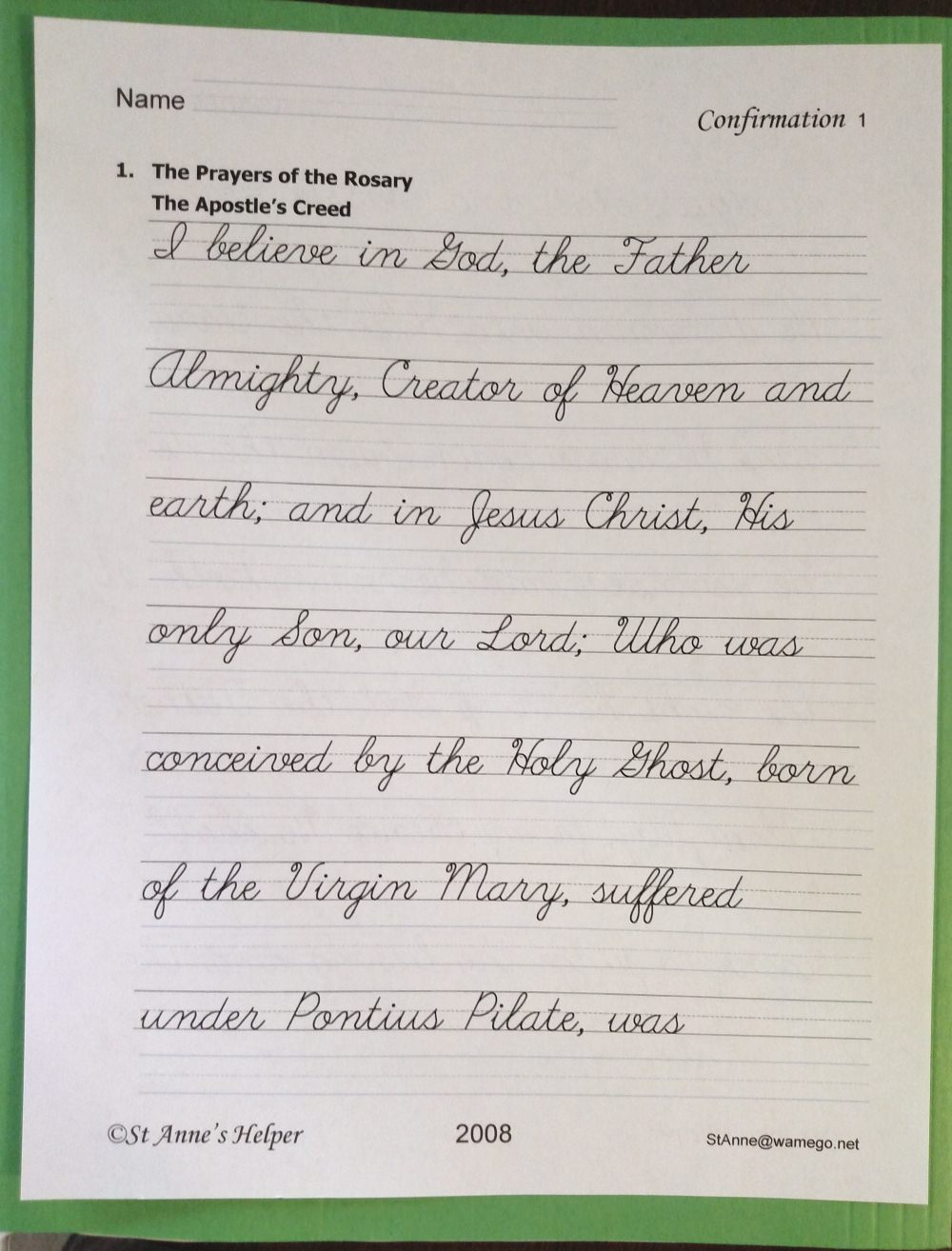 Printable Catholic Confirmation Quiz and Baltimore Catechism No. 2 Confirmation Worksheets