Catholic First Communion Worksheets
Catholic First Communion Worksheets 
Catholic Catechism Handwriting Practice
These Catholic First Communion Catechism Worksheets and Copybook include the main Baltimore Catechism No. 1 answers and prayers that you need for teaching the sacrament of the Holy Eucharist.
Lovely way to teach catechism and handwriting at the same time! See sample pages below.
2 Free

 First Communion Copybook Samples:
Free

Print Sample To Print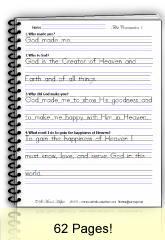 First Communion Worksheet Manuscript Sample
Free

Cursive Sample To Print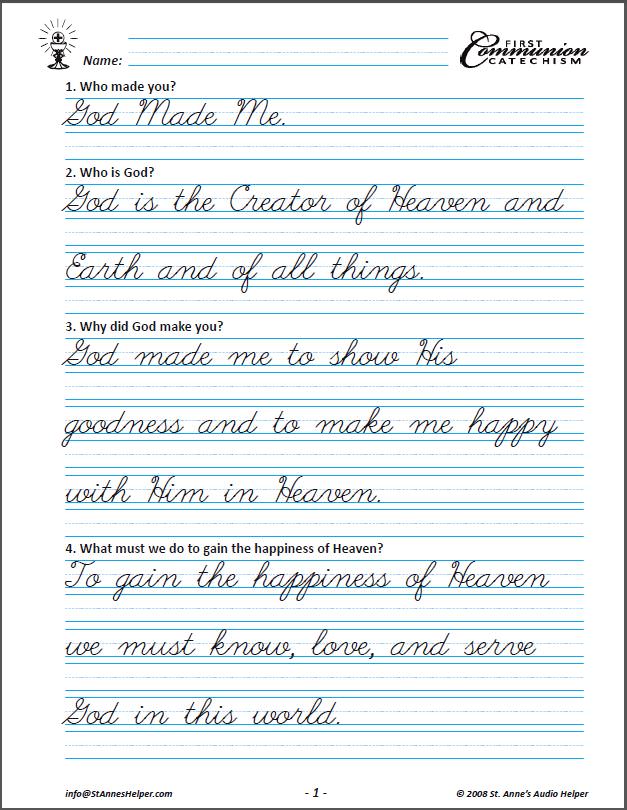 First Communion Worksheet Cursive Handwriting Sample
---
---
Baltimore Catechism No. 1.
1. 62 page Manuscript 
2. And 60 Pages Cursive Writing Worksheets 
St. Anne's Helper Catholic First Communion Worksheets Copybook Ebook.
62 Manuscript + 60 Cursive fully printable pages. Two for one! Same price.
Same track by track numbering as the Audio CD.
Use these to help memorization; 
Easy printable handwriting worksheets.
You'll have both the manuscript and cursive writing files, two for one. Your choice.
Perfect for first and second grade handwriting practice!

Print Catholic First Communion Worksheets For Your Child's Handwriting Level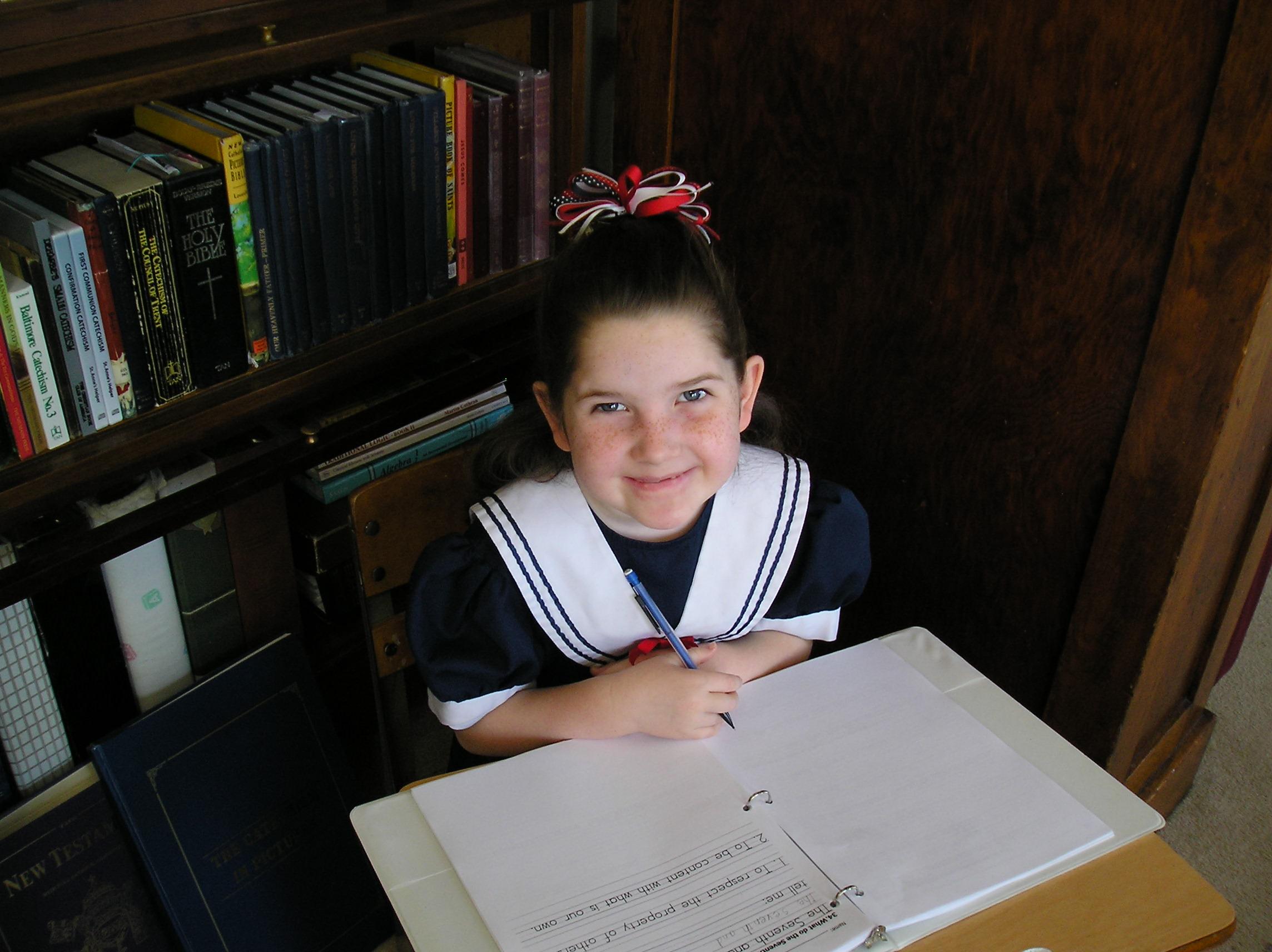 This Catholic First Communion Worksheets or copybook uses the Baltimore Catechism No. 1. Awesome cursive writing practice too!
Catholic Cursive Writing Worksheets
Catholic Sunday School Worksheets: Printing Ideas
You can print these worksheets in several sizes depending on the grade level of your students. Small children sometimes do well with larger fonts, yet older students love the small small font. Small, medium, large. Your choice.
1. Full Sized Worksheets: Simply print full sized and double sided if you'd like to save paper. This is great for first, second, and third grade catechism work. Awesome preparation for a Catholic Confirmation quiz.
K-2 Large Font Cursive Writing Worksheets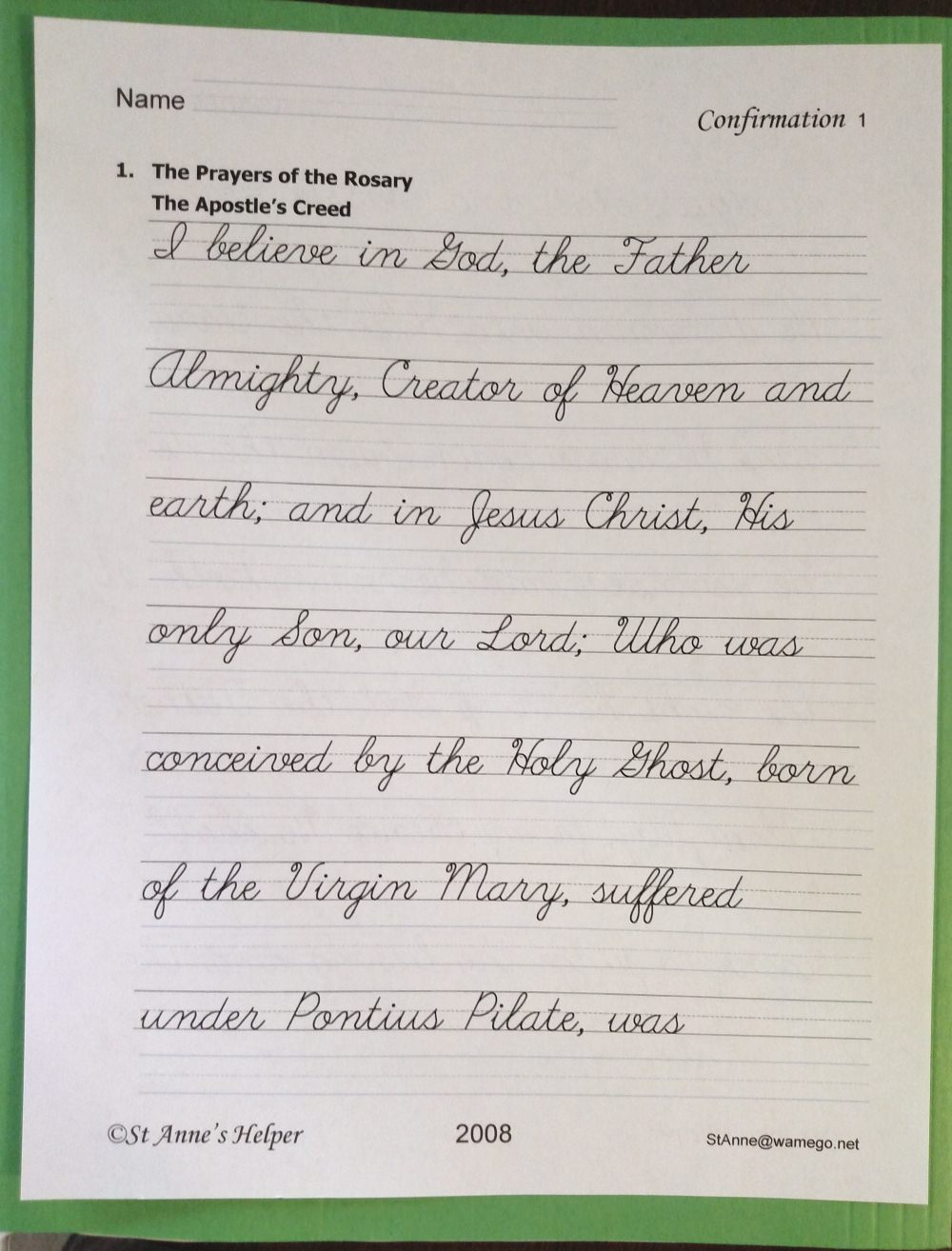 Baltimore Catechism Worksheets: Large Font printed full sized.
3rd Grade Medium Cursive Writing Worksheets Booklet Or Multiples
2. Booklet: Your older children will love this as handwriting practice if you print the download as a booklet. Great for third through eighth grade penmanship. Use thin paper because 23 pieces of paper is hard to fold and staple. You can also sew or zip-tie these together.

Multiples: Print two-up for middle school handwriting practice size. See below.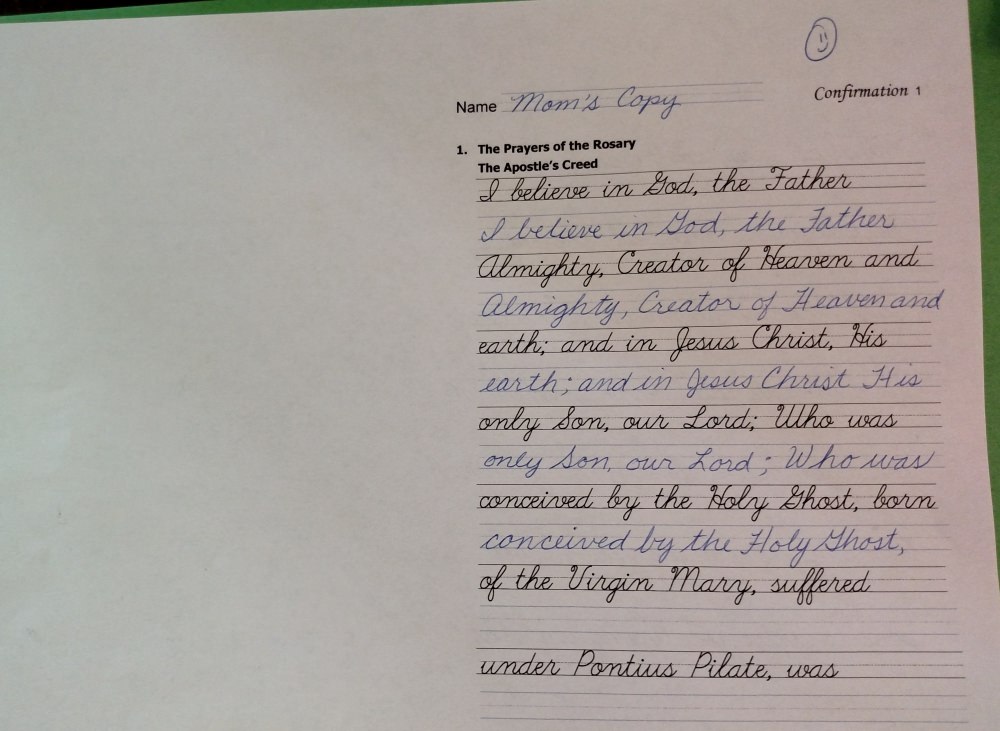 Baltimore Catechism Worksheet: Medium font, booklet setting or print two-up.
7th & 8th Grade Small Font Cursive Writing Worksheets For High School
3. Small Font Worksheets: You can also get your printer to print this download two-up so that the questions will be in consecutive order (ask me why I do that - it's so confusing to the children if the questions are in scrambled order on individual booklet sheets). You can chose Multiple, 2 by 1, horizontal, and landscape orientation for a middle school font.

4. Elegant High School Handwriting Worksheets: For even smaller print you can print these Multiple, 2 by 2, horizontal, and portrait orientation. This looks super elegant! Part of the secret of beautiful writing is control of the pen and a small size. 'Perfect for high school handwriting practice and saves ink and paper.
Both cursive writing and manuscript print.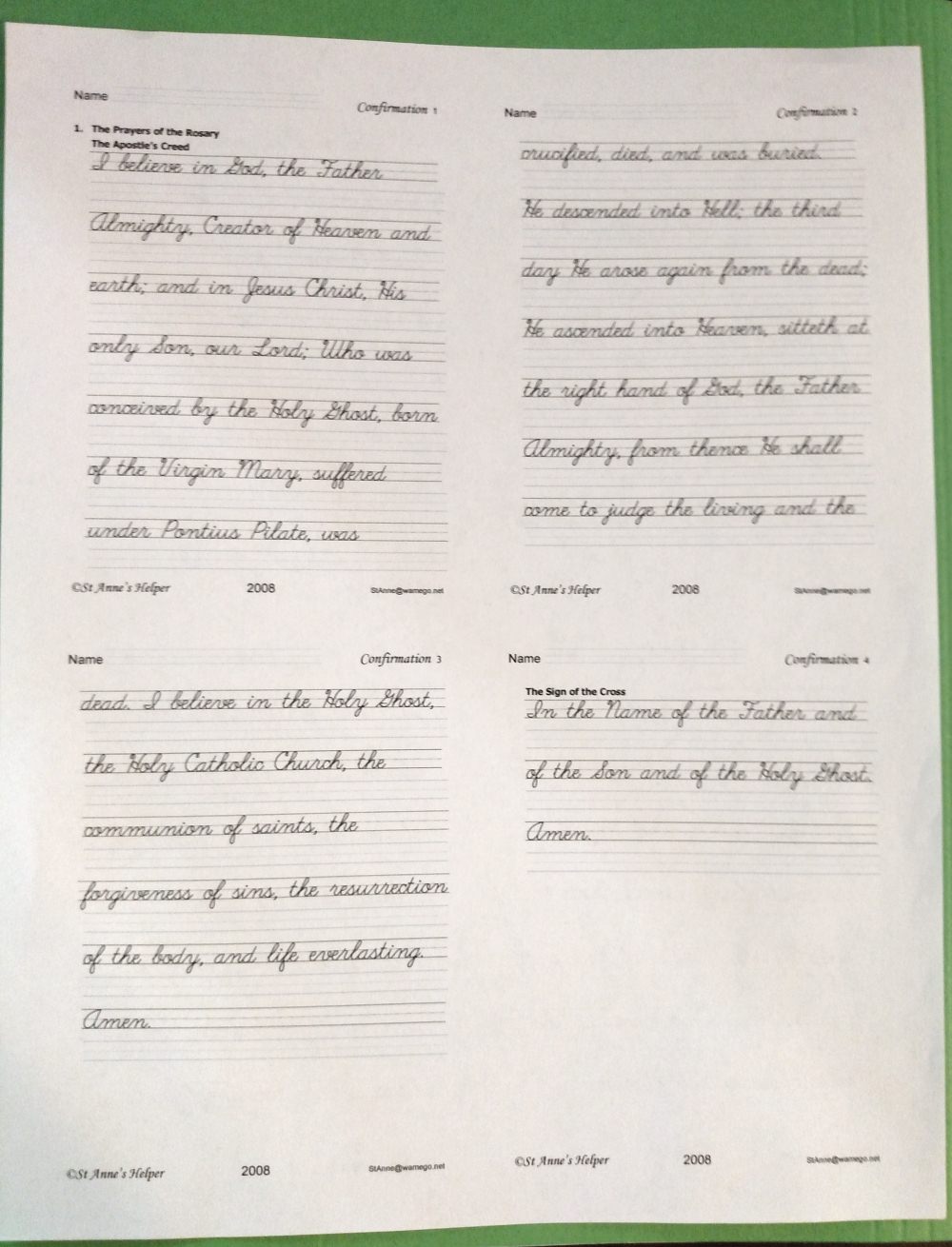 Baltimore Catechism Worksheets: Small font, print four up.
5. Typing Practice: You can also copy the text file to your students' computer files so they can practice typing.
What better than the Baltimore Catechism for learning to use the keyboard?

Printable Worksheets: Catholic First Communion Class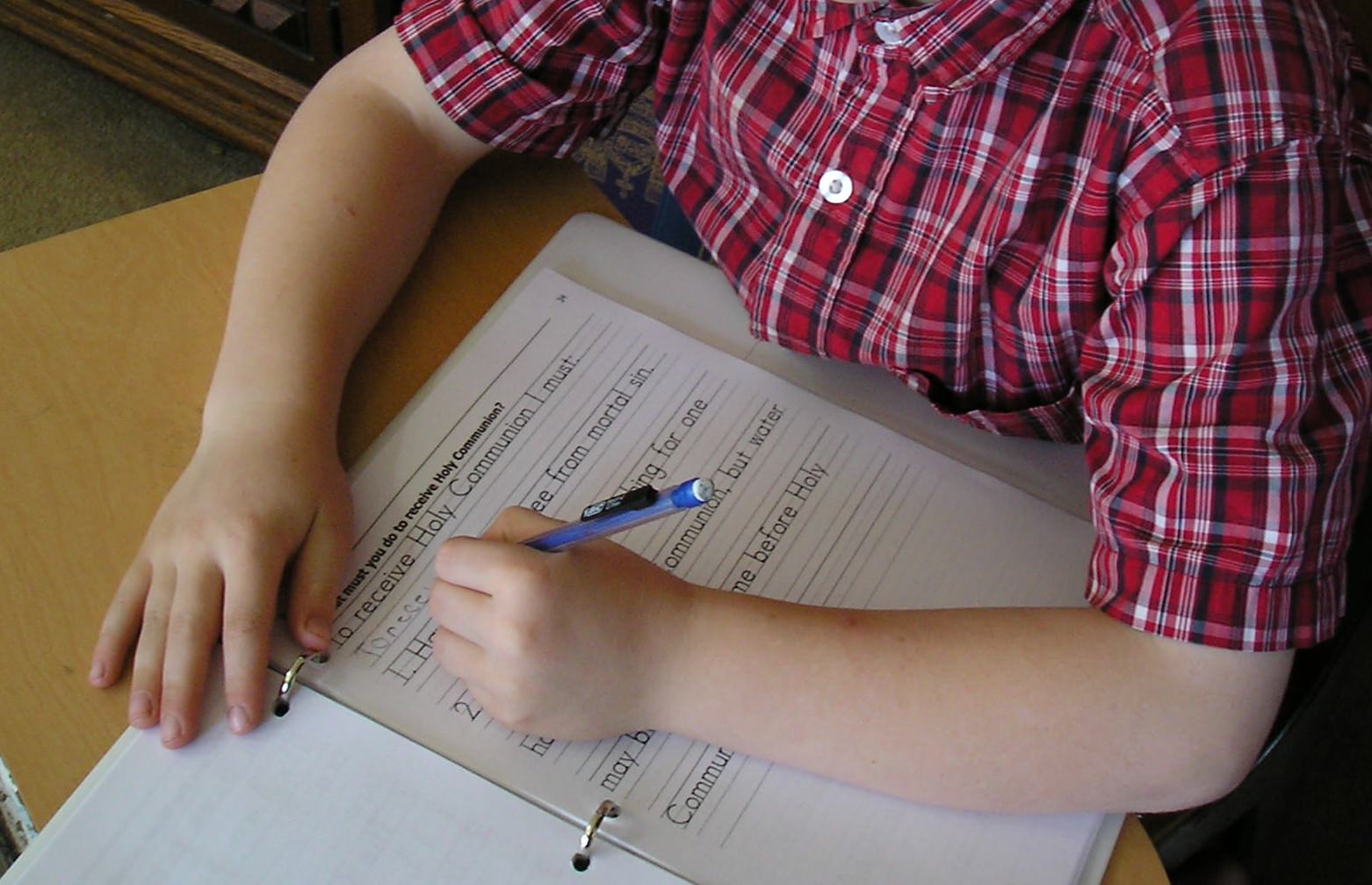 These First Communion Worksheets have the main Baltimore Catechism Holy Eucharist questions. Practice the answers and handwriting!
Your Catholic First Communion is the picture of your families will treasure about the Catholic Faith. It is the first moment that you are so closely united to Jesus Christ. You've prepared for months and are finally ready for the perfect day. Help your children prepare well for this awesome moment!
If you're a catechist, a teacher, or a parent, this copybook helps you teach:
the main Roman Catholic prayers for children, 
the Catholic Ten Commandments and 
the answers to the Baltimore Catechism questions used for First Communion and First Confession. 
Start now or prepare for teaching next year.
If you are a catechumen, meaning that you're an adult learning the truths of the Faith,  and you want an easy way to learn the basics in preparation for Baptism and First Communion, you'll only need the audio or the ebooklet. 
What is a Catholic First Communion?
Simply First Communion is the first time Catholics receive the Holy Eucharist, whether one is a child or an adult.
Your First Communion day is the happiest day since the time of your Baptism, because you finally have union with Jesus. Children love that they can do as Mom and Dad and they know that this is a huge honor, so Catholics usually dress their best and celebrate after the Mass and pictures.
Ever since the time of Baptism a Catholic goes to Mass every Sunday and Holy Day of Obligation. First Communion is a long awaited event with quite a bit of study compared to some of the other Catholic sacraments.
Adults and children who are blessed to live in a family that says the family Rosary already know most of the Catholic prayers, but usually need to learn the Catholic Ten Commandments so they can make a good First Confession. 
They then learn the basic Catholic beliefs about the seven Catholic sacraments in the rest of the catechism. It's super short, so be encouraged.  The main thing to "know" is that the Host is Jesus after the Consecration at Mass.
Teaching Catholic First Communion Catechism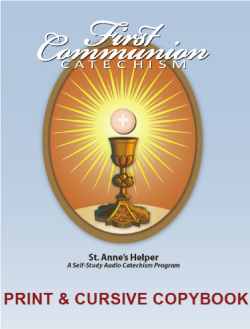 First Communion Worksheets Copybook 2in1
When teaching children about Communion, "It is heartbreaking to look out over the class to see so many who will not have help learning their prayers!" How will they be able to prepare well for a holy First Communion?
Send them home with these easy worksheets for practice. Yes, you do not pay extra to use these for any class you teach. Pay once and teach for years.
Learning the Roman Catholic prayers is easy with enough repetition. Most of the prayers for First Communion are in the Catholic Rosary: the Apostle's Creed, the Our Father Prayer, the Hail Mary, and the Glory Be.
Many children and adults can memorize the Hail Mary in the first Rosary since there are 53 Hail Marys in a five decade Rosary. Easy.
---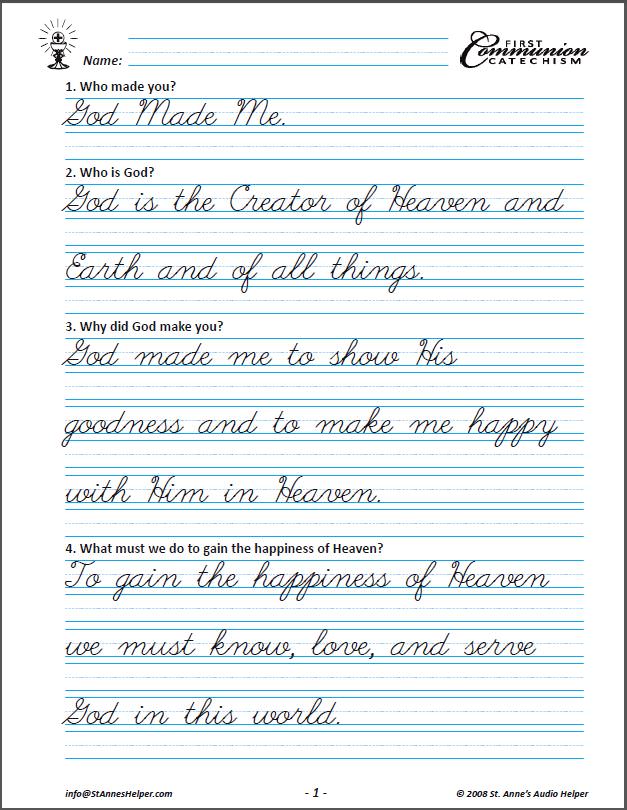 Saint Anne's Helper Catholic First Communion Cursive and Manuscript Copybook