Baltimore Catechism No. 3
For High School And Beyond
FTC Disclosure: I recommend products that I think will help you and your children. If you buy through my links I earn ad commissions at no extra cost to you.

The Baltimore Catechism No. 3, 1885 is frequently used as a Post-Confirmation course and frequently requires a good deal of study! In general, the Baltimore Catechism is one of the most popular Catholic catechisms and this one is giant with 1400 questions and answers in Thirty Seven lessons and is for those who have already been Confirmed.
The numbering of the questions is not the same as it is with the No. 1 and 2. For example, The Our Father is one of the numbered items and has questions about it for the children to learn and memorize. The prayers are part of the numbered items.
The Nos. 1  & 2 have meditations for Mass and Confession as well as hymns. the No. 3 does not have these.
The best Catholic books we have seen for extended and in depth study after Confirmation are the Catechism Explained and the Catechism of the Council of Trent (CCT). Compared to the BC3 the Baltimore Catechism in general was based on the CCT and it was meant to abbreviate the Catechism Explained. If you're looking for something "readable" get one of the CE or the CCT. you can snuggle up with a good book with these. If you need to teach or to memorize doctrine you'll want to purchase the BC3.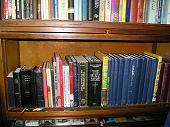 I really, really like the Catechism Explained and the Catechism of the Council of Trent. The Baltimore says that it is based on the Catechism of the Council of Trent so if you have the CCT you would not need to get the BC3, although the Q&A format of the BC3 is handy for easier memorization.
We've used the CCT for high school, me reading it out loud with our children in eleventh and twelfth grade. We really learned a lot from reading it as it caused the children to ask real life questions that we were able to "talk through". It's easier to read than I'd thought it would be and it includes many Bible and saints stories. It's got the best prefatory notes on the planet. They explain the history of getting it published. See more about the Catechism of the Council of Trent here. You can get all three at Amazon:
See also:
Use these printables in your Roman Catholic catechism class, Faith formation, or Sunday school lesson. ~Mary Fifer

If you use the Baltimore Catechism, you'll love SaintAnnesHelper.com!

---
---
Search Saint Anne's Helper
Roman-Catholic-Catechism.com Website: