Catholic Schools: Catechists, Teachers, and Parents

Catholic First Communion
1950s Baltimore Catechism
Designing Your Own First Communion Classes?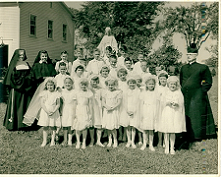 Antique First Communion Class Picture
Teaching your children about First Communion is as wonderful as it is noble.
You want your children to love Jesus, to treasure Him, to do what He wants them to do by keeping the Ten Commandments and praying daily so they can be happy in Heaven forever. See how to prepare for this most awesome day in special ways.
Are you planning ahead for next year?

'Trying to catch up or get help for this year?

Tired of a fluffy catechetical program?

Needing the sanity of the Baltimore Catechism for First Communion?
You'll be happy to see the great suggestions on this page. They teach the Faith plain and clear and there are even worksheets and audio recordings to help ease your load. Below are three main aspects for preparing your children to receive Jesus well their first time.
You will do all three of these at once, yet prayer is the most important, as a good disposition is the most important "preparation":
Prepare: Teach the prayers and the main Catholic truths.
Pray: Pray every day in a lovely way. Invite Jesus and Mary to help you.
Teach the catechism: Choose the ever concise and timeless Baltimore Catechism. Teach it right the first time.
You pray while you teach, and you prepare your children to pray as you teach the catechism. Always praying, preparing, and teaching or learning. Be assured of my prayers for you and your children.
Best Baltimore Catechism First Communion Book
The best Baltimore Catechism book that I have seen for a First Communion Catechism for children is Jesus Comes (available at Amazon), from the Our Holy Faith series, Vol 2, re-published by Neumann Press and now owned by the new TAN Books.
It has the Baltimore Catechism questions for the Holy Eucharist, the sacraments, Ten Commandments, and Communion prayers.
It has extra questions for each Commandment that I call "The Tells and the Forbids". This commandment "tells me" and the same commandment "forbids me", etc. They can be way too much for many first and second grade children to memorize; yet they are excellent review for teaching children how to prepare for confession, and for older children to read and study. 
It's also got beautifully modest pictures. Even Adam and Eve are decent. Saint Anne's Helper has downloads to go with this book.
1. Prepare: First Communion Preparation
Oh, what a wonderful time! First Holy Communion is the first reception of the Holy Eucharist.
Whether you are young or older, your First Communion day is one of the most beautiful days of your life. Usually it is only second in one's life to an ordination or wedding day.
This means that it's super important to prepare your children well without causing pressure or anxiety. Pray and study well yourself and you will prepare well if you are learning, or you can help your students prepare well if you are teaching.
Prepare their hearts first. If they love Jesus, they will want to prepare well.
Then pray. If the children pray, they will receive more graces. The more they pray, the more graces they will receive.
This applies in catechism class throughout the year, but also for the days and hours before First Holy Communion Day.
If you're teaching your own children, First Communion preparation starts from their earliest days. Teach them:
To join you in your daily prayers.
About Jesus and Mary and their friends the saints.
How to sit still for family Rosary, Mass, and quiet reading time.
To do good and to avoid evil.
To be sorry and to ask forgiveness.
Teach them the Ten Commandments and Rosary prayers by the time they are in kindergarten.
Every day should be filled with lessons for loving Jesus, doing good, and avoiding evil. 
1.A. Our First Communion Story
I was asked by our pastor to teach the First Communion class when our oldest child was preparing. What a humbling responsibility! 
Yes, my husband and I wanted her to learn well, yet now I was responsible for helping other children do the same. 
In preparing them for their Catholic First Holy Communion (There are Anglican services. Note that this site is dedicated to the Roman Catholic sacraments....), both as catechists and as parents, we found that our children learned more easily when they memorized the short and clear Catholic answers in the Baltimore Catechism. Adults, too.
We have also found that many other parents and teachers wanted an easy way to teach the answers or tutorial help teaching them. So we made CDs.
First for our own children, then for nieces, nephews, and godchildren. Soon people were coming to our door with money, asking for these recordings. Voila! Saint Anne's Helper's first product.
Over the course of many years, our recommendation is to stay with the 1885 and 1950s Baltimore Catechism or Deharbe's Small Catechism for First Communion, watching to be sure to teach:
The singular confession answers (I not we), 
Original sin, angels, etc.
The best prayers.
See more differences in catechism answers here.
1.B. Preparing for Communion Day
Your child has studied and learned his answers and prayers.
He or she has been praying for Jesus to come.
You've been to church a time or two to practice going to the altar, like on the feast of St. Blaise, Ash Wednesday, or Good Friday when children can go to the altar rail to receive blessings, ashes, and kiss the Foot of the Cross.
Keep certain things away from those last days:
Last minute shopping for communion gifts, 
Buying last minute items of clothing, 
Party arrangements.
Distracting trips.
Do keep the spiritual side first and most important.
Review the catechism questions that focus on the Holy Eucharist. You can see the most popular before and after Communion prayers at the bottom of this page as it has all of the Baltimore Catechism questions and prayers for Communion
If you have other children, they might like to color Communion coloring pages to give as sweet gifts to this year's new communicant.
Be sure that your children are able to go to confession before their First Communion. For over forty years some parishes have omitted this and it's too bad because this is the best way to make our souls clean for Jesus. 
Confession is the most important preparation for receiving communion for any of us, but most especially for our first reception. We need at least frequent acts of contrition.
Treat the day before the First Holy Communion as a special day of quiet reading and praying. 
Try to go to Mass with your children the on the previous day and go to confession that evening. Say the family Rosary together.
2. First Communion Prayers For Children
2.A. Pray With Your Children
The first most important thing when preparing for Communion is to pray.
Teach the Act of Contrition and the Rosary prayers and pray them every day with your children or your class. This is great for kindergarten and first grade and even earlier at home.
If you're teaching in a class; start class with a quick list of prayers that builds each week with:
Poof! Those are the main prayers they will need for both confession and Communion.
Our spiritual disposition is the most important element in making a good Communion so you'll want to make a special moment before these daily prayers by making a reference to what you're learning and what great graces your children will receive. Make it special.
The best way to learn these prayers is to pray them every day, both for practice and for the self same grace to be able to pray them and thereby to gain graces.
An awesome idea is to teach the prayers and Ten Commandments the year before the Communion year during kindergarten and first grade. This way there's less "work" to do during the actual First Communion year and therefor less pressure.

When our children were little and especially when they were in kindergarten and first grade we had them join us:
By kindergarten or first grade children are ready for the Ten Commandments. Be sure your children learn the Catholic Ten Commandments well and early as it can be hard to undo childhood mistakes later.
These Ten Commandment coloring pages are very helpful, too.
2.B. Tell the First Communion Bible Stories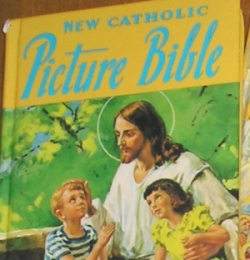 Catholic Picture Bible For Children
Usually a good First Communion class also teaches some Communion saints like:
St. John the Baptist, 
St. Pius X and Blessed Imelda and some 
Bible stories like Adam and Eve (Creation, Original Sin), 
Noe and the ark, 
Abraham (Father of Faith), and 
Moses (Passover, Ten Commandments).
Telling the stories alone can be enough, especially if you are Sr. Mary Delightful or Mrs. Enthusiastic, but you'll find that it nice to have real books for pictures.
I like to use a children's Bible and picture book of saints like a photo album so that I can flip through the pictures while I tell or read the stories.
New Catholic Picture Bible Stories
You will love using the New Catholic Picture Bible with your little ones.
Use it like a photo album.
Share the Bible stories as if they are stories from your own life. Buy it at Amazon here.
Save money! First Communion, Confirmation, and coloring bundles 16%-30% discount.
FTC Disclosure: I show products I think will help you. If you use my links, I may earn ad commissions at no extra cost to you.
2.C. Go To Mass Often 
You can also be sure to take your own children to daily Mass as often as possible. Praying in front of the Blessed Sacrament, especially during Mass is the best way to prepare to receive Jesus. This is the best preparation for the First Communion ceremony.
The more often your children are able to see the Mass in practice for their First Communion, the more graces they will receive. They'll also be less anxious on their beautiful day.
During the summers you can go to daily Mass and sit toward the front so that your children can see the altar and see other people kneeling to receive Communion.
Extra trips to daily Mass add up to many more graces and are also a bit of an enticement to desire Holy Communion. This also helps the children to be more comfortable going to Mass.
Hint: Do not emphasize that they watch the Communion line. That can be a hard habit for children to break through the coming years. 
Daily Mass is also a great teacher if you have boys who hope to become altar servers. The more times they see the Mass, the better they will remember their moves.
If they can follow their Missal, all the better for understanding what they'll do as altar boys and perhaps someday as priests and religious. Some children are mighty sharp by first and second grade.
Teach them how to fold their hands and walk at a stately rate up the aisle to the altar. There are several times we can help the children practice processing to the Communion rail:
Feast of St. Blaise for the Blessing of Throats.
Ash Wednesday to receive ashes.
Good Friday for the Veneration of the Cross.
If you are able to take your children to these events with the whole family, or class, they will know how to proceed in the Communion line with the confidence of having done it several times with Mom and Dad or with their class.
When it comes time to explain the Communion procession all you'll have to say is, "It's just like the Feast of St. Blaise."
2.D. Tour the Confessional And Go To Confession
Since going to Confession is a major part of preparing well, eventually you'll want to give a tour or two of the confessional before the First Confession. If the First Communion class is not doing this, ask Father or Sister if you may show your children the confessional. Certainly you can show your children where it is in church and practice at home.
Practice going to Confession at home in a private place. This helps avoid embarrassments and distractions. The main thing to practice is the routine "Bless me Father for I have sinned...." elements and the prayers like the Rosary prayers and Act of Contrition. Father is likely to assign Hail Marys or Our Fathers for the penance and the Act of Contrition is part of the confession list of prayers.
Since an examination of conscience depends on the Ten Commandments, these are very important to know while preparing for the sacrament of Penance - all throughout our lives. Study them through the year with simple examples for each Commandment. We have some Commandment coloring pages here.
A nice help with the Catholic Ten Commandments is to teach each one by itself with its number and also to have the student count with his fingers. In case he loses his place when he is reciting to Sister or you, he can more easily recover where he is by noting how many fingers he has counted. This is very helpful with any answers that have numbered responses.
I've seen the Ten Commandments Song used in some catechism classes where the tests were worded like it, so we have included the words to it on the First Communion Audio Catechism CD. It and an Apostle's Creed Song can be found on the 24 Catholic Songs recording carried by Our Lady of Victory School in Post Falls, Idaho. 
If your children or students know the Ten Commandments and main prayers in kindergarten, it's much easier to learn about the other questions.
Learning the "tells" (number 22...) early can also help the student discern the "forbids" easier later in the year. The "tells" and "forbids" answers are usually too much for little children to memorize well (and too much for some of us adults), yet they are very good for them to hear so as to make first Confession easier.
3. Teach The Baltimore Catechism First Communion Answers
Teaching Children About Communion
Teaching anyone most any new information, adult or child, but especially teaching children about Holy Communion, requires some drill and much love. This is where the audio CDs have been a huge help, especially for our audio boy. Headphones worked like magic for him, he started understanding and repeating the right words immediately.
What are the basic minimum facts? Mainly your child needs to know that Jesus is God and that He is in the Host after the Consecration, the most important part of the Mass. 

It really only takes about ten to fifteen weeks teaching one lesson per week to cover the information in the catechism. You can start any time during the year and can add this to whatever else you're doing, or make a plan to start in September or February to coordinate with the school year.

Our family has found that once the teacher or parent has lovingly told the story of God's Creation, Adam's Fall, and God's promise of a Redeemer that most children have the love necessary to want to learn about their First Communion.
This is often due to the gift of Faith received in Baptism and fostered by prayer; not talent, academics, or other resources. The children who remembered what Sister said best were the ones who did not have crayons and activities as distractions.
Rev. Fr. Leo Pyzalski wrote an excellent book on this point, The School Sister's Vade Mecum. It was a huge relief to me, too, because he showed how the children learned better and loved Sister better without the extra activities.
If you're not seeing this love in your children don't worry, it usually doesn't gush forth which is good so as to keep it honorable and dignified through the year. Receiving Communion should always be a solemn occasion. 
It is important when teaching children about Communion that they know that the Blessed Sacrament (Communion) is the Body and Blood, Soul and Divinity of Jesus. Simple.
Before the Consecration, which is the most important part of Mass, the white wafer is bread. 
After the Consecration It is God Himself, Creator of Heaven and Earth.
So many priests will ask this very question, yet some catechisms do not explicitly include this in the Q&As, meaning that they do not say it in so many words. Now you know ahead of time and can remember to teach it before Father asks.
See a detailed explanation of the Catholic answers here and a list of Communion answers here.

Difference Between Eucharist And Communion?
What is the difference between the Blessed Sacrament, the Holy Eucharist, and Communion?
Nothing. It is Jesus in different aspects.
The Eucharist is what we receive in Communion and we also call It Communion, or the Communion Host.
Some catechism answers are very close to each other, so it can be hard to remember the difference between them. Here's an easy way to remember and to teach your children:

The

Holy Eucharist

is the Sacrament.

The Sacrifice of the

Mass

is the Offering.

Communion

is the receiving.
Say it three times each with enthusiasm and energy: 
Eucharist is the Sacrament. Mass is the Offering. Communion is the receiving.
Eucharist is the Sacrament. Mass is the Offering. Communion is the receiving.
Eucharist is the Sacrament. Mass is the Offering. Communion is the receiving.
What Is The Mass?
What is the Mass? Many Catholics today do not know that the Mass is the sacrifice of Jesus' Body and Blood.
Many have not even read the definition of what the Mass is, was and always will be. "The Mass is the offering to God the Father of Our Lord's Body and Blood."
It is the sacrifice that effects, or makes, the sacrament of Holy Eucharist. 
Years ago, people used to learn the definition in Catechism class. If your catechism doesn't include these questions you might want to supplement it using Saint Anne's Helper's CDs and downloads. You can keep a copy of the CD in the van and one in the kitchen, etc., handy for easy review.

The 1885 and 1950s Baltimore Catechism makes it easy to learn the Catholic prayers, answers to the catechism questions, and the Catholic Ten Commandments. It has an easy and clear formula for the questions and answers that is easy for students to learn - with practice that is. What you will like is that it's also improved some answers like changing the confession questions to the singular so children aren't confessing "our" sins. :-)

3.A. First Communion Audio Downloads and CDs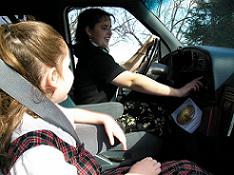 You want the best Communion catechism, yet you do not have the time or the money for lots of books and activities. 
You might even have children who are at different levels learning the same material. 
Today we look out over our class and wonder if the families ever even pray the Rosary and wonder whether the children will have help learning the Catholic prayers. It is so sad to see some children without help, or even adults who have no one with whom to practice their prayers and Catholic Ten Commandments. If this is the case, you can offer them the audio CDs. In case of necessity, contact us.

This is why we are super happy to offer you our St. Anne's Helper Audio Catechisms and Catechism Worksheets (see below). They can help you answer this need. They are excellent for First Communion catechism class since they teach the truths related to the Mass and the Holy Eucharist as well as those about Baptism and the sacrament of Penance. They help your student learn the Catholic truths easily and to prepare for a holy reception of the sacraments as they begin to learn to know, love, and serve God in this world and to be happy with Him in Heaven. 

These videos of the Rosary have the words to the prayers. The bead moves, too, so it is easier to follow the Rosary. It's great for daily use. And like the downloads, you can use these over and over. Kids love them!
3.B. Printable Copybooks - Catholic Worksheets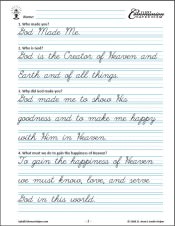 Cursive First Communion Copybook
St. Anne's Helper Audio Communion Catechism copybooks are super handy for having the children practice their answers in writing. Learning the answers orally can be enough, obviously, since books and paper were not easily available throughout the centuries.
If your school or program requires that the children be able to write their answers, it is good to have the children copy the answers word for word.
Copy work is a wonderful reinforcement, but do keep assignments super simple as academics are not the name of the game here.  
Copying the answers can help with the memory work required in some parishes. They are a great help for reviewing for any cumulative quizzes, yet an oral review is so much handier and much more direct for most children. Take the time to help them review.
Once the student understands the questions, the audio CDs can be used to help with memorization and review. The printable worksheets can help with manuscript and cursive writing practice. This is true even in later years in school when you would like to give the children extra Catholic handwriting practice.
Our First Communion copybook comes with both versions, manuscript and cursive, and you can print for as many children as you have. Use them in penmanship class. 
3.C. Printable Communion eBooklet With Coloring Pages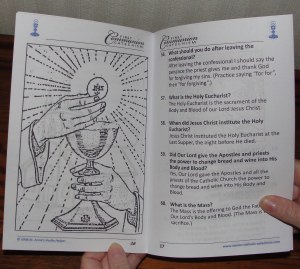 Print this First Communion ebooklet for many children.
The printable Communion catechism booklet that has
The same text as the Audio and Copybooks.
Some pictures to color.
You can reprint these as often as you need them. 
We also have a printable coloring book that has many Catholic coloring pages and many secular coloring pages that are in their own files to use throughout the year for any class or activity. Enjoy!
More First Communion Resources
You may want to have each of these for Baltimore Catechism Communion: audio, ebooklet, and digital worksheets for kids (and adults). Verbatim text all formats. 
First Communion Worksheets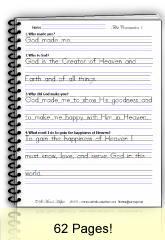 Baltimore Catechism No. 1 worksheets for First Communion: eCopybooks With Cursive Writing Practice
First Communion eBooklet to Print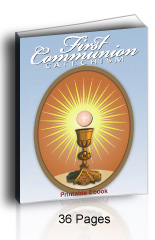 Printable Baltimore Catechism No. 1 Questions for First Communion Ebook
Catholic Coloring Pages To Print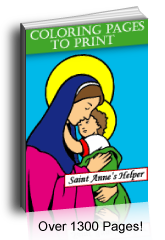 Catholic Catechism Coloring Pages To Print: Saints and Liturgical Calendar
Audio Baltimore Catechism, Catholic Worksheets, Catholic eBooks, and Catholic Coloring Pages:
Order our Baltimore Catechism worksheets . Choose your favorite  fonts,  c o l o r s, and SIZES on our fillable digital interactive worksheets. Paperless or printable.
Great catechesis resources for your Roman Catholic catechism class, Faith formation, Catholic homeschool, religious education, distance learning, online classrooms, or Sunday school lessons. ~ Mary Fifer
You may want to have each of these for Baltimore Catechism Communion: audio, ebooklet, and digital worksheets for kids (and adults). Verbatim text all formats. 
First Communion Worksheets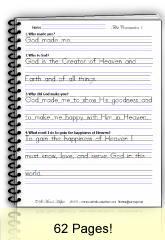 Baltimore Catechism No. 1 worksheets for First Communion: eCopybooks With Cursive Writing Practice
First Communion eBooklet to Print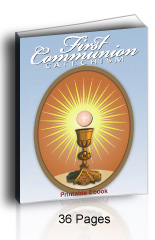 Printable Baltimore Catechism No. 1 Questions for First Communion Ebook
Catholic Coloring Pages To Print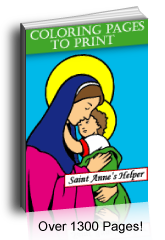 Catholic Catechism Coloring Pages To Print: Saints and Liturgical Calendar