Trustworthy Catholic Homeschool Curriculum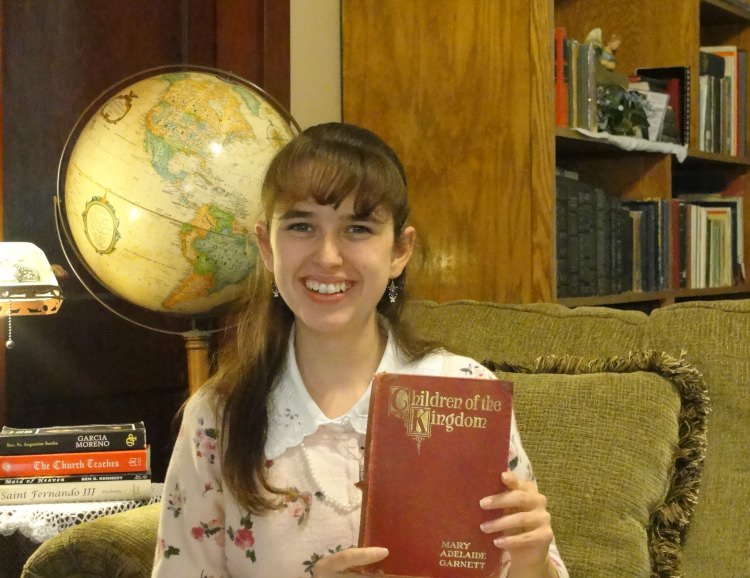 Catholic homeschool curriculum can help you teach your children to know, love, and serve God. The fruits are worth the efforts!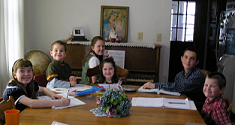 Catholic homeschool helps you teach the Faith to your children. The Catholic prayers and catechism answers guide your whole day.
Preserving your children's souls is the main reason you bring them home: that they may learn to know, love, and serve God in this world. Write that down. It's good to keep it in mind when your morale is low.
After prayerful consideration of all the elements involved, you use the resources that you have found and you persevere for the good of your children the best that you can.
Today there are so many home education helps available that it can be easier for you to give a good education at home now than it was before the turn of the century. (That's a fun line to write - being one who used to use that term to mean one hundred years earlier!) Check out these ideas below.
Solidly Catholic Homeschool Ideas
We try to make sure that our children have learned, or at least covered, every truth that our children need to learn before they leave home. We at least need to give them a sense of what is true and a chance of being able to keep the Faith through the to the end.
Sorting out the books is truly half the battle! We own more books that I will not use than those that I will. We've also thrown out more books than we will use. I want to share with you the good books that we have found, so you do not waste your money on goofy or bad books. At least you'll have an idea of good replacements when you need them.
One clue for me is that many books that are set up in a "text book" fashion have odd agendas so it is good to have real books on hand to verify what seems doubtful. This is what we have tried to do and think that it will save you some hassle.
---
FTC Disclosure: I recommend products I think will help you. If you buy through my links I may earn ad commissions. No extra cost to you.

---
You do not want to waste time with bad books. I cannot spend time writing about bad books, so what you see on this site are the best books that we have found. Not that there are not other excellent books available, it's just that this is what we have found. 
Many parents choose Catholic homeschool curriculum (accredited homeschool program, or not) in order to use the Catholic catechism of their choice, and this is a great idea. A good catechism is the best guide as to what is good or bad in other books.
Why? Because it explains the good and the bad. It sets the limits. Well, God did.
When we keep our children home from institutional schools we have the freedom to choose the best books like the Baltimore Catechism and the Douay Rheims Bible. The Baltimore is a handy book which is why it is so popular. Most of my recommendations are based upon the truths found in it.
1. Catholic Homeschool Curriculum
The main reason for this website is to help others learn the Catholic Faith easily. A helping hand with instruction and drill are always welcome, especially if it is on hand all day at anytime.
There are many helps with video instruction of Math, Science and even Writing out there in the internet, so we're doing our little bit with audios and printables for First Communion and Confirmation. Our audios help with reviewing the questions and answers - so you have a tutor to help with review. This section describes our own products first.
Catholic Homeschool Downloads
Saint Anne's Helper - Audio Catechism (CDs or downloadable audio books) and verbatim Catechism Copybooks (Catholic Ebooks for Manuscript and Cursive writing worksheets) for First Communion and Confirmation. They teach the questions and answers that are generally asterisked to be memorized in preparation for these sacraments.
You can have your children practice without needing to use paper and ink because the PDF files are all interactive. This means that you can copy the files to a file for each child and they can fill in the worksheets there. We also have:

PrintNPractice Catholic Homeschool Curriculum
PrintNPractice is our sister site where you can print practice worksheets for other subjects like Math, Phonics, and Grammar. You can download Math practice worksheets, Phonics practice worksheets with Phonics videos so your children can learn the letter and phonics sounds (phonograms, blends, phonemes); Handwriting and other practice printable worksheets.
What's cool here is that actually, you can have your children practice without needing to use paper and ink because the PDF files are all interactive, like our downloads (see note above). The practice Spelling words came from the Living My Religion catechism series and the LaSalle Catholic Readers.
See an explanation of our PrintNPractice interactive printable worksheets and coloring pages here.
ColorWithFuzzy.com Coloring Pages
Whew! A coloring site you can trust for sweetness and modesty!
All are modest and none contradict faith and morals.

On top of our many sacraments and saint coloring pages on Saint Anne's Helper, we have created loads of free printable coloring pages at ColorWithFuzzy.com.
---
2. Use Known Catholic Principles
Once you have a good catechism for children (my favorite is Jesus Comes - Our Holy Faith series) all other Catholic books can be compared to it.
Why? Simply because all books can be compared to the Ten Commandments and the Apostles' Creed - our main Catholic beliefs. All large decisions in life can be compared to the basic Catholic beliefs. This certitude makes using Catholic values so much easier which is the main reason we chose to homeschool.
Catholic homeschool curriculum can be the very best place to start whether in accredited homeschool programs or not; but how do you find the good books?
Easy. Compare.
Find good answers to the Catechism. 
Use the principle of non-contradiction. (A thing cannot be true AND not true at the same time.)
Always choose the better answer and do the better thing. (It is precise and usually concise.)
Too bad that we often must buy the books before we find that they meet these criteria.
Does the catechism that you use teach these truths?
God is the Creator of Heaven and earth and of all things. (Creation and the term Heaven are often missing.)
Original Sin (It is often missing.)
Singular confession answers. (Check that your catechism uses singular confession answers for the sacrament of Penance.)
Does yours use non-subjective answers like Baptism IS, Confirmation IS, the Holy Eucharist IS, the Mass IS, etc. (Sometimes the very question can confuse children "What does Baptism do for you?" The same thing it does for everyone!)
See the Baltimore Catechism for the most concise questions and answers.
3. Catholic Homeschool First Communion Catechism
First Communion is usually the first sacrament studied in Catholic homeschool. You'll want to have books that support what the children learn like little saints and prayer books.
If your children have already received their First Communion, they'll still need to know the same basics. We have printable worksheets to copy the answers, audio downloads to memorize them, and beautiful Catholic coloring pages that help children love Jesus, Mary, and the saints. They can even be used for handwriting class.
Homeschool is geared toward learning the
Reading little books or stories from the Catholic Bible and the different Catholic saints really fill out the school day. Children learn to love the people in the Bible and the saints from history just as they like learning about their relatives and friends in a photo album. You'll find a short reading list here.

Leane Vanderputten at Finer Femininity has an awesome Catholic Mother Goose book for preschool and kindergarten children! I wish I'd had this for our children when they were little. They even like it now when they're older.

If you want some language arts resources, our worksheets make great handwriting exercises because they help teach the faith. Little kids like our:
4. Catholic Homeschool Confirmation Catechism
Confirmation For Children
Confirmation can be a harder subject to find simple instruction in Catholic beliefs. Its questions and answers used to be woven with the higher Baltimore Catechism levels and newer books aren't easy to find in many bookstores. You'd have to read the whole Baltimore Catechism No. 2 to be sure to learn all the answers.
During the early 1900s many parishes had the Confirmation on the same day as the First Communion. With good reason, too. This is the sacrament that gives us the grace to be strong in the Faith and to persevere, but it isn't necessary to know all the basics in order to be well disposed to receive the sacrament. The little catechisms in the early 1900s covered only three or four questions on Confirmation! 
High School Confirmation
The important thing to remember is that the sacrament confers the grace with or without grueling academics. Being well disposed to receive the sacrament does not mean getting an A+ in a rigorous program. It means wanting to receive the graces and being in the state of grace to receive it well. Good academics can add to those graces.

The place where the rigorous academics can help the disposition is when the questions and answers, method, and way of life all teach the student to know, love and serve God. The better he studies the better he might know Him, which means he has the better capacity to love and serve Him. This is one reason religious and parents are thrilled with a bright student. This is also a sign of a vocation since the student often has a better start knowing and loving God.
In Catholic homeschool the learning never quits. Whether we are actively studying or simply doing our routine chores we have the opportunity to learn. All our learning is supposed to lead us to God - this is the very purpose of education! At home the Faith can be better integrated with the family since the members are all learning the same things. 
Catholic Confirmation For Adults
Confirmation is also the subject more adults need the answers to because so many did not go on to receive the sacrament of Confirmation after being baptized or receiving Communion. Having an audio book catechism for them is so handy since they can learn the basic Catholic beliefs as they drive or do minor chores. The review is easy!

St. Anne's Audio Catechism and Copybook (or printable worksheets) for Confirmation is taken from the Baltimore Catechism No. 2 and can be used to supplement accredited homeschool programs and eclectic approaches. All the questions required or asterisked in little booklets are included and all have an Imprimatur.
5. Catholic Homeschool Dictation Using A White Board
We have used this whiteboard for our Catholic homeschool for years and we love it! I keep the prefixes, suffixes and cursive strokes on the board. Now all I have to do is point to them.
Build Your Own Homeschool Whiteboard
This has been a huge life saver in our family. A friend recommended years ago that we get an 4' x 8' melamine white board to use in our classroom. It was one of the best decisions and best investments we've made.
These boards are usually less than $30 if you get melamine coated Masonite at a building supply store (think cheap white bathroom wall board). Frame yours, if you like, with inexpensive molding-board. The mold board can even be used to hold your dry erase pens if you get it wide enough. We've left ours plain, so I set my pens and erasers on a cabinet next to the board.
It is so great to have plenty of space to write without needing to spend hundreds of dollars on a whiteboard. Ours is over ten years old and still has a great writing surface and cleans well with water and paper towels.
Lowe's and other lumber stores have melamine coated Masonite and many office supply stores carry proper whiteboards that you can use in your Catholic homeschool or in a classroom.

Using A Whiteboard
We still use this same whiteboard for our Catholic homeschool and love it.
Previously we'd been using a 3'x4' whiteboard with a stand that my husband made to put on our dining room buffet, but this became too small. I couldn't easily keep the date or other info on the board along with the assignment of the day.
This 4'x8' is such a big help!
Across the top I've kept the manuscript alphabet with the few cursive letters that are different. I also keep notes about the phonogram rules and about twenty words that are the main way the words are spelled. Along the left side I have a list of common prefixes and to the right side I have a list of common suffixes.

I keep the alphabet at the top and only added the cursive strokes as we came to them. I also keep a few tricky cursive letters there like F, L, and Z, etc. Now I have many more prefixes and more suffixes; and all I have to do now is point to them since our children are all older.
Lines. Top, mid and base lines are a huge help, especially for little ones beginning to learn their letters. This way they know how the letters sit on the lines or descend below them. This is why we made our PrintNPractice phonics and alphabet flashcards and videos with the blue top, mid, and base lines.
You cannot see the lines in the middle of this picture because they wore away as I wrote. I did replace the lines at the beginning of every year while we still had younger children. I'd used a permanent marker for the lines, yet with use the lines usually only lasted a few months. It was good for the beginning. Any year that we had a beginning writer I re-marked the lines when the school year started.
I think that if you'll mark the lines in May, that the permanent ink will last longer by the time you start using them in September. It seems that if the ink has more time to dry or set, the lines last longer.
I've also learned that the dry erase lines can seem permanent if you leave them over the weekend. It's hard to erase them with the dry erase erasers; but if you rewrite over the lines, they erase as normal. 
Water and a paper towel or rewriting over the lines can clean the letters, too.
There's plenty of space for me to put sentences in the middle of the board. The space in the middle with the size of my handwriting actually works out to be the approximate size that our children write between their margins in their notebooks and loose leaf paper. This is "in general", and helps me have a scale of how many words to write per line.
There's also plenty of space for three children to go to the board to practice their Math tables or spelling words. We made our PrintNPractice Math worksheets, phonics, and spelling sheets to assign for practice or "homework". 
Dictation Using a Whiteboard
With the dictation method or approach the teacher teaches the parts of words first and does not write the words unless, after trying, the student has trouble with a new word.
You can teach from dictation with some copy help for your younger students and the whiteboard is so helpful for this.
You can remind your children of a particular phonics rule or then model how a big word is spelled. This takes longer, but rewards some students with life-long spelling skills, although some students struggle no matter what you do. Just keep at it. Most kids "get it" at some point.
Also, we left our small whiteboard under our large whiteboard so that our little ones could copy what I was doing or simply play at writing and drawing. This was a wonderful help in keeping the little ones busy.
Hopefully these ideas make homeschool life easier for you, too.
Homemade Catholic Homeschool Planner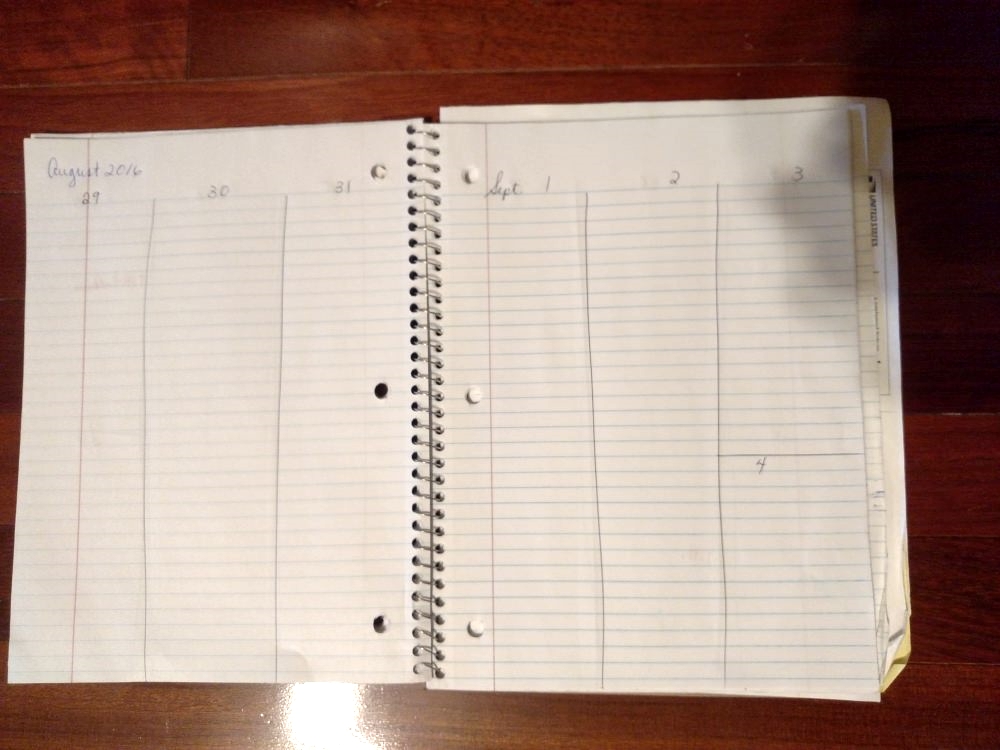 Make your own Catholic homeschool planner with a notebook and pen or buy one with the liturgical year and feast days already included. Super helpful!
I'm a paper and pen kind of girl when it comes to using a planner.
My favorite is the Week-At-A-Glance where each day is a strip down the page and all seven days are on the two page spread. It's like having a list of things to do. When I don't get it done, I just put an arrow to the next day.
I use red pen for guests arriving or for things outside the house - whenever someone else's schedule must be met like altar boy practice or serving. I also like to mark the Catholic holy days and feast days.
A benefit to the 8.5x11 size is that I can hide my paperwork under it when guests are coming. 

Another is that each of us can put our info on it.

And at-a-glance see what's next.

During Advent and Lent I use a purple pen to draw the lines.

I can make it a Catholic homeschool planner by adding the holy days and feast days in their special colors if I have them.

Crayons or coloring pencils work very well to color sections.

Hm... Now to add meal planning. :-)
Right now I've striped a 70 page notebook and put the dates across the top. This works very well in the mean times till I can get a "real" planner. It's really just lines down the page - I've even quit using a ruler AND started teaching my younger children to do it for "us". I marvel at how much more important it is to have a place where everyone can look as the children get older.
If my notes were neater, I'd send a picture of how easy it is to do. My handwriting can be teacher perfect, but not on my planner. I don't even use a ruler any more. Hm....

'Just had an idea. I'll skip to the future and take a picture. See it above. :-)

Happy planning!
6. Catholic Homeschool Curriculum
These notes help me explain our favorite Catholic homeschool resources:

Home School Programs
Catholic Homeschool Curriculum Programs - Find Seton Home Study School, Our Lady of Victory, Mother of Divine Grace, Kolbe Academy, Catholic Heritage Curricula and more. 
This page has a list of my favorite Catholic homeschool reading lists.
Catholic Homeschool Books
Catholic Homeschool Books - These next are our favorite Catholic bookstores: Refuge of Sinners, Adoremus Books, Emmanuel Books, TAN Books, and Neumann Press.
Catholic Books
Catholic books - These are good Catholic books for catechism class and a list of Catholic book sellers to help you find Catholic home school books.
Catholic Homeschool Planning: Holy Days of Obligation
It is very helpful to plan your school year around the Catholic holy days and the larger feast days.
Catholic Holy Days of Obligation - Catholic holidays are usually referred to as Catholic Holy Days of Obligation and feast days. Holy Days of Obligation are just like Sundays for Catholics. Feast days are the days that venerate titles of Our Lady, the Catholic saints, or the merits of particular patron saints. Keep track through your Catholic homeschool year. You can also sign up for a near monthly reminder.
Catholic Liturgical Calendar - Many Catholic calendars have a separate list for patron saints and another for Catholic saints list in a booklet like Is it a Saint's Name? (Tan Books) You can also use the back half of a daily Catholic Missal which lists the different saint days. A Catholic Missal is the original "thought for the day" book!
Roman Catholic Saints - Catholic Saints names lists are also excellent for choosing a name for Confirmation. Many Catholic calendars have a separate list for patron saints and another for Roman Catholic saints list.
More Catholic Homeschool Ideas
These home school websites have great resources and ideas too:
Homeschool Articles at Homeschool-Living.com
There are several excellent Catholic homeschool articles on this page. You'll like these two best: 
"Designing Your Homeschool Curriculum: Choose Latin!" and 
"Parents, Know the Four Temperaments" 
Since learning Latin and knowing the four temperaments have been giant helps in our family, I think you'll like them, too. They actually offer short cuts in school and daily living.
Anna Marie has a great respect for the value of Latin and of knowing the four temperaments. Not only have her children graduated from college, she has a son who is a priest and one preparing to be a lawyer!
Her site is down, yet I still recommend the above articles if she ever publishes them again.
Catholic Homeschool Blog Directory
See this Directory for Catholic Homeschool Blogs for resources listed by state: chbd.blogspot.com
---
You may want to have each of these Baltimore Catechism No. 1 Communion audio, ebooklet, and worksheets for kids (and adults). Same text throughout. 
---
---
Search Saint Anne's Helper Roman Catholic Catechism