Legend Of Saint Patrick History
Order St. Patrick Ebook Download $4.98


---

---
1. Saint Patrick, Apostle Of Ireland (1911), Catholic Ebook
If you're looking for a Saint Patrick history book that shows the author's love and respect for this great Irish saint, you'll be glad to read and own this Legend of St. Patrick. I am.
"This is one of the best saint books I've read."
"We read it together as a family read-aloud. Very interesting!"
St. Patrick, Apostle of Ireland, is full of faith and a bit of beautiful lingo. (I won't call it Blarney, because so many of us think that Blarney's merely a gift of gab that doesn't always reflect what's necessarily true, especially when it's called a "legend".)
We're happy to offer this beautiful version of his life and times because it reads like journalistic history, yet it is exciting and amazes you with the distances that he covered and the miracles that he worked.
This book gives the best St. Patrick history. It is full of Catholic Faith in God's power and Saint Patrick's power! "In this way God's name and Patrick's were once more magnified." (p. 11)
St. Patrick, Apostle of Ireland (1911) has several beautiful pictures, two of which are included in our coloring download.
"Old stories retold!"
"Its principal object is to introduce the inexperienced reader to the study of St. Patrick's life and times in such a manner that, should he be tempted to pursue that study further, he may at least find nothing of importance to unlearn."
If you understand the word legend in the sense of being the list of things that he did, this Legend of Saint Patrick makes a great read-aloud for the whole family! 275 pages with Index.
Click the images to see samples:

Saint Patrick History From The Legend Itself
"It consists merely of the old stories retold, as far as may be in the light of modern research ; and its principal object is to introduce the inexperienced reader to the study of St Patrick's life and times in such a manner that, should he be tempted to pursue that study further, he may at least find nothing of importance to unlearn." (p. viii)
I love that last line! It is so true!

"St Patrick s right hand was often raised to bless, but, according to the chroniclers, his terrible left hand was just as often lifted to bring down a curse upon the wicked." (p. 4)
Our day could use a hero like this! St. Patrick, pray for us.
"So, whether historical or not, these stories of St Patrick (sic), coming down to us as they do from remote antiquity, claim our respectful attention. Their origin is lost in the mists of that far-off time when Ireland's soil had been but lately trodden by the blessed feet of him who preached the gospel of peace to a grateful people; and when the shamrock, fresh from his holy hands, spoke in never-to-be-forgotten language of the truths of faith. Just as the shamrock symbolizes the Three Persons in One God, so do these legends of St Patrick symbolize his gracious personality and his noble work." (p. 6)
This history of Saint Patrick offers beautiful line drawings and portraits. As a bonus we offer free coloring pages to print both here on this website and with each download of St. Patrick Apostle of Ireland (1911), the Legend of St. Patrick.
As a pdf download you can print this book and spiral bind it at an office supply store, print it on three-holed paper for your own binder, read it from your ereader, or copy and paste quotes to your own work!
Order St. Patrick Ebook Download $4.98


---
Fresh Saint Patrick History At Its Best!
Finding a Saint Patrick history that doesn't have the disbelief that is found in so many current publications requires the help of St. Anthony! This story of St. Patrick begins with the story of his captivity as a child, his being led by God's grace to his escape, his education to become a priest and his assignment to give his life to the Irish people instructing them in the Catholic religion, the one true faith. 
His very symbol is the three leafed shamrock that he used to teach his congregations an easy way to learn the doctrine of the Blessed Trinity. Even as the leaflets are really distinct they remain one leaf, the Persons in the Blessed Trinity are really distinct; yet they have the same Divine Nature, the very same truth learned in any Catholic catechism even today. See our free coloring pages and more about Saint Patrick below.
Saint Patrick's Day History
St. Patrick's Day is the day the Catholic Church to recognizes him as a Catholic saint. St. Patrick's Day is the feast of St. Patrick, March 17. The Irish have done well to venerate him and those of us who have left Ireland's shore do well to venerate him, too. He seeks in us the same as he sought in the Ireland of old, our conversion to the one true Catholic Faith.
I say, "The only good in being Irish is in being Catholic!"
Of course, as with most great men of history there is a legend that has risen around the Saint Patrick history, but guess what? If one cannot disprove what is called the Legend of St. Patrick one shouldn't call it false. It is a shame that the word "legend" in our day has come to mean a story that might be "filled out" or expanded with more than the truth, it is a shame since even today it still means a "list" as with the "legend" on a map, or a legend of historical record. Think of the term Legend of St. Patrick in this way, it is the true story.
Order St. Patrick Ebook Download $4.98


---
Legend Of St. Patrick
The legend of St. Patrick tells the early Catholic history in Ireland! May God bless his memory unto eternity!
Butler's Lives of the Saints says about this Saint Patrick history that, "We, with Tillemont, chiefly confine ourselves to the saint's own writings, his Confession, and his letter to Corotic, which that judicious critic doubts not to be genuine. The style in both is the same; he is expressed in them to be the author; the Confession is quoted by all the authors of his life, and the letter was written before the conversion of the Franks under King Clovis, in 496."
Rev. Butler continues with a beautiful description of St. Patrick in Ireland. Beware any Saint Patrick history that evokes a disbelief in its own word, even newer Butler's Lives. In my opinion: how can one trust any story that causes the reader to doubt what the author took pains to write? There's been way too much of that in the last 100 to 400 years.
The Best Saint Patrick History
The best Saint Patrick history then, is the one he wrote himself for the reasons Fr. Alban Butler gave in the previous quote.
Beware the translations, though. Again there are those who have claimed to have "translated" a work when they should have claimed a paraphrase. Beware the "life" some translators breath into their own creations! This is so important when reading Catholic books. How can you trust the story if the author doesn't!
Be assured, you can trust this story. St. Patrick loves it best when we keep the Catholic Faith that he preached so well!
Order St. Patrick Ebook Download $4.98


---
2. Ireland's Loyalty To The Mass
Ireland's Loyalty to the Mass.
Ireland's Loyalty to the Mass, by Father Augustine
This is another book that I think will interest you, if it is still available at Amazon. The last time I checked it was not, so you might check at Archive.org for a copy.
"It is the Mass that Matters". The persecution of Ireland for hundreds of years, reduced to the most important factor, was the prohibition of the Holy Sacrifice of the Mass by the Protestant rulers in England. The history of this brutal and monstrous suppression is carefully chronicled in this little book. "The Mass is the very means He has given us to enable us to join with Him, and to share with Him in the Sacrifice of the Cross. The Mass . . . is the very life of the Church, the secret of her holiness and vitality. No wonder that the spirits of darkness should have inspired the heretic with hatred for the Mass, for they know that when they strike at the Mass they strike at the heart of the Church" (From the book's Introduction).
"A taste of the heretic's hatred for the Mass is found in the famous "Oath" required for Irishmen by their English rulers: "I _________, abhor, detest, and abjure the authority of the Pope. . . . I firmly believe and avow that no reverence is due to the Virgin Mary, or to any other saint in heaven . . . . I assert that no worship or reverence is due to the Sacrament of the Lord's Supper, or to elements of bread and wine after consecration, by whomsoever that consecration may be made . . . ."
"Ireland's adherence to the Faith and passionate devotion to the Mass proved to the whole world that religion is not "the opium of the people" as per Marxists, but a tonic that gives them strength to support every torture, and face even "death all day long." "Woodcut" illustrations, sewn signatures of 60 lb. cream paper, hardcover, 228 pages."
Awesome addition to your Saint Patrick history collection.
3. Free Saint Patrick History Coloring Pages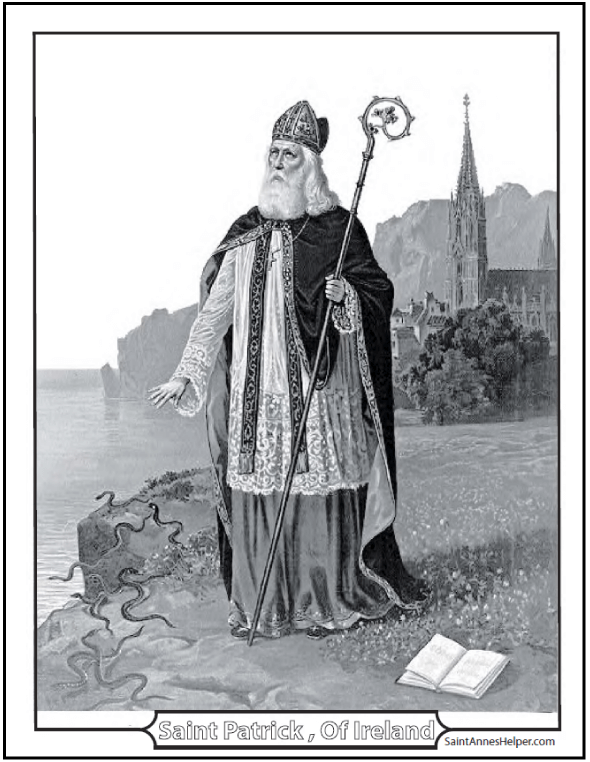 Saint Patrick Coloring Pages
To go with the Legend of St. Patrick we have many single page coloring pages and one that has several pages including two pictures from the ebook above and some copywork sheets for the Irish Blessing for your little ones. 
---