Catholic Affiliate Program
Free Catholic Affiliate Program
1. Start Earning 40% In 30 Minutes

You can add our Catholic affiliate program to any Catholic website.
It's hard to find dependably Catholic catechism affiliate products, especially products that are worth your time and effort to promote. This is why I sell Baltimore Catechism products for you and your visitors and why I have a very good commission rate for you. 
How do you set up an affiliate program? Simple. Follow these steps.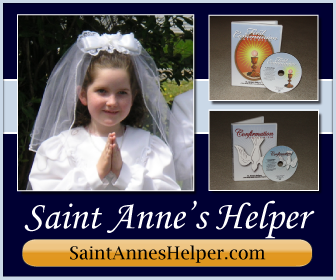 Catholic Affiliate Program: Catechism worksheets, audio, and coloring pages.
1. Get Your Catholic Affiliate Code On Your Site
1.A. Write Or Choose A Page That Describes Your Perspective
Create a page on your site that describes what you like about Saint Anne's Helper products and that links to my site. Or edit a Catholic,  catechism, or homeschool related page that you already have. Then link to my products from that page using the info below.
Drive traffic to your page both from other pages on your site,
And from emails and other sites.
This is how your visitors may buy my products, while you earn.
If they do buy within six months of their last click, I pay you 40% because of the six months cookies, meaning that if they buy even five months later, you will receive your commission in the sixth month. See the steps in section 1.B. below.
Perfect for bloggers, websites, school and parish fundraisers. 
Create a page for my products and link to it from your related pages. 
Promote your own page in emails, Gab, MeWe, Telegram, Facebook, Pinterest, and social media.
You do not have to handle the product - even my CDs. How?
1.B. Get The Affiliate Code
First, sign up to creat your free code at E-Junkie code.
Go to Admin to get your affiliate code that you will add to your site. (See editable samples of text and code below in section 4. These include the SEO friendly nofollow code, now shown as rel="sponsored noopener" target="_blank").
Add the code as a link to the phrases and images that you have on your site being sure to let your visitors know that they are going to my site.
Promote your page with email announcements, social media, and web pages. See more below.
Visitors click and buy.
I deliver the download products or mail the CDs for you.
You make 40% per sale on the downloads and CDs (40% x $20 = $8 for you!). Simply promote your page often. This gives you total control. 
The key is traffic. If you send interested traffic, this beats Adsense or Amazon any day. :-)
During many months, I earn more from this than any other promotion on this site. You can too.
1.C. Special FTC Affiliate Notes:

This is an obligatory legal note that you would want to know. It's helpful to know ahead of time and also to assure your readers that you're not hiding affiliations from them.
In order to comply with FTC regulations: Any affiliates who are providing content or reviews of SaintAnnesHelper, or other affiliates, must clearly state that they are receiving monetary compensation BEFORE the tracking links or banners that direct them to SaintAnnesHelper landing pages.
Disclaimers at the bottom or end of the article will not be sufficient because non-compliance with these FTC regulations will endanger both our sites. It will risk your removal from my program and commissions could be subject to reversal.
Any SaintAnnesHelper affiliate who promotes SaintAnnesHelper offers through social media must state clearly 'AD' before each post. Linking to a post with the disclaimer will not be sufficient. For current information go to the FTC endorsement guides. 
Here is a sample of what I use:
Sample FTC Affiliate Disclosure
Disclosure: I show products that I think will help you. If you use my links, I may earn ad commissions at no extra cost to you. As an Amazon Associate I earn from qualifying purchases.
Another Example Of An FTC Affiliate Disclosure
If you purchase a product through links on this page, I receive a small commission at no extra cost to you.  My integrity and your satisfaction are very important to me, so I only recommend products that I have purchased or that I would purchase myself and which I believe would benefit you. To learn more please see my affiliates disclosure policy.

Affiliate Disclosure Variations
You can also use other variations:
You would link to your own disclosure page on your own site and would word your disclosure the way that you need.
1.D. Free Downloads For Affiliates

You can contact me on the form at the bottom of this page for free downloads to review. Remember to include links to your website so that I may see what suggestions I can make. Include any explanations that you'd like, too. 
You build sales credibility when you promote the products you like, so it's good to show your enthusiasm in your writing. Your visitors know and trust you, and are likely to buy because of your honest recommendations.

Please use the affiliate contact form below to contact me for a free download to review.
Once you promote the first product you can contact me for the second free product. Those who use Saint Anne's Helper products can promote them best.
I want to help you because it also helps me. Be assured that I will help you the best that I can. You have my good will.
2. Place Your Catholic Affiliate Link On Your Site
Write a page about Saint Anne's Helper downloads and describe how your visitors can use them and add text links that use your affiliate code. Link your page from a prominent spot on your website's home page, blog columns, and emails.



For highest sales, place your code above the fold in text and again toward the end of your description to receive the most traffic from your reviews and recommendations.
The higher the link on your page and the more traffic to your page, the more traffic you'll convert to sales.
Use your link to your site's page in articles that you write, your email signatures, and anywhere else a link would draw interest. (No spamming please - I would have to cancel our affiliation when I discover spam.)
The more traffic you have to your sites, blogs, and articles; the more sales you may enjoy. Traffic is key to sales as is ad placement. 
Also, please know that there are certain months in which book sales are much higher than other months. It depends on the perspective of your site which seasons will sell well. 
There are at least four months of the year where sales are very low. Your six months cookies carry you through those times. Your banners and text links are good reminders to your visitors in the meantime. The more often they click through your code, the longer your six months extend endlessly.
For example, my site gets more coloring book sales during liturgical seasons and feast days. April, July, August, October, and November are good months for homeschool catechism downloads sales. 
If you've read this far, I know that your interest is serious. Finish reading this page and contact me with any questions using the form at the bottom of the page
Please know that I am happy to send you one or more downloads to use and review on your website.
Use the affliate contact form at the bottom of this page to make your request or call me at 785-456-1711. Including the address of your websites or blogs can also help me make suggestions.
First Communion Audio Catechism
Once you place the E-Junkie code to my Catholic ebooks and Catholic audio books on your site, all you need to do is promote your page where your codes reside and your affiliate codes will do the rest of the work. Each visitor that clicks will be your customer for six months whether he or she buys at that moment or not.

Example: If your visitor clicks your code for my product, any time that he or she buys my product in the next 6 months you will receive the 40% commission.
Whether your visitor leaves the page or leaves the site, as long as he or she clicked through your affiliate link, his or her "cookies" are marked and you get the credit for that visitor's purchases for 6 months.
2.A. Easy Catholic Parish Fundraiser
Parish websites can become my Catholic affiliate by placing an affiliate link on parish website to earn 40% per sale. It's that simple.
If you write a page about Saint Anne's Helper and link from all your pages to that page on your site, your sales will be higher whether you promote or not.
Promoting your page in the parish bulletin, newsletters, emails, and announcements increases traffic to your site as well as promotes sales, too.
What better than Catholic coloring pages and printable Catholic worksheets to help you spread the faith and support your parish?
Catechists love the catechism resources.
Adults like the audio downloads.
Children love the Catholic coloring pages.
Sponsors and families will be glad to give the CDs as gifts of faith.
Homeschoolers love the manuscript and cursive handwriting pages.
Your visitors will receive their downloads automatically, and I ship the CDs for you. Win. Win. Win.
2.B. Easy Catholic School Fundraiser
You can also help your parish earn money on an every day basis by setting up an account for them and placing an affiliate code on your website or theirs. 
New visitors can learn the Baltimore Catechism.
Parents can have help reviewing with their children.
Teachers can print and re-print coloring pages and worksheets.
If you promote the link, you'll have more sales. Let me know on the Contact form at the bottom of this page to see if I can help you with ideas, and let God grant the increase. :-)
2.C. Promote Your Catholic Website Or Blog
You only need one E-Junkie account to join affiliate programs offered by any number of other merchants as well.
You can be a Catholic affiliate of Saint Anne's Helper.
You can also be an affiliate with other webmasters.
You can sell your own downloads and hard goods with your own affiliate program. Let me know if your products are comparable to ours. I may be able to sell your Catholic or homeschool products. :-)
It takes less than an hour to set yourself up to sell my goods from your site, probably only 20 minutes to set your first code. Any new products that I offer in the future will be automatically added to the E-Junkie landing page. You won't have to change your codes. :-)
2.D. 10 Catholic Affiliate Program 
Quick Steps
 (Recap)
Follow these directions.

(Hint: Leave this window open next to the window that opens for reference):
1. Click Saint Anne's Helper sign-up link.
2. If you are not already a member and logged into E-junkie, this will go to E-junkie's login/registration page to:
3. You will then arrive at Affiliate Admin.
4. Click Get Affiliate Code.
5. If you're already an affiliate with EJ, the Select Merchant menu lists the affiliate programs you have joined.*
6. Select Saint Anne's Helper.
7. Click Get Affiliate Code. (Or Sign Up Free or Login if you're not yet signed up.)
Since I have "Common Affiliate Settings" for all of my products, copy my Common Hop Link code, which will redirect your buyers to my order page (see more about Hop Links below). Visitors can "See More Details" there.
8. Paste your link code into the HTML source of your own Web page. See images below. 
9. Click the More Info button to arrive at this page that you are on right now.

10. Click the Contact Merchant button to send me a message or Contact Me through this site or on the form below.
11. Promote on a page on your website or blog.
12. Promote your blog or website page as often as you like.
13. Repeat.
*Note: if you did not find St. Anne's Helper listed in your Affiliate Admin > Get Affiliate Codes screen, you may need to click my sign-up link again.

3. Drive Traffic To Your Catholic Affiliate Program
Traffic is key, and promotion to that traffic is next.
The better you promote and edify Saint Anne's Helper's products, the better sales conversions you will have.
If you have enough traffic to a page that has a good promotion, you will get sales over time. The best way is to link to your page using CSS includes that show on all pages, especially as a short paragraph of text with a link to your code. It's as easy as Adsense, yet often pays better especially on a Catholic site during Catholic seasons.

Text links seem to have the best conversion rates, so include your code in the text of your recommendations as well as in the banners available below.
Enter the link to your page on your related pages, especially the pages that have high traffic and apply to young Catholic families.
Everything is automatic once you've posted the Catholic affiliate program code. You do not have to worry that your visitors will not use your code, it's included in the link if you replace your number for the term YOUREJCODE.
You can even sell the hard-good CDs. Many affiliate companies cannot offer both downloads and hard goods, yet I do offer you that flexibility. Some people truly prefer having a CD on hand as a master copy for safe keeping.
Also, I don't touch a thing except to send monthly commission payments, unless your visitor buys a CD in which case I mail it out for you during normal United States Post Office hours. Right now, our town's Post Office is only open in the mornings Monday through Saturday.
You are hereby given permission to use my artwork, graphics and descriptions to promote my products on your site. Simply hover over the image that you would like to use, right click, and "save as" to load the image to your computer. Be sure to use terms like "Baltimore Catechism resources" or "First Communion downloads". 
It also helps to highlight the product type as well, as with terms like "Catholic First Communion Catechism" and "Catholic Confirmation" as I do with my own links at the top of most of my pages. I want it to be easy and effective for you, so I want to give you the best advice that I know. :-)
During my first two years online, my affiliate offerings increased from two download products to nine, and in 2011 I was able to add my hard good CDs to my affiliate program.
This means that you can promote different products from different perspectives throughout the year using the same code. I also offer several Catholic ebooks for spiritual reading as well as catechism resources:
I want sales to be easy for you, so I am ready to help. Be encouraged use the Contact form below to call 785-456-1711 if you would like help. I can walk you through the steps.
4. Catholic Affiliate Links & Images
Use the following codes and images with your E-Junkie code. Remember that using text links in your website (see 4.B. below), blog content (4.B.), and in your emails and email signatures (section 4.A. below) are said to yield the highest sales, so include your the link to your page with the codes on many pages for the best sales conversions.
Banners and images offer brand recognition, too, so I have a selection of images below for you to place on your pages, includes, and blog columns. Be sure to replace the RED YOUREJCODE with your E-Junkie code number in the following code and may God grant the increase.
The following html codes will allow you to place the picture you choose and your affiliate code on your site. Again, be sure to replace YOUREJCODE with your own E-Junkie code number in the following code. Highlight and copy all the code and paste it where you want it on your website or blog. The more traffic that you send to your link and the better you edify the product on your page, the more sales you will receive.
Choose your size and color scheme below. I offer two color schemes: a light blue and a dark blue set of images.
*Note: Since you can earn money from my Catholic affiliate program, I have included the nofollow codes (Google friendly for search engine optimization, SEO).
I have also included the open a new window code, so that your visitors stay on your website or can come back to it. If you need to update your code use what's currently listed as best (2021):
rel="sponsored noopener" target="_blank"

4.A. EMAIL Link To Promote In Newsletters 
Place this address with your code in the link box of your text on email:
https://www.e-junkie.com/ecom/gb.php?cl=101048&c=ib&aff=YOUREJCODE
Remember to replace the red with your own code at the end.
4.B. TEXT Links For Your Site
Catholic First Communion Catechism
You may change the text in this code (includes rel="sponsored"  target="_blank" which opens a new window that keeps your visitors on your site while they shop with us):
Copy this code:
<a rel="sponsored noopener" target="_blank" href="https://www.e-junkie.com/ecom/gb.php?cl=101048&c=ib&aff=YOUREJCODE" target="ejejcsingle">First Communion Catechism</a>
Catholic Confirmation Catechism
You can change the text in this code (includes rel="sponsored noopener" target="_blank" which helps your visitors stay on your site in a separate window while they visit our site):
Copy this code:
<a rel="sponsored noopener" target="_blank" href="https://www.e-junkie.com/ecom/gb.php?cl=101048&c=ib&aff=YOUREJCODE" target="ejejcsingle">Catholic Confirmation Catechism</a>
4.C. Catholic Affiliate Program Images For Your Site
Save any of the following Catholic images to your computer to use with your own Catholic affiliate program codes.

If you do not see an image where you think that an image should be, check to see that you do not have an ad blocker on.
If this happens, please contact me as I have tried to make certain that these images are not named with the terms "ad", "ads", "banner", and "tower"; as well as old ad sizes "468x70, and "160x600"; and other salesy file names, etc. Remember this when you create alt tags and captions as well.
600x90 light blue:

Catholic Affiliate Program - Light Blue
125x125 squares:

125 Light Blue Square

125 Dark Blue Square
160x142 boxes: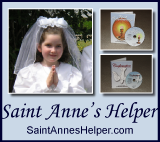 Light Blue Box
Dark Blue Box
160x600 verticals:
Light Blue Vertical

Dark Blue Vertical
300x250 rectangle: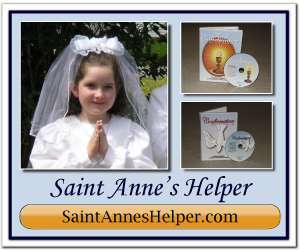 Saint Anne's Helper Catholic Affiliate Program Small Light Blue Rectangle
300x250 rectangle: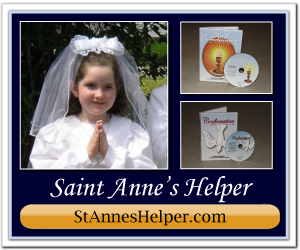 Saint Anne's Helper Catholic Affiliate Program - Small Dark Blue Rectangle
336x280 rectangle: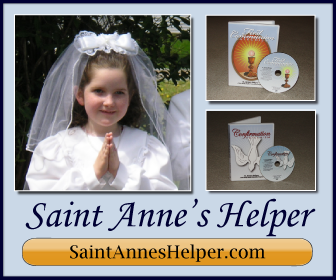 St. Anne's Helper Catholic Affiliate Program - Large Light Blue Rectangle
336x280 rectangle: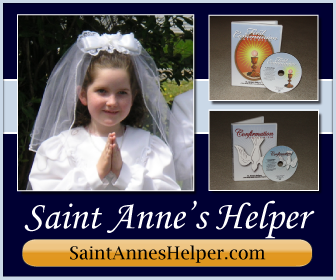 St. Anne's Helper Catholic Affiliate Program - Large Dark Blue Rectangle
4.D. How Do Affiliate Program Hop Links Work?
When you click your Hop Link to Saint Anne's Helper, you will not see your ID anywhere on the order page, nor is that necessary to credit you for the sale.
The buyer does not even need to purchase anything immediately after clicking your link. (If you hover over the link and look at the little grey box on the bottom left of your screen before you click, you will be able to see your code.)

When your visitor clicks your Hop Link, E-Junkie sets a cookie in your buyer's browser which works for 6 months. All in the same stroke E-Junkie redirects them to my products page.
Every affiliate-eligible product that your buyer purchases from me during the life of that six months cookie, or 180 days, will earn you a commission, even if your visitors go back to my site directly from the Internet at a later date without clicking through your link again.
5. Monthly Catholic Affiliate Program Payments
I pay commissions on a monthly lump-sum basis via PayPal in the month following a completed sale (e.g., commission for sales made in January would be paid out in mid February). Make sure you have entered your PayPal email in Affiliate Admin - Edit Profile.

I recommend E-Junkie heartily since it is an American based company with some excellent features that I have not found anywhere else, especially the 6 month cookies for your visitors. It's easy to make a commission from both CDs as well as the downloads. Whatever benefits you, benefits us!
More Catholic Affiliate Information
I offer a good affiliate commission so that it is worth it to you to sign-up, to load the code, and to promote your page.
I pay 40% per sale because I appreciate the work that you do to promote my products on your website, blog, or ezine. I want the commission to be high enough to compensate you for your promotions.
Our affiliate marketing program allows you to upload your code easily and begin to generate automatic residual income immediately. If you have traffic and well placed code, you'll gain sales. I pay you two weeks after the 1st of the subsequent month, generally around the 15th.

Our First Communion and Confirmation audio products are $19.98 each which yields $7.99 for you. There are companion booklets and worksheets, too, and you receive 40% of each sale.
I also have excellent ebooks that to add to related pages: Saint Patrick history - St. Patrick Apostle of Ireland and one of the most beautiful children's books online called Children Of The Kingdom. Again, 40% of each sale. See more above on this page.
If you've done the work to generate the traffic to your website or blog, these downloads can make your traffic profitable. Traffic is key to generating sales.
Saint Anne's Helper Catholic Affiliate Program
Why would your visitors buy Audio book Catechisms for First Communion and Catholic Confirmation?
There are thousands of teachers and parents that use the Baltimore Catechism will love SaintAnnesHelper:
Our audio catechisms have the best Catholic answers and prayers for receiving the sacraments since they use the Baltimore Catechism answers.
The audio products are arranged with each question and its answer on its own track for easy navigation.
An awesome catechetical resource for parish schools, CCD, CRE, and Catholic home school.
All of the downloads use the same text whether audio, print, or cursive writing.
Excellent fundraiser for Catholic institutions.
Students have an easy way to memorize the Apostles' Creed, the Ten Commandments, and the prayers of the Rosary. This is a God-send for students who have little help or time at home. It's easy. Just go to the specific track and press "repeat one". Do you want a self correcting quiz? Easy. Just press "pause" between the question and the answer.
The text is reprintable for as many copies as needed.
The text is also available on coordinating Catholic worksheets that are explained below. Your visitors can mix these with Saint Anne's Helper's Coloring Pages and create their own custom catechism or keepsake workbooks. 
In 2011 I also added First Communion Catechism a printable ebooklet. I later added an ebooklet to print for Confirmation. These have the questions and answers in an easy to use format for daily use.
Over time and through the years, sales will increase as customers are more used to shopping online and using downloads, if they to trust your recommendations.  
You can easily sell our Catholic affiliate program downloads and CDs.

Your code does the work for you. 
I do the shipping.
You are notified of sales, and
You can see your sales at anytime.
The higher your traffic is, the more products you will sell. Well placed ads/codes above the fold and throughout your pages will increase your sales.
All in all, E-Junkie has the best affiliate program for generating repeat and residual income with Saint Anne's Helper, your own products, or other products on the E-Junkie Shop!
I look forward to paying you for your success!
Mrs. Mary Fifer
202 E. 6th Street
Belvue, KS 66407

1-785-456-1711
PS: Need a website? SiteSell helps you to create a website that draws traffic.