Catholic Coloring Books
Catholic coloring books are the backbone of most early Catholic homeschool curriculum during the first years and they make wonderful First Communion gift ideas.
Most of our children loved to color and there was no better way to generate excitement about doing school than to put the coloring books on top of their pile of Kindergarten books.
---
FTC Disclosure: I also recommend other products that I think will help you. If you buy through my links I earn ad commissions at no extra cost to you.

---
Truly. One of ours would rather have stacked them like Lincoln Logs. Most Catholic homeschool curriculum use coloring books in their programs for Kindergarten and first grade. We list our favorites below.

Catholic Homeschool Coloring Books 
I love the artwork in the Holy Imitation Series of coloring books. The Holy Name of Jesus, Eucharistic Adoration, and Mary Most Holy are just a few of them.
We learned about these next Catholic coloring books when we started homeschooling. Some of them have a collection of  pictures about Jesus and Mary and others tell the lives of the saints.
The Christmas coloring book makes a wonderful Advent or Christmas gift. The Mary Fabian Windeatt coloring books teach the lives of the saints. Other books teach about the sacraments, the Rosary, and the Stations of the Cross.
The first ones are still keepsakes and are nice enough for older children to enjoy. Some are published by TAN Books and Neumann Press.
If I were just beginning to homeschool I would buy so many more and keep them as collectibles for the children. I can see me buying these for our grandchildren easily. If you like these, click on the images to buy them at Amazon:
24 Catholic Songs for Children
This set has the 24 Catholic Songs for Children CD and coloring book. The coloring book has the words to each of the songs in the back of the book.
The Ten Commandments Song teaches about the Catholic Ten Commandments. There are other songs that teach about the Works of Mercy, the Catholic sacraments and even the Apostles' Creed prayer.
Again, if you'd like to buy them click on the images to get them at Amazon or put them on your Wish List:
Holy Name of Jesus
Mary Most Holy
Printable Catholic Coloring Books
If you use a downloadable Catholic coloring book you'll be able to make copies for as many children as you have who want to color. When one of the children has botched a picture for a really special project, you can simply print another copy. 
---
* St. Anne's Helper Catholic Coloring download has a treasure trove of traditional PDF printable coloring sheets.
* Over 200 specifically Catholic pictures.
* 300+ other fun coloring pictures of animals, seasons, patriotic, Easter and Christmas.
* All grouped in files for your convenience and all interactive.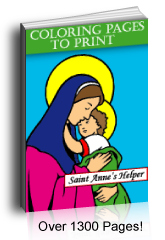 Catholic Coloring Book Download
Catholic Coloring Book Download  $6.98

---

If you use the Baltimore Catechism for Communion or Confirmation, you'll like SaintAnnesHelper Baltimore Catechism Worksheets! 
Order Baltimore Catechism worksheets. Choose fonts, colors, and SIZES.
Use these printables in your Roman Catholic catechism class, Faith formation, or Sunday school lesson. ~Mary Fifer

If you use the Baltimore Catechism, you'll love SaintAnnesHelper.com!

---
---
Search Saint Anne's Helper Roman Catholic Catechism
Saint Anne's Helper › Coloring Pages › Catholic Coloring Books