Catholic Mother Goose Nursery Rhymes
Catholic Mother Goose Nursery Rhymes

By Author Leane Vanderputten

Leane VanderPutten gave me her lovely book Catholic Mother Goose nursery rhymes.
She was able to take the silly poems in the old Mother Goose to write her own poems with thoughts about Catholic saints, the Ten Commandments, and daily life at home and in church. 
She did a really good job of re-creating the poems from a Catholic perspective. This page is a Look Inside The Book glimpse of her talent and the lovely illustrations.
Let us know what you think about it by leaving your comments at the bottom of this article.

Disclosure: I show products that I think will help you. If you use my links, I may earn ad commissions at no extra cost to you. As an Amazon Associate I earn from qualifying purchases.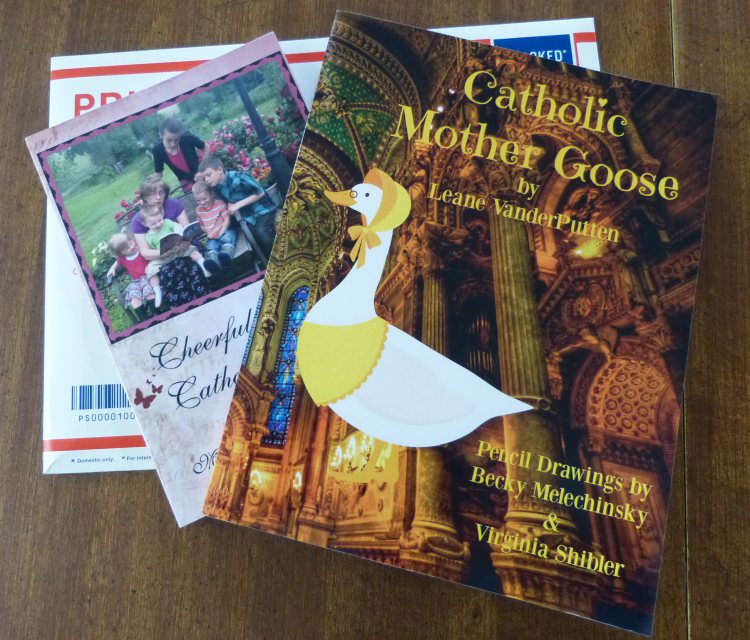 Leane VanderPutten's Catholic Mother Goose nursery rhymes is the kind of book we wish we would have had for our children!
A Catholic Version Of Mother Goose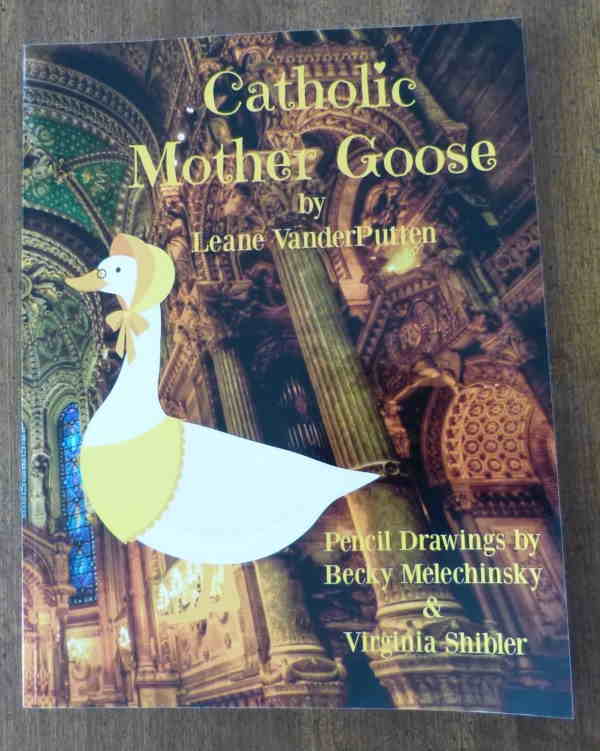 Catholic Mother Goose Book by author Leane VanderPutten
Written By Leane VanderPutten, Author
Nursery rhymes are fun, yet did you ever feel as if you wanted to correct the old Mother Goose rhymes?
I did.
I often felt that they were nonsensical and that I should have our children learn rhymes from a book that was more useful in their lives or that would help them remember the catechism.
Leane has "written that book". It's fun and also edifies children.
I also remember hearing someone say that the old rhymes were based on political themes. That's a scary thought. What are they promoting to preschool or kindergarten children?
As a matter of fact, for me, I found very little time for nursery rhymes. I had read a Mother Goose book a time or two and did not like it myself so I did not read it often to the children.
I've read the old Mother Goose Nursery Rhymes to little children and saw that the main thing they did was search the pictures, sometimes not so nice pictures. They often looked at me strangely wanting to know if the stories made sense or if that was truly the end of the story.
Mother Goose Style Poetry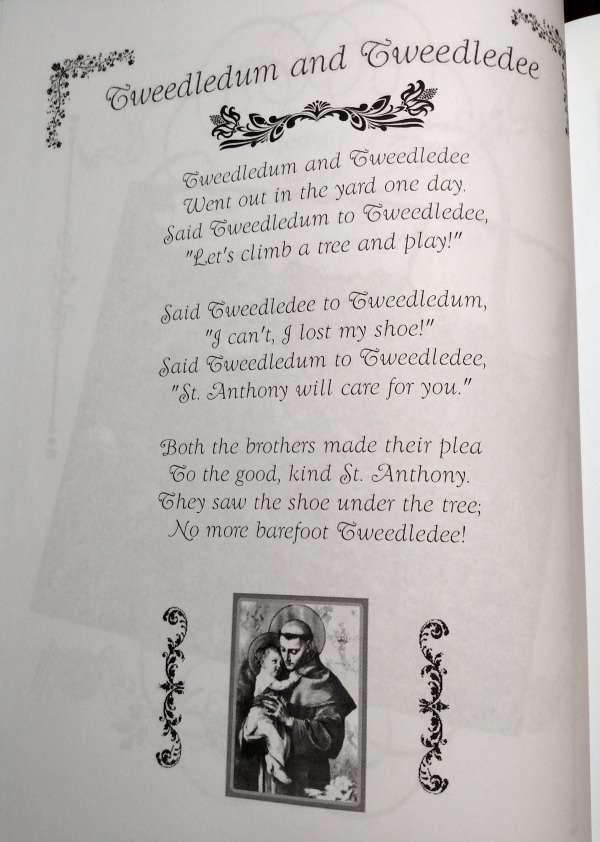 Tweedledum and Tweedledee meet Saint Anthony
But this book! If we would have had Leane's Catholic Mother Goose book (buy at Amazon), things would have been different. She has lovely rhymes with lovely pictures that are great for kids to read again and again.
I would start early with my preschool children by simply sharing the Mother Goose stories as we cuddle on the couch for read aloud time especially if you're homeschooling. I've already shown Leane's book to several children who loved the pictures right away.
The pictures are the type I would have loved to have been able to color when I was a child. Becky Melechinsky, illustrator, drew many drawings that could be colored like a coloring book and Leane's photos are darling black and white pictures of children that could also be colorized with colored pencils which makes it a sweet Catholic coloring book.
This would make a wonderful project for older children who could keep their own copy like a Mother Goose Nursery Rhymes coloring book to keep through the years.
You could give this to your children as keepsakes because Leane's Catholic Mother Goose is also a great second and third grade reading book.
This is also a great idea to tell grandparents who want to get their children birthday and Christmas gifts.
Did they draw these pictures? They're really cool! 

All of these are really awesome.
Hickory Dickory Dock was the best!  Oh, I love that book!
Catholic Poetry
Leane's Catholic Mother Goose nursery rhymes are lovely and instructive:
You can buy Leane's  Catholic Mother Goose book at Amazon.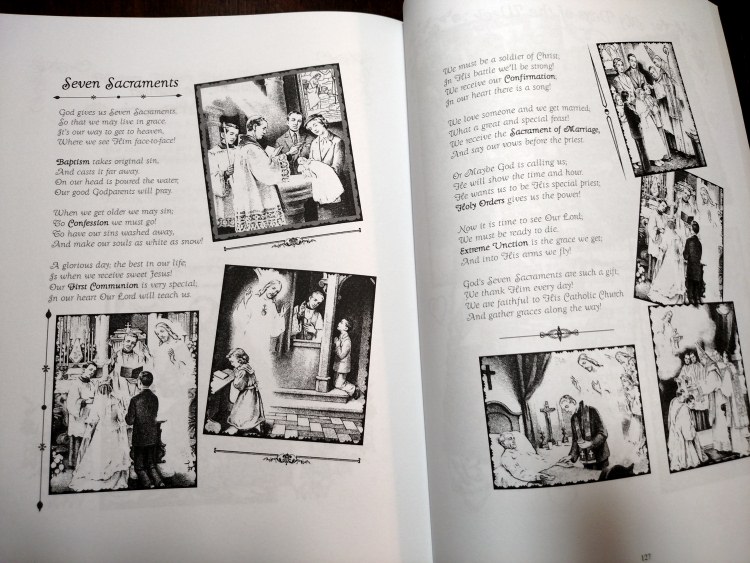 God gives us Seven Sacraments, so that we may live in grace. It's our way to get to heaven, where we see Him face-to-face!
Tour Of Catholic Mother Goose Nursery Rhymes
Let's take a tour of Leane's Catholic Mother Goose nursery rhymes to show you how nice the rhymes are.

1. Little Poems About Catholic Saints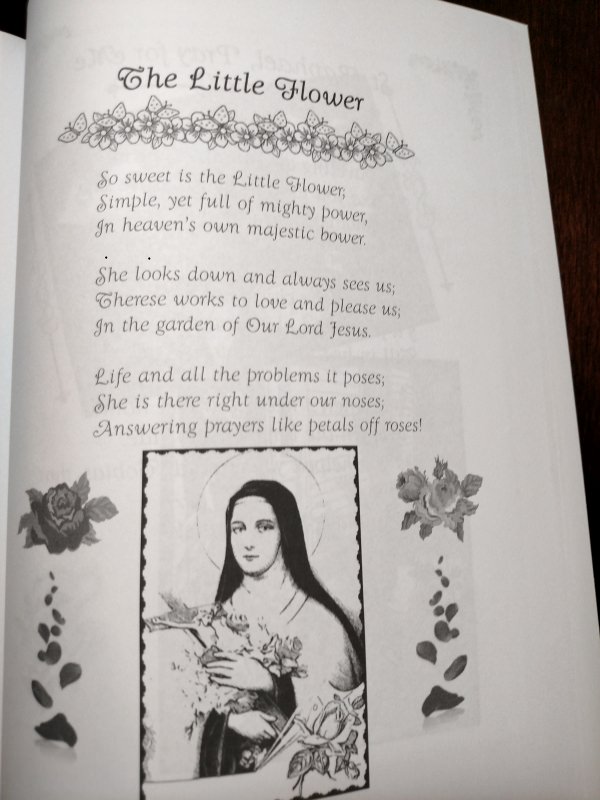 The Little Flower Poem
My favorite pages in Catholic Mother Goose were the poems of
Tweedle Dee and Tweedle Dum asking Saint Anthony to help one find his shoe on page 52; 
The September poem on page 80 "Thirty Days Hath September" that names Saint Pius X, Mary's Holy Name, her Seven Sorrows, Saint Joseph Cupertino,

and the incomparable Saint Michael the Archangel; 

and this Saint Therese of Lisieux, the Little Flower poem:
Catholic Mother Goose
The Little Flower
So sweet is the Little Flower;
Simple, yet full of mighty power,
In heaven's own majestic bower.
She looks down and always sees us;
Therese works to love and please us;
In the garden of Our Lord Jesus.
Life and all the problems it poses;
She is there right under our noses;
Answering prayers like petals off roses!
2. Old Mother Goose Nursery Rhymes Meet Catholic Mother Goose

Leane rewrote Jack Be Nimble with a Catholic twist on page 4. Your altar boys will be amused by this treasure. We were. Isn't this sweet?!

Catholic Jack Be Nimble
Mother Goose Nursery Rhyme
Jack be Nimble, Jack be quick;
Jack go light the candlestick.
It's time to kneel, it's time to pray;
We say our rosary every day!
Jack be Nimble, Jack be quick;
Jack go light the candlestick.
Young altar boy, it's time for Mass;
Say your Latin, but not too fast!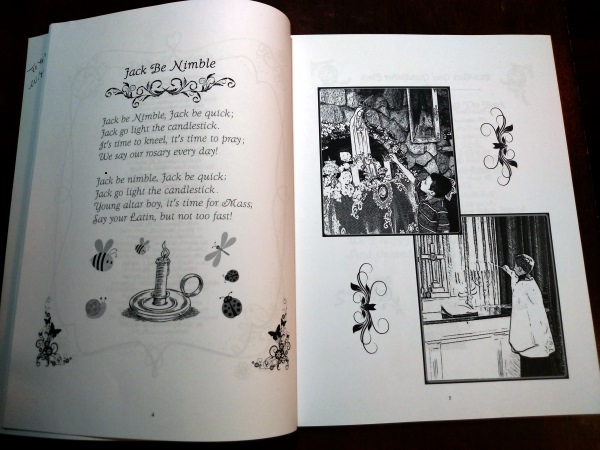 Jack be Nimble, Jack be quick; Jack go light the candlestick. It's time to kneel, it's time to pray; We say our rosary every day!
3. Catholic Mother Goose Nursery Rhymes List
Leane's Catholic Mother Goose nursery rhymes book has a list of titles that are especially sweet. So if you're looking for a particular story or want to teach a certain saint or virtue, you can scan the Table of Contents.
Here is my favorite list:

The King of Hearts (Jesus)
Mary's Garment
Jack Be Nimble
Simple Brother Joseph
Little Jack Horner
Jack and Jill
Sing a Song of Sixpence
Lucy Locket
Little Bo Peep
Jack Sprat (Super cute!)
To Market, To Market
Old King Cole
Little Boy Blue
Deedle Deedle Dumpling
Hey Diddle Diddle 
Tweedledum and Tweedledee
A Diller, A Dollar
Rub a Dub Dub (Confession)
Peter, Peter, Picky Eater
We Willie Winkie
Humpty Dumpty
God's Sweet Earth
My Dear Angel
Thirty Days Hath September 
Ladybug, Ladybug Fly Away Home
Pat a Cake
Thirty Days Hath September
Ding Dong Dell
Baa Baa Black Sheep
Visiting at St. Ives
Old Mother Hubbard
My Dear Angel
The Candle In The Church
The Little Flower
St. Raphael, Pray For Me
My Saintly Teacher
Little Miss Muffet
There Was An Old Woman
St. Isidore, the Farmer
Seven Sacraments
My Days of the Week
My Morning Offering
Nighttime
4. Becky Melichinsky, Illustrator
Becky Melechinsky's Deedle Deedle Dumpling
Deedle Deedle Dumpling my son, Todd, Plopped into bed without talking to God. 
Tick-Tock goes Grandfather Clock in the Catholic Mother Goose.
Tick-Tock goes Grandfather Clock; Majestic and Grand by the wall. Tick-Tock, it seems it can talk; Winking at me in the hall.

Becky Melechinsky's drawings are so lovely. She drew "I Had a Little Wife" in the Catholic Mother Goose.
All in all, I think Leane VanderPutten has created a book that you'll love right now and that your children will love for generations for the very reason Leane gives in her Foreword:
"It gives us some lovely rhymes that can, and should, be committed to heart by your children. Not only will it provide all the benefits of reading and memorizing, but it will supply some simple reflections that will turn those little minds to what is most important in their lives….their Catholic Faith."
Thirty days hath September, Several feast days we remember. Pius the Tenth is on the third; We pray to him, our hearts are stirred.
Here's another note from Leane:

"This is not your regular Nursery Rhyme book! These poems are sprinkled with sentiments about our beautiful Catholic Faith. They are enjoyable and lighthearted yet are dotted with thoughts about the feasts of the Church, holy water, scapulars, the saints and much more! This book not only offers all the benefits of reading and memorizing Nursery Rhymes, but it will plant seeds that will turn those little minds to what is most important in life….their Catholic Faith."
Leane, Becky Melechinsky, and Virginia Shibler have a right to be proud of their illustrated Catholic Mother Goose stories that you can buy at Amazon. 
Cheerful Chats For Catholic Children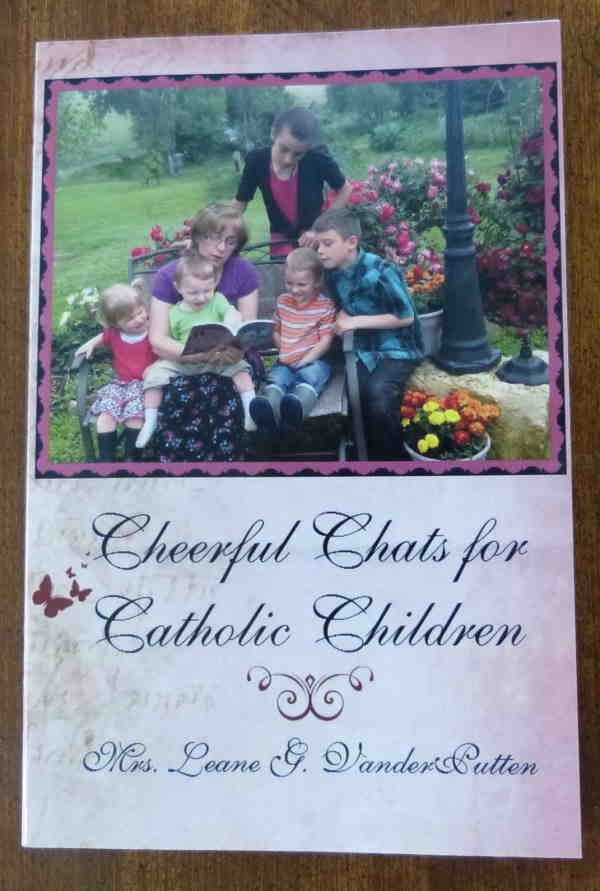 Buy Cheerful Chats for Catholic Children at Amazon.
Leane has also written another lovely book called Cheerful Chats For Catholic Children (Amazon link) that is nice for older children. Not only does Leane tell sweet stories that teach a moral, she includes a short review, a nice prayer and a simple poem that would be easy to memorize.

Note: I would check each story ahead of time to see if it suits your children's dispositions and levels of experience. You would not want to suggest what might tempt your children.

Leane VanderPutten's Books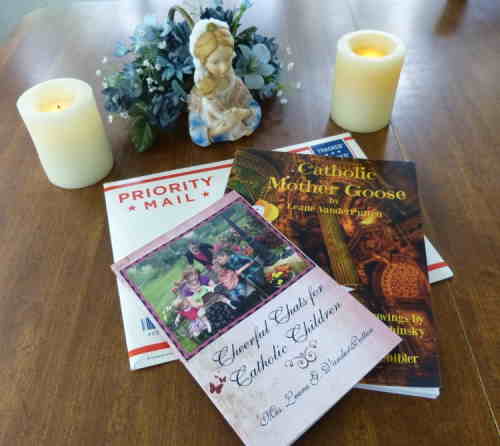 Two of Leane VanderPutten's Books
Catholic Mother Goose was written by Leane VanderPutten and illustrated by Becky Melechinsky and Virginia Shibler.
Comments: What are your Catholic Mother Goose favorites?
Do you love Leane's Catholic Mother Goose nursery rhymes? Share your review in the block below.

Did your children color any of the pictures? You can upload 1 to 4 800x600 pixel photos. If you have more than one photo, the others will appear as thumbnails that will click to show the larger image.


Comment Here:
Read More Catholic Mother Goose Reviews
Click these links to see more notes from visitors to this page...

I Love These Catholic Mother Goose Poems Not rated yet
Each of my three young children were required to memorize a poem from this book for their NTI at the beginning of the school year to put on a poem reading …
Audio Baltimore Catechism, Catholic Worksheets, Catholic eBooks, and Catholic Coloring Pages:
Get Catholic catechesis resources for your Roman Catholic catechism class, Faith formation, Catholic homeschool, religious education, distance learning, online classrooms, or Sunday school lessons. ~Mary Fifer
Order our Baltimore Catechism worksheets . Choose your favorite  fonts,  colors, and SIZES on our fillable digital interactive worksheets. Paperless or printable.
You may want to have each of these for your Baltimore Catechism Communion students: audio, ebooklet, and digital worksheets for kids and adults. Verbatim text in all formats. 
Audio Communion Recording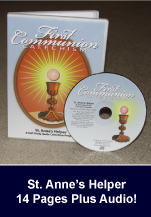 Audio Baltimore Catechism No. 1 questions and answers for First Communion
First Communion Worksheets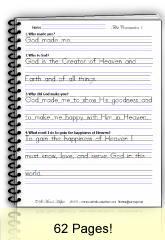 Baltimore Catechism No. 1 worksheets for First Communion: eCopybooks With Cursive Writing Practice
First Communion eBooklet to Print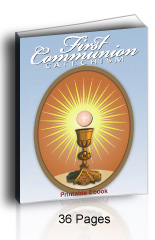 Printable Baltimore Catechism No. 1 Questions for First Communion Ebook
Catholic Coloring Pages To Print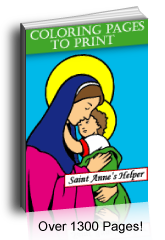 Catholic Catechism Coloring Pages For Saints and Liturgical Calendar