The Old Act of Contrition
Learning the perfect Act of Contrition is easy when you have someone to help you or when you have an audio recording as with St. Anne's Helper Downloads and CDs.

This prayer is from the 1885 Baltimore Catechism.
After the prayers of the Rosary it is the first most important prayer to learn and we use it in receiving the sacrament of Penance or a nightly examination of conscience.
Type on Saint Anne's Helper interactive Baltimore Catechism worksheets and coloring pages using your favorite fonts, colors, and SIZES.
Audio Baltimore Catechism CDs, Worksheets, and Coloring Pages
This is the first prayer after the prayers of the Rosary that we should be sure to learn as we use it for going to confession and would do well to use it every night before sleep.
I like to be sure to teach it to our little ones long before I teach the other Acts as they are so similar that it can be confusing for little ones to learn the others before their first confession. It has a phrase that is super similar to the Act of Charity. This is the same prayer that was published in the Baltimore Catechism in 1885.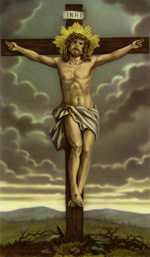 Baltimore Catechism Perfect Act Of Contrition
Perfect Act of Contrition
O my God! I am heartily sorry
For having offended Thee and
I detest all my sins, because
I dread the loss of Heaven and the pains of Hell;
But most of all because I have offended Thee, My God,
Who art all-good and deserving of all my love.
I firmly resolve, with the help of Thy grace,
To confess my sins, to do penance,
And to amend my life. Amen.



The perfect Act of Contrition is the prayer that Catholics use in the Sacrament of Penance (Catholic Reconciliation) and at night before retiring with Rosary and a short examination of conscience.
It covers the contrition necessary to cover a mortal sin till the penitent can go to sacramental Confession. In this way it is one of the most important Catholic prayers when one is in danger of death!
What makes it perfect?
It is a perfect act because it includes the sentiment of being sorry for sin because of loving God, not merely attrition which is simply wishing one hadn't committed the sin simply for the fear of Hell or the hope of Heaven. Loving God makes the act perfect. 
Audio Baltimore Catechism, Catholic Worksheets, Catholic eBooks, and Catholic Coloring Pages:

If you use the Baltimore Catechism, you'll love SaintAnnesHelper.com!
Use printables in your Roman Catholic catechism class, Faith formation, or Sunday school lesson; Pin a picture to remember Saint Anne's Helper; and share with family and friends on Facebook. Thank you so much!
~Mary Fifer

---