First Friday Devotion 
And Sacred Heart Of Jesus Coloring Page
The First Friday Devotion was given to St. Margaret Mary Alacoque by Jesus who also gave her the Twelve Promises. We've always tried to make sure that we and our children who are able complete this devotion soon as we can after their First Communion. We can always improve in the future, yet it is neat to know that all of us have honored Jesus this way.
Use our Sacred Heart coloring page for the Feast of the Sacred Heart on the second Friday after Trinity Sunday or during June, which is the Month of the Sacred Heart. This is also great for teaching children how much Jesus loves us all.
Sacred Heart of Jesus, have mercy on us. Saint Margaret Mary Alacoque, pray for us!
Type on Saint Anne's Helper interactive Baltimore Catechism worksheets and coloring pages using your favorite fonts, colors, and SIZES.
Audio Baltimore Catechism CDs, Worksheets, and Coloring Pages
Because He loves us so much, Jesus chose St. Margaret Mary Alacoque, a simple nun, to spread devotion to His Sacred Heart. Through several apparitions He taught her a devotion that was to become known as the Nine First Fridays and the Holy Hour of Reparation to His Sacred Heart. He also asked that the feast of the Sacred Heart be established. Eventually she received the support of Blessed Claude La Colombiere, the community's confessor for a time, who declared that the visions were genuine.
On top of trying to keep the First Friday devotion, we also have a family holy hour that we keep on a regular time. For years and years we've had the hour right after Saturday morning Mass. It's been a great way to try to be sure to remember the First Saturday devotion and it's helped all our children keep both devotions. As our older children have gotten their driver licenses, they've been able to help us cover that hour. Perhaps you can do the same? It's wonderful to have this as a family habit to remember the right weekend.
The Twelve Promises For First Fridays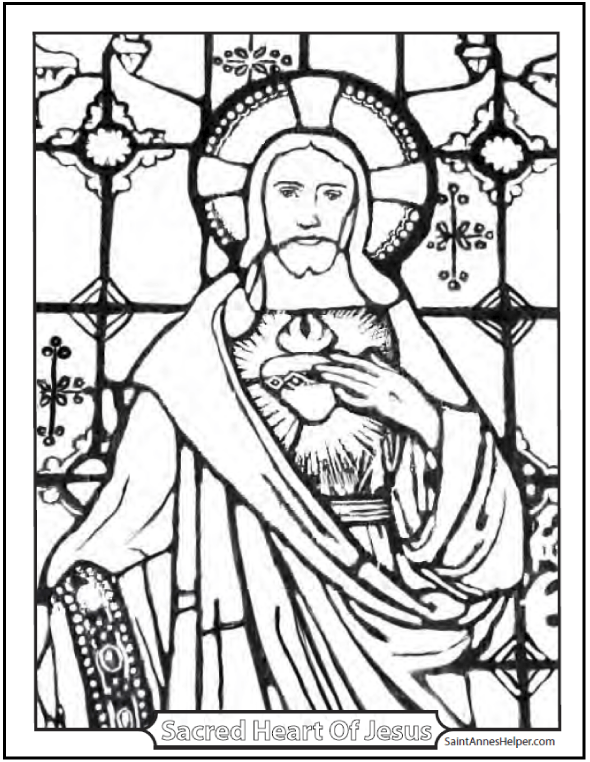 The feast of the Sacred Heart is the second Friday after Trinity Sunday.
Jesus made these promises to those who consecrate themselves and make reparation to His Sacred Heart:
I will give them all the graces necessary in their state of life.
I will establish peace in their homes.
I will comfort them in their afflictions. 
I will be their secure refuge during life, and above all in death.
I will bestow abundant blessing upon all their undertakings.
Sinners shall find in My Heart the source and infinite ocean of mercy.
Tepid souls shall grow fervent.
Fervent souls shall quickly mount to high perfection.
I will bless every place where a picture of My Heart shall be set up and honored.
I will give to priests the gift of touching the most hardened hearts.
Those who shall promote this devotion shall have their names written in My Heart, never to be blotted out.
I promise the in the excessive mercy of My Heart that My all-powerful love will grant to all those who communicate on the First Friday in nine consecutive months, the grace of final penitence; they shall not die in My disgrace, nor without receiving the sacraments; My divine Heart shall be their safe refuge in this last moment." – Soul Assurance Prayer Plan, 1945
First Friday Devotion Obligations
1. Go to Confession and Communion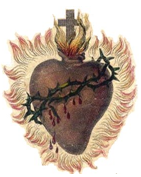 Sacred Heart of Jesus
Go to Confession and Communion on the first Friday of each month for nine consecutive months and pray for the intentions of the Holy Father. As with most devotions that parishes practice, this First Friday devotion to the Sacred Heart should be made publicly. This is the Mass to attend if you are starting your nine First Fridays.
If there is no such public devotion, make the devotion privately; going to Confession and Communion and pray for the intentions of the reigning Pope. We post a reminder in our near monthly ezine.  Would you like a reminder of upcoming First Fridays and Saturdays?

2. Holy Hour of Reparation
These should help warm our First Friday devotion to His Sacred Heart:
A related devotion is this: Eucharistic Adoration is to be made for one hour on Thursdays (this is also a time to keep a holy hour for priests). The Holy Hour can be made alone or as part of a group with formal prayers. Jesus said to his sleeping Apostles on Holy Thursday night, "Could you not watch one hour with me?" -Matthew 26:40 DRB
Celebrate the Feast of the Sacred Heart the Friday after Trinity Sunday, and make the Act of Reparation, and receive Communion on the Feast.
Be encouraged to make the Novena for the nine days ahead of the Feast of the Sacred Heart which begins on Thursday of the week before, the feast of Corpus Christi.
3. Be An Apostle Of The Sacred Heart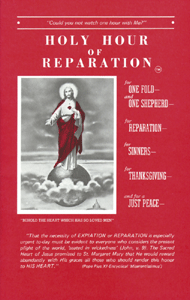 Holy Hour of Reparation
Consecrate yourself personally to the Sacred Heart of Jesus, and recite the Consecration prayer daily for One Fold and One Shepherd.
Participate in the Holy Mass and receive Holy Communion daily if possible for with the intention to make Reparation.
Offer a Holy Hour once a week for Reparation; and encourage others to do the same. 
Consider yourself encouraged. :-)
Sources:
Soul Assurance Prayer Plan, 1945.
For more information see Isa's informative Sacred Heart Holy Hour website here.
Audio Baltimore Catechism, Catholic Worksheets, Catholic eBooks, and Catholic Coloring Pages:

If you use the Baltimore Catechism, you'll love SaintAnnesHelper.com!
Use printables in your Roman Catholic catechism class, Faith formation, or Sunday school lesson; Pin a picture to remember Saint Anne's Helper; and share with family and friends on Facebook. Thank you so much!
~Mary Fifer

---