Immaculate Conception Coloring Page
Immaculate Conception Coloring Page
This first image is a darling Immaculate Conception coloring page and is great for teaching the Catholic holy days of obligation. The Blessed Virgin Mary is the Immaculata and appeared to St. Bernadette in Lourdes, France in 1858. The other two pictures of the Immaculate Conception are from stained glass windows.
Each of these prints 8.5x11" PDF single sided.
Print Immaculate Conception Coloring Pages
Triptych Immaculate Conception

If you use the Baltimore Catechism, you'll love SaintAnnesHelper.com! Digital Communion and Confirmation ebooks, worksheets, and coloring downloads.
Buy Our Saint Anne's Helper Ad-free PDF Catholic Coloring Pages to Print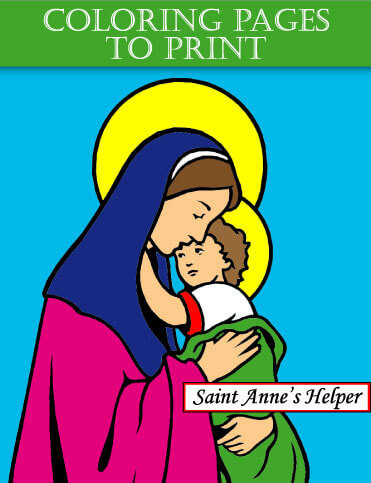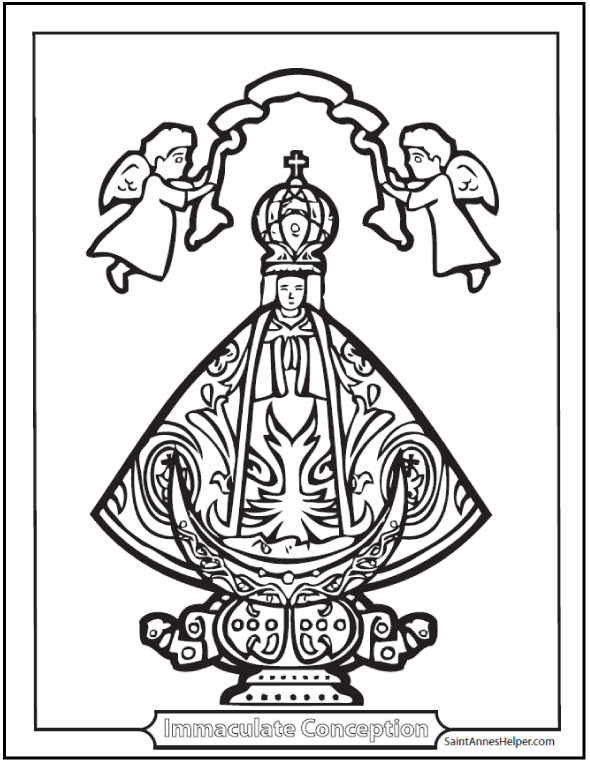 Print a picture of the Immaculata here.

If you use the Baltimore Catechism, you'll love SaintAnnesHelper.com! Digital Communion and Confirmation ebooks, worksheets, and coloring downloads.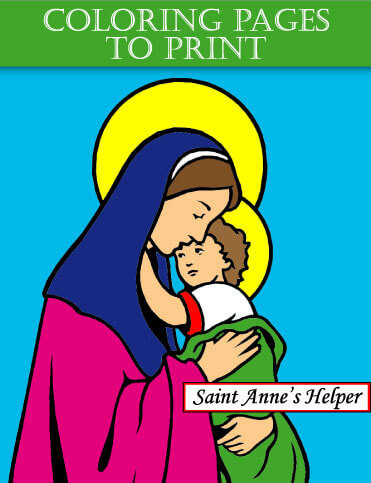 Stained Glass Immaculate Conception
Feast of the Immaculate Conception, Dec. 8
The feast of the Immaculate Conception is December 8, the first holy day of obligation in the liturgical year during Advent. What's neat is that at this time there are three holy days in less than one month, three of the six are finished for the year by the beginning of January.
This feast goes back to Adam and Eve and the Fall of mankind, Original Sin. They lost supernatural grace. How would they get it back? God promised them the Redeemer. Mary would be the Savior's mother and had to be perfect so she was conceived with no sin - immaculate.
Immaculate Conception Bible Quote
God told the serpent:
"I will put enmities between thee and the woman, and thy seed and her seed: she shall crush thy head, and thou shalt lie in wait for her heel." - Genesis 3:15 Douay-Rheims
The New Marian Missal, 1947, says "In these words the Immaculate Conception of the Blessed Virgin Mary was announced to our first parents. It was to be the reversal of the friendship with the serpent contracted by Eve, when she listened to his voice and fell under his power. The second Eve was never to be under the power of the devil; the enmity between them was to admit of no possible exception. This involved the grace of being conceived immaculate. Mary's Immaculate conception was the foundation of all her graces. The absence of any stain or spot of sin distinguished her from all the rest of mankind. It distinguished her from the holiest of the Saints, since they, one and all, were sinners. Her perfect sinlessness was the source of all her glory and all her majesty; it was this which opened the door to the unlimited graces that she received from God; it was this that qualified her for her divine maternity, and raised her to her throne as Queen of heaven."
Immaculate Conception Prayer
"O Queen, conceived without original sin, pray for us, who have recourse to thee." -New Marian Missal
Another version from Lourdes:
"O Mary, conceived without sin, pray for us who have recourse to thee."
Declaration Of The Immaculate Conception
Pope Pius IX declared the Immaculate conception and Our Lady appeared to St. Bernadette in Lourdes to say the same: "I am the Immaculata".
You might also like our other coloring pages:
Save money! First Communion, Confirmation, and coloring bundles 16%-30% discount.
Catholic School Catechists, Teachers, and Parents

Disclosure: I show products I think will help you. If you use my links, I may earn ad commissions at no extra cost to you. As an Amazon Associate I earn from qualifying purchases.
Audio Baltimore Catechism, Catholic Worksheets, Catholic eBooks, and Catholic Coloring Pages:
Order our Baltimore Catechism worksheets . Choose your favorite  fonts,  c o l o r s, and SIZES on our fillable digital interactive worksheets. Paperless or printable.
Catholic catechesis resources for your Roman Catholic catechism class, Faith formation, Catholic homeschool, religious education, distance learning, online classrooms, or Sunday school lessons. ~ Mary Fifer
You may want to have each of these for Baltimore Catechism Communion: audio, ebooklet, and digital worksheets for kids (and adults). Verbatim text all formats. 
Audio Communion Recording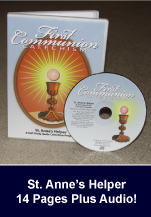 Audio Baltimore Catechism No. 1 questions and answers for First Communion
First Communion Worksheets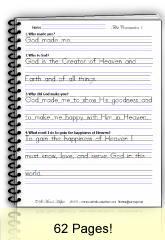 Baltimore Catechism No. 1 worksheets for First Communion: eCopybooks With Cursive Writing Practice
First Communion eBooklet to Print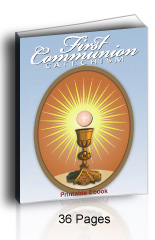 Printable Baltimore Catechism No. 1 Questions for First Communion Ebook
Catholic Coloring Pages To Print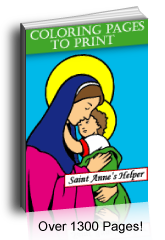 Catholic Catechism Coloring Pages To Print: Saints and Liturgical Calendar