Presentation Coloring Page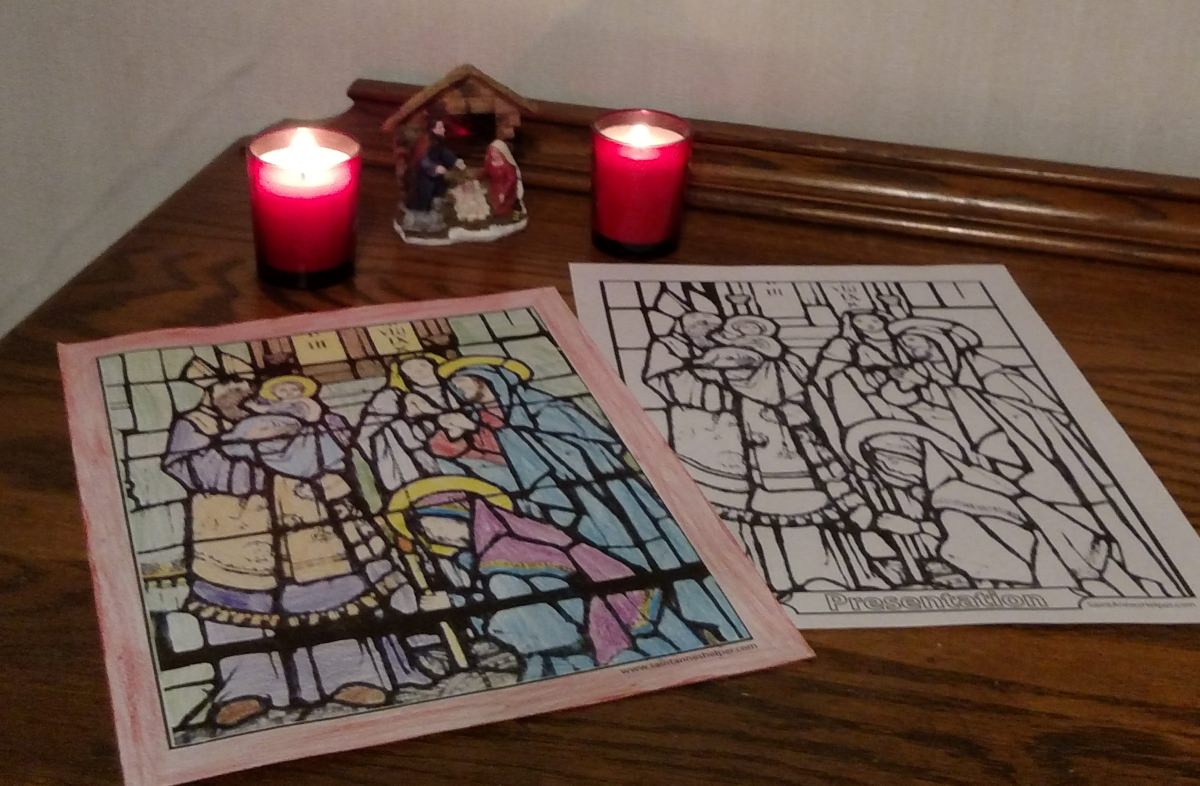 Presentation Coloring Page for the feast of the Presentation, the Purification, and Candlemas Day on February 2. All the same day!
Celebrate the Feast of the Purification, February 2, with a stained glass Presentation coloring page. Joseph and Mary presented Jesus in the Temple and this picture shows the High Priest Simeon and the Prophetess Anna. 
This is also the feast of the Presentation and Candlemas. Your children will love the Mass for Candlemas Day! This PDF prints 8.5x11" single sided.
Buy All Our Catholic Coloring Pages to Print


If you use the Baltimore Catechism, you'll love SaintAnnesHelper.com!
Feast of the Purification of Mary
The feast of the Purification of Mary is February 2 and is the same as Candlemas Day. If you can, be sure to take your children to Mass to see the priest bless the candles for the year. It's a wonderful time to have your family candles blessed, too.
Blessed candles are good for sacraments like Extreme Unction and the Prayers for the Dying, many devotions as with the St. Martha novena, and other Catholic prayers.
Feast of the Presentation of Jesus
The Feast of the Presentation is the same day as the Purification of Mary and is what we remember in the Fourth Mystery of the Rosary, the Presentation of Jesus in the Temple for an increase in the supernatural virtue of purity.

Feast of Saint Blase
The very next day after the Presentation is the feast of St. Blase, patron of those with throat issues. If your parish has the Blessing of Throats, remember to go after Mass or when the Blessing is scheduled, sometimes parishes will also do it the next Sunday, so everyone in your family can have their throats blessed. Guess when the candles were blessed? On the feast of the Presentation, February 2.

A hint for young parents about this Blessing: It's a great time to teach your children to proceed in a line just like they will for their First Communion. If you're teaching First Communion, both St. Blase day and Ash Wednesday are good times to practice walking in line and kneeling at the altar.
Related Pages
See more about the Catholic Rosary and feast days on these pages:

Customize our interactive PDFs with your favorite fonts, colors, and SIZES.

---