Catholic Purgatory One of the Four Last Things at the Particular Judgment
The Baltimore Catechism teaches that Purgatory is one of the Four Last Things:
death with its Particular Judgment, 
Hell, 
Purgatory, and 
Heaven.
Purgatory In The Catechism
Yes. Purgatory exists. The other three of the Four Last Things are Death, Heaven, and Hell.
The idea is a consoling thought. If "not one jot, not one tittle" will go unpunished, it is a huge help that we have an opportunity to repair before going to Heaven. 
Disclosure: I show products that I think will help you. If you use my links, I may earn ad commissions at no extra cost to you. As an Amazon Associate I earn from qualifying purchases.
Doctrine Of Purgatory
The Baltimore Catechism (BC) teaches the purgatory catechism answers.
What are the rewards or punishments appointed for men's souls after the Particular Judgment?
The Catholic catechism teaches that "the rewards or punishments appointed for men's souls after the Particular Judgment are Heaven, Purgatory, and Hell". (BC No. 1, Q. 412)
What is Hell?
Hell is a state to which the wicked are condemned, and in which they are deprived of the sight of God for all eternity, and are in dreadful torments. (BC No. 1, Q. 413)

Digital Baltimore Catechism Communion and Confirmation ebooks, worksheets, and coloring downloads.
Definition Of Purgatory
What is Purgatory?

Purgatory is the state in which those suffer for a time who die guilty of venial sins, or without having satisfied for the punishment due to their sins. (BC No. 1, Q. 414)
What is Heaven?
Heaven is the state of everlasting life in which we see God face to face, are made like unto Him in glory, and enjoy eternal happiness. (BC No. 1, Q. 420)
Purgatory In The Bible: 
Not only does the Catholic catechism teach it, but also the Bible teaches about Purgatory.
The Douay-Rheims Bible says many times that "God will render to every man according to his works ... and shall not escape without punishment."
See these Bible quotes: Matt. 5:25, 26; Matt. 12:32, 36; Apoc. 21:27; Luke 12:58, 59; 1Cor. 3:13-15; 1Pet. 3: 18-20.

Original Sin
What is Original Sin?

Original Sin is the sin of our first parents, Adam and Eve.

What is sin?

Sin is disobedience to God's laws.
After the Creation (Gen. 1:1, Douay-Rheims Bible), Adam and Eve chose to do the very one thing God had forbidden. The effects are upon all their children. Where is their hope?
God promised to send His only Son, Jesus (Gen 3:15, Douay-Rheims Bible), through the Blessed Virgin Mary, Mediatrix of All Graces! Jesus established His Church on earth and gave us the Sacrament of Baptism by which we are cleansed of Original Sin and by which we profess the Catholic religion.
See Creation and Bible coloring pages here.
Actual Sin And Purgatory
What is actual sin?

Actual sin is any sin we ourselves commit.
Uh-oh. What do we do for the sins we have committed after Baptism? How can we get rid of the guilt due to actual sin? We're not just saved by Baptism because we can still offend God. So what's to do?
Enter: the Sacrament of Penance. By confessing our actual sins to a priest to gain absolution we can have the grace to avoid Hell for any mortal sins and the grace to avoid punishment in purgatory for venial sins. The more sorry we are that we have offended God, the more grace we receive.
If we cannot get to confession right away, we can make an act of contrition or an act of sorrow. Here is a beautiful version of the perfect Act of Contrition Prayer.
For mortal sins we also need to make the intention to go to sacramental confession as soon as possible. Yes, this intention "covers" us in the meantime in case of accidental or unprovided death, although it may not be enough to remove the need to go to purgatory. This is why it is important to have the prompt habit of making an act of contrition right away. 
Catholic Catechism Class
Our First Communion and Confirmation Audio Catechism (CDs, Downloads, and Copybooks) can help you in your Catholic catechism class. Their format makes it easy to search track by track for the exact answer you would like to have the children memorize.
As an adult: Do you know the Catholic Ten Commandments? The Our Father Prayer? and the The Apostles' Creed? Would you like to memorize them or help your children, grandchildren or students? Get help with Saint Anne's Helper audio, worksheets, and coloring pages. 
Audio Baltimore Catechism, Catholic Worksheets, Catholic eBooks, and Catholic Coloring Pages:
Get Catholic catechesis resources for your Roman Catholic catechism class, Faith formation, Catholic homeschool, religious education, or Sunday school lessons. ~Mary Fifer
Order our Baltimore Catechism worksheets . Choose your favorite  fonts,  colors, and SIZES on our fillable digital interactive worksheets. Paperless or printable.
You may want to have each of these for your Baltimore Catechism Communion students: audio, ebooklet, and digital worksheets for kids and adults. Verbatim text in all formats. 
Audio Communion Recording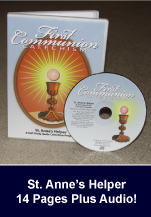 Audio Baltimore Catechism No. 1 questions and answers for First Communion
First Communion Worksheets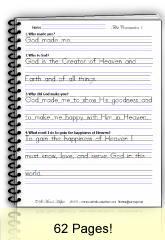 Baltimore Catechism No. 1 worksheets for First Communion: eCopybooks With Cursive Writing Practice
First Communion eBooklet to Print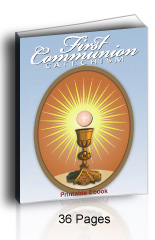 Printable Baltimore Catechism No. 1 Questions for First Communion Ebook
Catholic Coloring Pages To Print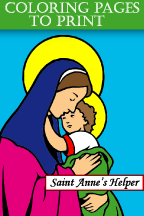 Catholic Catechism Coloring Pages For Saints and Liturgical Calendar