Roman Catholic Baptism
Learn Our Beliefs in the Catechism
Catholic Baptsim is for adults and for children. If you're studying you'll be glad to know that the Baltimore Catechism teaches the Baptism catechism answers about Creation, Heaven, Hell, Original Sin, Death, and Purgatory concisely. This is handy whether you are:
Adults preparing to receive Baptism,
Teachers wishing to teach about the sacrament of Baptism, or
Studying which questions and answers are for the sacrament of Baptism.
Baptism is your entry to the Catholic Faith. It is a rite of initiation, a new beginning, your ticket to Heaven. Any beginning catechism will work for those entering the Catholic Church. A child's catechism works for children, and is also a wonderful outline for converts; and adults will only need one catechism. There are not really "levels" with the catechism.

Order audio catechisms here.
The better you prepare spiritually for receiving this sacrament, the better chance you will have of having the great grace of Final Perseverance which means getting to Heaven. Be sure to form a good habit of saying the daily Rosary and you'll know most of the basic Catholic prayers.
Baptism is the gateway to eternal happiness in Heaven. It gives the treasure beyond price of which Jesus Christ spoke in the Gospels.
Either the long wait for Mamma's and baby's safe arrivals, or the sometimes equally long and hopeful study, necessary for the catechumen, are joyfully met in Baptism.
In the case of Baptism Catholic families make sure that the ceremony is performed as soon as possible and leave any plans for extensive Baptism invitations, Baptism party, and Catholic Baptism gifts for later when Mom and baby are both more ready for the extra attention.
Roman Catholic Baptism:
Catechism Questions
Creation And The Fall
Simply, to understand the Baptism catechism answers, one must understand that God created Heaven and earth (the very first words of the Douay-Rheims Bible, Gen 1:1). He created Heaven for the angels and for us. The bad angels were cast into Hell.
Adam and Eve listened to their leader, Lucifer, and committed the Original Sin by which Death entered the world. Original Sin is the reason that we need Baptism.
God promised Jesus Christ to them through the Blessed Virgin Mary (Gen 3:15) to offer them hope for themselves and their many children. When Jesus came He instituted the Catholic Sacrament of Baptism by which Original Sin is taken away.
Those who are baptized and commit venial sins will avoid going to Hell, but may suffer the fires of Purgatory if they do not go to Confession and do penance for them.
What is Original Sin?
Original Sin is the sin we inherit from our first parents, Adam and Eve.
What is sin? Sin is disobedience to God's Laws.
What are God's Laws? God's Laws are the Catholic Ten Commandments!
Roman Catholic Baptism Names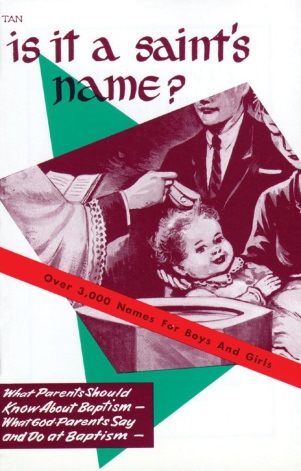 Catholic Baptism Names
Parents can choose baby's name from the many saints' names available in the Catholic saints list in many books like Is it a Saint's Name? published by Tan Books.
Early in our marriage, we didn't realize that choosing patron saint's name from a Catholic liturgical calendar for a Catholic Baptism made the search easier. It was also wonderful to have a saint's name from near his feast day, too.
There are great books on the subject of Catholic saints names and they also have lists of patron saints names. Some Catholic calendars have patron saints lists in them, too. Many parents name their children according to the saint of the day that they were born.
We had already known about choosing Catholic saints from a devotion to a favorite Catholic saint. This was the major factor in the choice of the names of our first four children. They were named for our favorite saints at the time.
A great list, too, was our list of honorable relatives and friends if they had Catholic saints names, especially the probable Godparents. Using patron saints names for Baptismal names affords that saint's protection and this is why such names as Mary, Joseph, Michael, and John are such popular names, they are patrons of so many Catholic themes.
Is It A Catholic Saints' Name?
We soon ran out of our own favorite baby names! Thank God one of our best friends had given us the Is it a Saint's Name? booklet as one of our favorite maternity gifts. It has very good advice about choosing names as well as the basic rite of the Catholic Baptism ceremony in an emergency and can be found at Tan Books. It also has a list of patron saints.
There's another baby name page at Catholicity for extra ideas!
Audio Baptism Catechism
Most of the content of any Catholic Baptism Catechism is covered by learning the Apostles' Creed and the Catholic Ten Commandments. It is good to know that it is this simple! Most of the specifically revealed truths necessary to be a good Catholic and die a holy death are covered by the study of these two subjects. This is why it is so important to own a good Douay-Rheims Catholic Bible and the Baltimore Catechism or the Catechism of the Council of Trent. They teach the Faith in a concise and precise manner.
See Tan Books' and Neumann Press' collections to learn these truths as taught by the Baltimore Catechism. See Saint Anne's Helper if you want an Audio Catechism for First Communion or Confirmation, or if you want Catechism Copybooks for Catholic handwriting worksheets and religious education materials.
The book Jesus Comes teaches the basic Roman Catholic Baptism catechism answers usually learned for First Communion in the nicest way that we have seen for children or adults! The Catechism In Pictures does the same. Our favorite titles for adults are The Catechism of the Council of Trent, The Catechism Explained and This is the Faith, now as Catholic audio books on CD. 
See our:
Ideas for Catholic Baptism Gifts
St. Anne's Helper Audio Baltimore Catechisms for First Communion and Confirmation make excellent Baptism gifts since they will teach the truths necessary for your family and friends to keep the Faith.
Adult converts are grateful to have an easy way to review the basic Catholic beliefs. Once they have already studied this material they can receive all three sacraments on the very same day, so one would want to give these CDs early since they help prepare for Baptism, too.
New babies, on the other hand, have all of their study ahead of them, so our St. Anne's Helper Catholic audio books are a great gift from Grandparents and Godparents!
They make it easy for the parents to teach the Faith when the time comes. There are many truths to learn about the Catholic religion that make going to Heaven easier so Godparents can give a sure opportunity for baby to learn the Faith when they give the family an audio catechism either at the Baptism or later when the child is ready to study.
Parents are thrilled to find such easy help with teaching the Faith as in this version of the Baltimore Catechism. They frequently learn or relearn right along with their children. We know many who did!
We now have many other products that are super helpful for those new to the Catholic Faith and to homeschooling parents like our printable worksheets and coloring pages. See our site navigation for more ideas.
In our family we like to give:
Name-sake saint pictures.
Books about the lives of the saints.
Guardian angel pictures.
US Catholic Bishops Catechism Opinion
"Baptism is the sacrament which cleanses us from Original Sin, makes us Christians, children of God, and heirs of Heaven."
NB: This answer has been taught throughout the history of the Catholic Church. It is important to note that many catechisms of the last one hundred years do not explicitly teach that Baptism takes away Original Sin!
Does yours?
St. Anne's Helper Catholic audio books and Catholic ebooks do!
See what Thomas Szyszkiewicz wrote of the opinion of the USCCB at Catholic Parents Online of many of today's catechisms here. It sure shows the need to choose your catechism well when preparing for a Roman Catholic Baptism. 
Use printables in your Roman Catholic catechism class, Faith formation, or Sunday school lesson. ~Mary Fifer

If you use the Baltimore Catechism, you'll love SaintAnnesHelper.com!
---
---