Pro Multis Audio Baltimore Catechism No. 1  1885
* March Only! Free Saint Patrick Ebook Here.
Use interactive catechism worksheets with your favorite fonts, colors, and SIZES.
We bought this wonderful audio Baltimore Catechism CD after some of our first children were finished studying for First Communion and Confirmation.
It has the rest of the questions and answers for the BC No. 1 which are a portion of the BC No. 2.
The presentation is lovely with Mom asking the questions while her children give the answers. Listen to a sample below.
This is a super help for reviewing the questions for a catechism quiz.  It's like having a religion tutor. :-)
Learn the Catholic prayers.
Prepare for Baptism, Penance, and Holy Eucharist.
Many questions fit Confirmation.
Lessons arranged on 33 tracks for easy navigation.
Great to use after First Communion.
Wonderful gift of Faith.
Useful for adults preparing for the sacraments.
Audio Baltimore Catechism Sample
Buy the Baltimore Catechism CD at Amazon here.
Audio Baltimore Catechism Text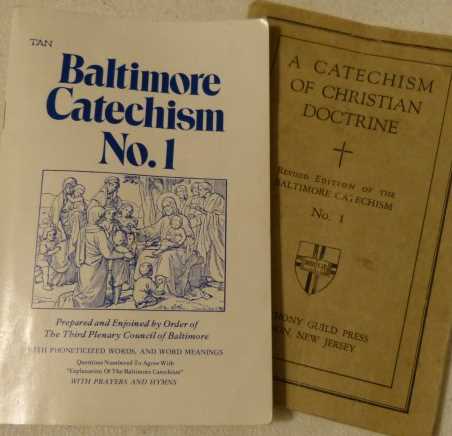 Same text as the Baltimore Catechism No. 1
If you're looking for the text to the audio Baltimore Catechism all you have to do is use the booklet you already own or go online to something like Gutenberg or Archive to find the questions and answers. You can download and print from online sites.
The Baltimore Catechism No. 1 is a subset of the No. 2; so if you already have the No. 2 you won't have to buy another book simply mark the No. 1 questions. 
Buy Pro Multis Media's audio CD of the Baltimore Catechism at Amazon.
The Baltimore Catechism At School
Many parish schools still use the 1885 Baltimore Catechism and most Catholic homeschools recommend it. If you're looking for discussion starters the BC is an excellent booklet. Children often wonder why the answers are written the way they are, or they give you an occasion to discuss important elements of the Faith that you might not have otherwise remembered.
Our Lady of Victory School, Seton Home Study, Mother of Divine Grace, and Our Lady of the Rosary School all use the Baltimore Catechism in their lesson plans.
If you need someone to help your children learn the prayers and the answers, this CD is an awesome tutor. A recording can be played over and over to help with memorizing the answers. You can also use it to review the questions before a quiz or test while driving or doing other things. Load it on your MP3 player to keep it handy.
The Baltimore Catechism is the short cut to know, love, and serve God in this world, and to be happy with Him for ever in Heaven.
Pro Multis Media Audio Baltimore Catechism
I love that this Catholic family has put their business under the protection of the Blessed Virgin Mary. At a time when it is hard to find good Catholic materials that are not filled with fluff, this CD is a welcome addition to our library. May God grant them saintly children.
Our Lady of Good Success, pray for us.
Buy Pro Multis audio Baltimore Catechism CD at Amazon here.
---
Audio Baltimore Catechism, Catholic Worksheets, Catholic eBooks, and Catholic Coloring Pages to Print:

If you use the Baltimore Catechism, you'll love SaintAnnesHelper.com!
Use our printables in your Roman Catholic catechism class, Faith formation, or Sunday school lesson; Pin a picture to remember Saint Anne's Helper; and share with family and friends on Facebook. Thank you so much!
~Mary Fifer

---