Audio Catechism Testimonials
Audio Catechism Testimonials
Pastors, Catechists, Parents, And More
We are so encouraged that we have many, many Audio Catechism testimonials! There are more than we can post here. I wish I'd kept an email file specifically for the many kind words people have sent.
Review what these pastors, catechists, parents and students have had to say about our First Communion and Confirmation Baltimore Catechism downloads: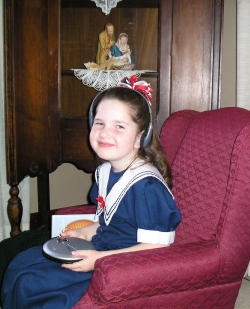 Audio Catechism Testimonials
Priests Like Saint Anne's Helper Audio Catechism:
"Be encouraged in this beautiful apostolate." Benedictine Abbot, Silver City, NM
"May I link to your site? It is so helpful for children." Pastor, Great Britain

"You are right, this is in black and white!" Parish Assistant
Catechists Like Saint Anne's Helper:
"I teach Sunday School and was glad to find St. Anne's Catechism for First Communion CD's for my students. My students have been struggling trying to study on their own, but now they have a CD to help them study. A few were struggling but with the help of the copybooks and audio disc were able to pass their exam and receive their First Communion! These tools have been a great help to my students!" Mrs. B., Texas City, TX
And more:
"The parents and grandparents in our parish are thrilled!"
"These CDs are so great!"
"These Copybooks are THE answer!"
"These CDs made the difference for my child who struggles with learning. Studying catechism became fun!"
Parent Audio Catechism Testimonials:
"Before we tried the Audio Catechism CD's from St. Anne's Helper, studying catechism was slow and tedious. But now that we have the audio discs and the Catechism Copybooks, my children are practically learning on their own! Thank you for providing these tools and making studying our Faith fun!" ~Virginia (Texas)
"I sure wish I would have known about it when I was homeschooling my six. I know it would be an invaluable aid to the ever-growing number of Catholic homeschooling families." -Ruth, Roman Catholics Group, Texas
"Thanks for your hard work on your website....The "Catholic Answers" section does well to remind us of always being vigilant of the books we buy - even with trusted names, we need to always make sure the version is traditional and safe.... Keep up your good work! May it bring many closer to Tradition." D & M L, Kansas
"We read Saint Patrick Apostle of Ireland as a family and loved it. It reads like an adventure of his travels and miracles. Wonderful ebook!"

Disclosure: I show products that I think will help you. If you use my links, I may earn ad commissions at no extra cost to you. As an Amazon Associate I earn from qualifying purchases.
More Parents' Testimonials
"I just looked at the cursive copybook and that would be perfect for Annie. Just what I have been looking for!!!" P. W., KS
"When our daughter had been ill for three weeks, your Audio Catechism CDs saved her grade!"
"This is such a great idea! How did you ever learn all of this?"
"These are a giant help!"
"Our hearing impaired child was delighted that he could hear so well and began to learn his catechism fast!"
"Have you seen St. Anne's Helper? They have done such great work! My son is dyslexic and it is so good for him to have good things to listen to!" ~P. S., 4RealForums
Students Love Saint Anne's Catechism CDs:
"Oh! Thank you! Thank you! I got a 100!"
"Thank you for helping me learn my prayers."
"Thank you so much. Sister likes my answers!"
"I'm so glad I have your CDs."
A Most Endearing Catechism Testimonial:
My GOD, I Love Thee, Let me Count the Blessings
by Sylvia U T Torelli - Morrisville, NC
I am a 50 yr old lady, who was raised Catholic, by my mother. My father was Lutheran, and did not attend Catholic Church with my mother, but he served as spouse during all of the Catholic Masses, and also the Baptism, and First Communion, and Confirmation services.

It was very difficult for me to understand what the meaning was? It was difficult for me to understand why I was going to First Communion and Reconciliation?

The text book, and study preparation classes at church, were interesting, but to me, the only thing which seemed important was that I would finally be able to participate and receive Holy Communion, with the congregation during Mass.

I never had anyone to teach me how to recite the Rosary, or explain what it was. I don't know why it was so difficult for me to understand, because I love GOD very much, and always say my prayers, before meals, and at bedtime, and when, I get up in the morning, and speak to GOD during the day, about my thoughts, etc.

I know that I am not a Saint, but have often thought about wanting to become a nun, in order to be closer to GOD. I also wanted to be a virgin, when I got married, and have a very bad conscience for anything I have done or said to offend anyone. 

I am married, and have one son, who is 22 years old, and I have raised him to be a good Catholic boy, with a Christian home, and a loving and supportive family who helps and loves him very much.

Now I find time to do more for others, especially the elderly, and for people in need, as much as I am able. I am a little bit too shy, but have tried to overcome it, and push myself into more social situations and experiences. 

The world has shown me a lot of good things, but also has shown me that there is too much corruption, and places of danger, where people are often lured to go, because of attractive advertisement for their lifestyle, and can fall into traps of mind control by wrong people, and also misleading leaders, who take their money, and leave them with a false sense of happiness. 

Then, they become addicts of places where they are like prey, and lose control of their lives. People don't know where to turn for GOD's love sometimes, and search for Love in the wrong places. 

I have learned that GOD is Love, and Love can be found anywhere, and they must try to share their Love with others, and not be afraid to show their Love. But there is the wrong kind of Love. It is the sinful Love, and also the Love of the fleshly desires, and this is the thing which I could not understand, the difference between the flesh and the spiritual Love.

Your Website has helped to teach me a lot of things which I did not understand about GOD, and the Church, and the sacraments of the Church. Thank you very much, for explaining it, and making it possible for me to learn, at age 50 yrs old, and I am continuing to study, and experience GOD's Love every day, I look forward to sharing Love, and GOD's blessings, with others every day now.
AMEN.
Sylvia U. Tarko Torelli
[Wow. Thank you Sylvia. May God bless you and preserve you and yours.
~Mary]
Bookstores Like Saint Anne's Audio Catechism:
"We need to get all your products on our site." Larry Ciskanik, Emmanuel Books
"Your product is live." Ian Rutherford, Aquinas and More
"These are so beautiful!" Immaculata Bookstore, Kansas
"You've found an idea no one else has done!" Bookseller in KC, MO
"We would just love to carry your CDs!" A Catholic magazine
"The product is up!" Tom Heldridge, Adoremus Books
Thank you for reading our Saint Anne's Helper audio catechism testimonials.
~Mary
See These Audio Catechism Pages
Audio Baltimore Catechism, Catholic Worksheets, Catholic eBooks, and Catholic Coloring Pages:
Get Catholic catechesis resources for your Roman Catholic catechism class, Faith formation, Catholic homeschool, religious education, or Sunday school lessons. ~Mary Fifer
Order our Baltimore Catechism worksheets . Choose your favorite  fonts,  colors, and SIZES on our fillable digital interactive worksheets. Paperless or printable.
You may want to have each of these for your Baltimore Catechism Communion students: audio, ebooklet, and digital worksheets for kids and adults. Verbatim text in all formats. 
Audio Communion Recording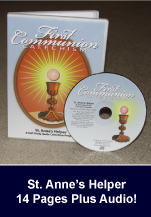 Audio Baltimore Catechism No. 1 questions and answers for First Communion
First Communion Worksheets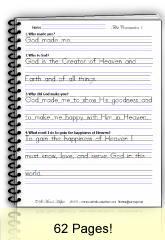 Baltimore Catechism No. 1 worksheets for First Communion: eCopybooks With Cursive Writing Practice
First Communion eBooklet to Print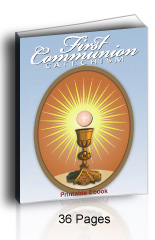 Printable Baltimore Catechism No. 1 Questions for First Communion Ebook
Catholic Coloring Pages To Print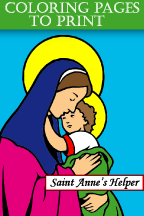 Catholic Catechism Coloring Pages For Saints and Liturgical Calendar
We hope that you have enjoyed these audio catechism testimonials. If you like them, would you Share them? Thank you!