Catholic Spiritual Reading 
And The Lives Of The Saints
Which Catholic Spiritual Books Should You Use?

Catholic spiritual reading is the first step after learning the truths in the Catholic catechism.
Reading spiritual books helps us to live what the Catholic catechism teaches:
The Ten Commandments, 
The Apostles' Creed, 
The sacraments, and 
Prayers like the Rosary. 
Keep it simple. Pray and read one or two good books at the beginning. Get recommendations after that.
Catholic Spiritual Reading Books: Bible, Heliotropium, The Sinner's Guide, Practical Meditations, My Imitation of Christ.
The most highly acclaimed spiritual books are those written by Catholic saints, they tell the principles, trials to beware, and helpful ideas that start you in the right direction on your successful path to Heaven.

It is important to be discerning as many denominations have books about spirituality and have their own sets of saints. Are you looking for a contemplative spiritual life or a more active spiritual life? Today, the more important discernment is to find good Catholic books have not been edited or re-written with an odd or non-Catholic perspective.
Depending on your state in life, you can ascend the Way of Perfection with spiritual reading from such greats as Saint Benedict, Saint Augustine, Saint Teresa and other Roman Catholic saints. Let the saints guide you, as they have already walked the walk and look forward to your final victory.
Simply, the first spiritual step to being holy is to practice the Catholic Faith which begins with the Catholic Ten Commandments and the Apostles' Creed. Study them, be familiar with what they ask, and do not violate them. If you don't know what they ask simply read them, pray, and ask a traditional priest to explain.

You will see recommendations throughout the length of this page. They are the recommendations of many good Catholic priests, monks, and nuns beginning with the simplest.
1. The Catholic Catechism and Spirituality
Catholic spirituality books and stories of the saints.
1.A. Catholic Spirituality and the Ten Commandments
Of course, in the Catholic catechism, the Ten Commandments are an outline that expands in higher level catechisms.
The Ten Commandments already set a holy "rule of life". They are the basis, or chapter outline of one of four units in a Catholic catechism. The other main sections in a catechism are the Apostles' Creed, the sacraments, and the prayers.
The first three Commandments include the sacraments and prayers.

1.B. Catholic Spirituality and the Apostles' Creed
Be encouraged that the Apostles' Creed is easy to learn. It's simply a quick outline of  salvation history in just twelve phrases of what we believe as Catholics.
Once you have learned the Ten Commandments and the Apostles' Creed, you've got the outline of most any catechism. Then simply ask your priest and read more about the Commandments and the Twelve Articles of the Creed in the larger catechisms.
At the same time as you read a catechism, though, I really recommend you read about the saints and a book like My Imitation of Christ (below).

Digital Baltimore Catechism Communion and Confirmation ebooks, worksheets, and coloring downloads.
2. Catholic Spirituality as a Rule of Life
 After the studying the catechism, Catholic spiritual reading draws you to holiness.
Benedictine? Study Saint Benedict's Rule.
Augustinian? Study Saint Augustine's Confessions and his City Of God.
Dominican? Study Saint Dominic.
Franciscan? Study Saint Francis of Assisi and Saint Clare and her Poor Claire nuns.
Carmelite? Study Saint Teresa of Avila, Saint John of the Cross, St. Therese of Lisieux and their writings.
Redemptorist? Read St. Alphonsus Liguori's books. He wrote plenty.
Jesuit or Ignatian? Study Saint Ignatius of Loyola and go on an Ignatian Retreat.
 Not sure? Pray the daily Rosary

 for discernment. 

Learn how to pray the Rosary here then schedule an Ignatian Retreat.
Disclosure: I show products that I think will help you. If you use my links, I may earn ad commissions at no extra cost to you. As an Amazon Associate I earn from qualifying purchases.
3. Catholic Spiritual Reading: Book List
3.A. Catholic Publishers
After learning the catechism, reading spiritual books is the best way to prepare for living a holier life.
The following publishers are mentioned as providers of good books for Catholic spiritual reading. Do be careful which edition or "translation" you buy.
Hint: I do not recommend all versions. There is frequently a mix of disbelief or oriental pagan elements introduced by some authors, translators, and publishers. When in doubt; check it out or leave it out.

You can look for good versions of books by Catholic saints, especially the writings on the lives of the saints at publishers like
TANBooks, 

PCPbooks.net, 

Lepanto Press,

Mother Of Our Savior,

Baronius Press,

And other publishers. 
 You're very likely to find excellent food for meditation to suit your interests.
3.B. Simple Catholic Spiritual Reading Books
These recommendations are listed in order of simple through deeper study. 
If you are a parent, consider a Catholic homeschool reading curriculum.
A good spiritual life often begins during the school years. Start with good Catholic books. 
Douay-Rheims Bible
Of course, the Catholic Bible should be the first book we read, yet many of us do read it in sections every time we go to Mass. The Douay-Rheims Catholic Bible (DRV) is the most recognized and undisputed Catholic version. If you can get the Haydock edition of the Douay, you'll also have the commentary by the saints. Wonderful addition!

The Missal Has Catholic Readings Of The Day
The Catholic Missal is the original "thought for the day" book. It has the Catholic readings of the day whether it is in the liturgical cycle or a saint's feast day.
My Imitation of Christ, by Thomas A Kempis
My Imitation of Christ, by Thomas a Kempis, Translated By Challoner. It is said that after the Bible, this is the most read spiritual book. I heartily believe this as it is plain and straightforward about how to advance in the spiritual life.
Do not try to read it all in one sitting. Read it one little chapter at a time. Take time to meditate on the principles it teaches. St. Therese of Lisieux was known to have read this as a child, so it really is a book for all who want to advance spiritually.
Hint: The version I have read several times begins; "He that followeth me, walketh not in darkness," (John VII, 12) There are others that change the meaning of even this first line in Chapter 1.
The Sinner's Guide
The Sinners Guide by Venerable Louis of Granada is excellent. Even though it is very readable and instructive, it ads an accusative element that makes you stop to think how it applies to your own life.
Ven. Louis was one of St. Teresa of Avila's favorite writers. He uses wonderful stories from scripture to help you repent.
It helps you leave bad habits so that you can grow in virtue.

Practical Meditations For Every Day of the Year
Practical Meditations for Every Day of the Year, was originally written for religious by a religious Jesuit, Bruno Vercruysse, SJ. As a matter of fact it was recommended to me by religious to a friend of mine who found it super helpful after going on an Ignatian retreat.
It is a more in depth book that follows the old liturgical calendar for the days of the year like a Missal. Unlike a Missal it begins in January and covers the feast days in order by date, yet it is very easy to find the right day. There is a section that covers Lent by the names of the Lenten calendar: Ash Wednesday, First Week of Lent - Sunday, Monday, etc. It does similarly through Easter and Pentecost, and again for Advent.
It follows the Ignatian method of meditation, meaning that you meditate on the same passage both the night before and the day of. You get prepared, make your resolution and then consider the material again. 

For years it was out of print, yet you can find Practical Meditations in two volumes at Amazon.
At the beginning, these books are enough spiritual reading. It may take you several years to read them if you're reading only fifteen minutes a day, yet you will be grateful for the time you spend getting to know God better. Read them sequentially and come back to your favorites in time.
You also will learn much from
Fr. Lassance, 
Fr. Von Cochem, 
Dom Prosper Gueranger, and 
Dom Garigou-Lagrange. 
3.C. Deeper Catholic Spiritual Reading
These books will take you closer to understanding a religious life, both as a religious proper and also in the more generic sense of lay men and women living religious, meaning holy, lives.
The Rule of Saint Benedict, Saint Benedict of Nursia - Did you know that this is simply one to three paragraphs per day and prints out to about 15 8.5x11 pages double sided? Super family and employer advice also for daily circumstances as well as a guide to the Benedictine life.
Confessions Of St. Augustine, Saint Augustine of Hippo
City of God, Saint Augustine of Hippo
Autobiography Of St. Teresa Of Avila, Saint Teresa of Avila
Way of Perfection, Saint Teresa of Avila
Dark Night of the Soul, Saint John of the Cross, Kindle Edition
The True Devotion to the Blessed Virgin, by St. Louis De Montfort , or Audio CD.
Purgatory, and Hell; Fr. Schouppe, SJ
Story of a Soul: The Autobiography of St. Therese of Lisieux, Third Edition, Story of a Soul Catholic. There are eBook downloads , or Story of a Soul Catholic Audio Book CDs and downloads.
Authoritative Catholic Spirituality - The Guidelines To Keep
These books are more authoritative, more for priests and religious brothers and sisters who, especially for the Novice Master or Novice Mistress:
The Spiritual Life, Adolf Tanquerey - Comprehensive
The Glories of Mary, Saint Alphonsus De Ligouri
3.D. Deepest Catholic Spiritual Reading And Vocations
Next?
Ask your pastor or confessor.
Perhaps you have a vocation? A priest can often direct you to an order that will match your interests and talents. Follow his advice and pursue God's Will.
Also, there are frequently Benedictine, Dominican, Franciscan, and Carmelite Third Orders for the laity if you do not have a vocation to the priesthood or the religious life.
These are very helpful because you often receive advice from a spiritual director and often the whole group has meetings. In a way, you can live "in community" in just knowing that there are others striving for the same ideals.
4. Catholic Lives of the Saints
Again, I want to remind you to begin your Catholic spirituality by praying the Rosary daily.
Next after formative books, yet also at the same time, comes reading about Catholic saints.
There are spiritual warfare type prayers after the thinking of Saint Ignatius of Loyola and his excellent Ignatian Retreats.
There are also many inspirational Catholic books, but our favorites are those that simply tell the stories of Catholic saints. The saints stories bring the catechism and various spiritual rules to life. They make being holy seem more possible and way more interesting.
I'd avoid the books that emphasize how bad saints were before their conversions that don't also explain what was bad and how the conversion came, or stories that end abruptly with little edifying material, especially for children. The whole idea is to find the model of sanctity to imitate, not to become immersed in the bad details.
Do you know the life of your patron saints? Often this is the best place to start your Catholic spiritual reading.
This list has some of my favorites lives of the saints:

Be certain to seek the counsel of a good Catholic priest if you are following a vocation or a serious path in the Way of Perfection. 

5. Easy Way To Begin Catholic Spirituality

Learn The Truth Easily
Our hope is that our site helps you to find the shortcuts to learning about Catholic spirituality.
If you thought that Catholic spirituality means learning to be a Catholic, you were right.
It is the Way of Perfection. Being a good Catholic is prerequisite to being holy.
Are you receiving the sacraments of Penance and Holy Eucharist regularly? 
Are you baptized and confirmed? 
Are you praying and practicing the virtues? 
If not, this page is designed to give you some good ideas.
The Roman Catholic Church is the Church of Jesus Christ. After the Fall, God prepared His creation for the Incarnation of His Divine Son and its Redemption by Jesus' Passion and Death. He rose from the dead to prove that all scriptures spoke of Him; that He is the Son of God, as foretold by Isaias and Daniel.
Jesus gave the keys to the Kingdom to Peter, and Peter went to Rome. The Seat of Peter is in Rome to this day, it was his diocese. This is why our Church is called Roman. (Never mind some of the chaos you see in the Church. She will always have bad clergy and other members, even the Pope. Keep your eyes on Jesus and Heaven.)
This page is just a simple start; yet there is so much more that can be learned about Catholic spirituality. Begin by praying and then reading one book at a time.
Why include a catechism? Every Roman Catholic catechism teaches the basic Catholic spirituality. Each has a similar outline and is also the basis of Catholic spirituality. 
You can use our own audio recordings of the basic questions and answers if you are studying to be received into the Church.
Note: Why do we specify Roman on our website? We need to be specific since there are many sites that offer a watered down version of the Faith as if they do not even want to use the term Catholic, much less Roman Catholic. There are also other denominations who use the term Catholic and one must differentiate so as to be sure to find specifically Roman Catholic spiritual reading.

Digital Baltimore Catechism Communion and Confirmation ebooks, worksheets, and coloring downloads.
Remember Dear Christian
This is an excellent reminder from the Redemptorists:
You have but one soul to save,
One God to love and to serve,
One eternity to expect,
Death will come soon,
Judgment will follow,
And then,
Heaven or Hell forever!
- The Redemptorists -
We keep you in our prayers and request that you say a prayer for us.
God bless!
See more Catholic spiritual reading on these pages:
Audio Baltimore Catechism, Catholic Worksheets, Catholic eBooks, and Catholic Coloring Pages:
Catholic catechism resources for your Roman Catholic catechism class, Faith formation, Catholic homeschool, religious education, or Sunday school lessons. Save on bundles!
Order our Baltimore Catechism worksheets. Choose your favorite fonts, colors, and SIZES on our fillable digital interactive worksheets and coloring pages. Paperless or printable.
Baltimore Catechism Communion single or bundled downloads: audio, ebooklet, and digital worksheets for kids and adults. Verbatim text in all formats. 
Audio Communion Recording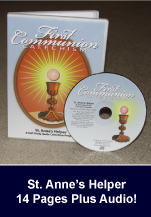 Audio Baltimore Catechism No. 1 questions and answers for First Communion
First Communion Worksheets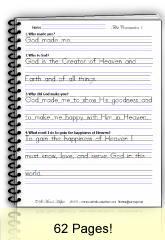 Baltimore Catechism No. 1 worksheets for First Communion: eCopybooks With Cursive Writing Practice
First Communion eBooklet to Print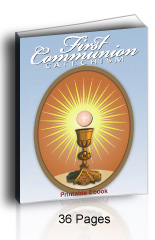 Printable Baltimore Catechism No. 1 Questions for First Communion Ebook
Catholic Coloring Pages To Print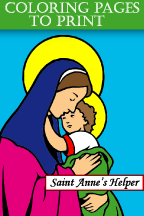 Catholic Catechism Coloring Pages For Saints and Liturgical Calendar