Trustworthy Catholic Homeschool Books
FTC Disclosure: I show products I think will help. Buy through my links I may earn ad commissions at no extra cost to you.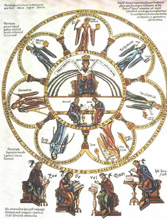 My favorite of all Catholic homeschool books, especially as a "how to find and use manual" is Laura Berquist's Designing Your Own Classical Curriculum.
She not only lists many homeschool books to use for academics, she also lists a great way to use them. She shows how you can use "real books" rather than text books. This concept alone is worth the price of the book.
You will especially love it if you find that most text books have an agenda that you want to spare your children. Theoretically it's a "do not pass go" book. It can give you ideas you'll use the rest of your life.
Homeschool Books And Lesson Plans 
For those of us who are new to homeschooling it is good to have a list of providers that have put together complete Catholic homeschool programs. At the beginning it is very good to use their boxed lesson plans.
Why?
Well, the lesson plans are like homework assignments.
They not only tell your children which assignments to finish in which time frame, they also, and importantly, tell them which pages to skip. Some warn you, the teacher or parent, of problematic information in the books.
Sometimes text books have odd exercises or too many exercises, and it is good to use the time tested wisdom and experience of the Catholic homeschooling companies to sort the good from the bad or the "too much" from the "too little".
Many homeschool lesson plans offer book lists for extra reading and activities to enhance learning certain subjects. These are hard to find if you do not know they exist ahead of time.
As you grow through homeschooling your first years, you will begin to have a feel for not only what is truly Catholic, but also what works for your family and your individual children.
You'll find lesson plans and many good Catholic books at:
What's truly exciting is to find unequivocally good Catholic books where the only lesson plan necessary is "to turn to the next page"! The purpose of this page is to show you where to find these treasures.
This page recommends many Catholic providers of homeschool books in a long list below. You'll appreciate the good advice and short cuts these providers offer. 
Go to my favorite homeschool reading books per grade here.
If you're just beginning, Laura Berquist's lists can save you time and money through years of researching and buying books. "Get the idea" and input your own books.
Laura Berquist And Catholic Homeschool Books
Reliable Catholic Homeschool Books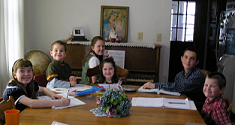 You'll find that the most reliable Catholic homeschool books are based on the Roman Catholic beliefs as found in the Douay-Rheims Bible and the old Baltimore Catechism. You'll find that if a book passes this litmus test it's a good book
If a book uses quotes from the Douay-Rheims Bible it is likely to be a very good Catholic book - especially if it was written in the late twentieth century when authors knew to discern between the many Bibles that claim to be Catholic. My favorite sources are Lepanto Books at OLVS, TANBooks, and Baronius Press.
There are certain Bible quotes that stand out as helpful indicators. Double check the chapter and verse when it is given. See indicative Catholic Bible quotes here.
In general my favorite homeschool books are:
The question is, "Where do I find these good Catholic Homeschool books?"

Our Favorite Catholic Book Providers 
Lepanto Press At OLVS
Lepanto Press is a Catholic book publishing company that has been noted for using the old Baltimore Catechism and reprinting old Catholic books and textbooks. 
They have published their own original copybooks with theme based content.
Their Catholic homeschool curriculum also has lesson plans available.

Here is what they say: "From the beginning, OLVS stressed Religion as the common thread throughout the curriculum, with an accent on the history of the Church. We have also emphasized the importance of good Catholic literature, and we are revising our Music program to teach young children the appreciation of Folk, Classical, and Sacred Music, including polyphony and chant."
Catechism and Religion Books

OLVS bases their Catholic religion books on the 1885 Baltimore Catechism and has reprinted the Living My Religion series for elementary school. Your children will love the sweet drawings and you will love the good content. These can be used as a grade level reader series for the first few years.

Catholic History and Literature Books

My favorite books at OLVS are the new Catholic history and literature "real books". Start by seeing their El Cid and Saint Fernando III by James Fitzhenry. They have lesson plans for each of his books, too.

Lepanto Math Workbooks

Their K-3 Math is now in excellent workbook form. All the best features of the old books they used to use are combined into handy and comprehensive Lepanto Math Workbooks. Our youngest child had better work than four other math books we tried.
Our Lady of Victory School still uses Saxon Math for 5th-12th grade. I want to mention that the homeschool Saxon math books are worth their weight in gold. They're so much easier to use than the old hard bound books, especially since the Lesson numbers are included next to each problem for easy reference.
Handwriting Practice Books

They have lovely handwriting books that cover Catholic themes and coordinate with their spelling and other books, so that each year has complementary reinforcement.

Homeschool Science Books

OLVS uses many of the same science books as other Catholic homeschools. The main thing you'll want to know is that many of the companies have audio CDs of the text books. This is super handy for those students who find it hard to read an 8x11x2" book. There are also journals and lab related resources.
Find Lepanto at Our Lady of Victory School:
Lepanto Press
421 S. Lochsa Street
Post Falls, ID 83854
208-773-7265

www.olvs.org
Our Lady of Guadalupe Monastery
Our Lady of Guadalupe Monastery offers an excellent supply of unusual Catholic homeschool books highlighting Benedictine spirituality.
They have excellent selections for the study of Latin and calligraphy that we have not seen anywhere else. They are now also a Catholic book publishing company! Their website has a PDF of their catalog that is well worth the manual request. They are also happy to take your order by phone.
Their book list is well focused and has many rare finds.
Our Lady of Guadalupe Monastery
142 Joseph Blane Road
Silver City, New Mexico, 88061-9799
575-388-9279

ourladyofguadalupemonastery.com

Catholic Vitality Publications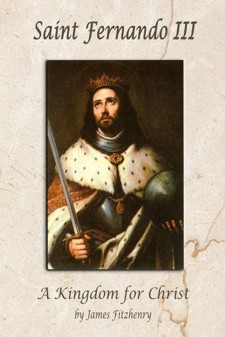 Catholic Vitality Publications is a Catholic family business that writes and sells great Catholic literature. Their original art tells the story in each of their Catholic Homeschool Books!
Here is what they say: "Catholic Vitality Publications is dedicated to bringing the Roman Catholic faith and traditions to children. Learning to Love God is a children's book with 49 beautiful color illustrations to inspire your child to a greater love of God!
See and order El Cid and Saint Fernando III, brilliant living history literature at Our Lady of Victory School! Breathtaking Catholic adventure in true historical settings teach the details like no textbook can!
El Camino Real Books & Gifts
El Camino Real has wonderful Catholic books, gifts, holy cards, and much more.
We found this company when we were searching for the The Catechism In Pictures (69 Large Full Color Plates).
El Camino's book publishing company has published the old De la Salle Readers, the crown in their book selection! I had not known that these were in print. They are excellent old Catholic books, a rare find! We love the pedagogy in the front of the books. A truly Catholic "McGuffy" reader set. We now have our own antique set!
They have many other good Catholic homeschool books as well.
Here is what they say: "El Camino Real is a Catholic book store dedicated to spreading and publishing classic traditional Catholic books for individuals, families, and home school families who want to learn more about the liturgy of the Holy Sacrifice of the Mass, Church doctrine, scripture, bible study, theology, apologetics, devotions, the saints, Catholic literature and the spiritual life."
El Camino Real
PO Box 84
Thompsons, TX 77481

lcaminoreal.com

Neumann Press (With TAN Books 2013)
Neumann Press is (was) a Catholic book publishing company that has excellent Catholic homeschool books, especially if you are using Laura Berquist's method or are unschooling.
They had a two book set for Homeschool advice in particular.
Some of the most precious books for children are at this site. They have republished Our Holy Faith Vol. 2, Jesus Comes which is the back bone of St. Anne's Audio First Communion Catechism and Catechism Copybook.
It is an excellent book with modest and delightful pictures to go along with some bible stories and the Baltimore Catechism. When Mr. Dennis McCoy died, TAN Books bought the company in 2013.
Here is what they said:
"The Neumann Press is named after Saint John Neumann, bishop of Philadelphia (1851 to 1860), the first man from the United States of America canonized by the Church. Our goal and primary purpose is to republish orthodox, traditional and classic Catholic books that have gone out of print."
Neumann Press
21892 County 11
Long Prairie, MN 56347
1-800-746-2521

TANBooks.com
TAN Books
Tan Books is another Catholic book publishing company that had made a phenomenal effort to republish truly excellent Catholic homeschool books, again, especially if you are using Laura Berquist's method or are unschooling.
My absolute favorite book on their whole list is A Practical Commentary On Holy Scripture. It combines the Bible and the catechism. Their Child's Bible History and Bible History book are very good too.

They also publish or sell excellent editions of the Douay-Rheims Bible, The Catechism of the Council of Trent, and the Catholic Daily Missal (makes a great "Thought for the day" book).
We have been grateful to use The Catechism of the Council of Trent with our high school children, it is plain spoken, easy to read, and one of our favorite Catholic Homeschool Books!
Read what they say: "TAN Books and Publishers was founded by Thomas A. Nelson in 1967, when the problems developing in the Church were clear and becoming more severe. Many Catholic publishers such as Benziger and Bruce were getting out of Catholic publishing. Mr. Nelson recalls that at age 30, after studying politics and world events, he concluded that the only way to turn around the political situation in the U.S. and the world was through spiritual means. He believed that if enough people were living in the state of grace and striving to do God's will, then, "for the sake of the elect," God would "run interference" for the just in the social and political arena, according to Proverbs 21:1: "The heart of the king is in the hand of the Lord: whithersoever he will he shall turn it."

We pray that his successors continue to glorify God in this way.
TAN Books & Publishers
PO Box 410487
Charlotte, NC 28241
800-437-5876
TAN's Definitive Catholic Catechisms and Doctrine
FTC Disclosure: I show products I think will help. Buy through my links I may earn ad commissions at no extra cost to you.
If you are not required to use the Baltimore, check out DeHarbe's Catechism at Amazon. The Small is for Communion preparation and the Large for the rest of us. No Wite-Out necessary. :-)
Catechism of the Bible, Douay Version (Amazon)
 A Practical Commentary On Holy Scripture combines the Bible and the catechism. I wish all books were this good.
Child's Bible History (elementary) and Bible History book (high school) are excellent for catechism class.
Catholic Homeschool Books: Catechism

There are different versions of the Baltimore Catechisms, so you do need to be aware of this; but in general most editions concur with each other.
St. Anne's Helper Catechism Catholic Audiobooks and Catholic Worksheets Copybooks use the Baltimore Catechism for First Communion and Confirmation. These Catholic audio books help make the effort of teaching and the effort of learning much easier, especially if you want your students to memorize the answers.
What's also nice is that they concur with any Catholic catechism course even those that use the New Saint Joseph First Communion Catechism and the Baltimore Catechism like
Here is a list of my favorite Catholic books for summer reading.
Order St. Anne's Helper Catholic ebook downloads here!
Adoremus Books
Tom at AdoremusBooks.com has taken down his website; yet in case he ever puts it back online and because they were good to carry our St. Anne's Helper First Communion and Confirmation Audio CDs, I'll keep this entry.
They offered a great variety of Catholic homeschool books of art, games, movies, music, and other educational resources for children and families and for Catholic homeschooling.
My favorite from their selection is Andrew Pudewa's IEW - Teaching Writing Structure and Style. This will take your writing classes from K-12. A real treasure for any writer, not just school children.
Here is what they said: "Adoremus Books (Latin for "Let Us Adore!") carries a broad selection of top quality books and resources designed to enrich your Catholic home from the Fathers of the Church to the great writers of today, Adoremus Books has something for everyone."
The Heldridge Family
Frederick Square Shopping Center
2992 S. 84th St.
Omaha, NE 68124
402-502-3162, or toll-free at 888-392-1973
Audio Baltimore Catechism, Catholic Worksheets, Catholic eBooks, and Catholic Coloring Pages:
Order Baltimore Catechism worksheets. Choose fonts, colors, and SIZES.
Use these printables in your Roman Catholic catechism class, Faith formation, Catholic homeschool, religious education, or Sunday school lesson. ~Mary Fifer

If you use the Baltimore Catechism, you'll love SaintAnnesHelper.com!
Thank you for visiting our Catholic homeschool books list.

Search Saint Anne's Helper Roman Catholic Catechism