Top of Saint Mary Magdalen Coloring
Saint Mary Magdalen Coloring Page
Honor Jesus in this Saint Mary Magdalen coloring page.
Did you realize that on Easter Sunday Saint Mary Magdalen saw Him in the garden when Peter and John did not! What a grace!
I did not realize this till I wrote this page! See more about her below the coloring sheet. 
This ad-free PDF prints 8.5x11" single sided.
Printable Saint Mary Magdalen Coloring Sheet
Disclosure: I show products that I think will help you. If you use my links, I may earn ad commissions at no extra cost to you. As an Amazon Associate I earn from qualifying purchases.
Saint Mary Magdalen Bible Quote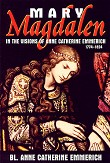 Buy Mary Magdalen At Amazon: Tan Books
I did not realize this, yet on reading the Gospel of John Chapter 20 I see that she saw and spoke to Jesus before the Apostles. Not only that, she'd seen and spoken to two Angels. What a sweet thought for meditation!
This is one of the manifestations of Jesus to His disciples. The first one is understood to have been to His Mother Mary as is only natural.
Here's the Douay-Rheims Bible quote that goes with this story:

John 20:1-18
20:1  And on the first day of the week, Mary Magdalen cometh early, when it was yet dark, unto the sepulchre:  and she saw the stone taken away from the sepulchre.
20:2  She ran therefore and cometh to Simon Peter and to the other disciple whom Jesus loved and saith to them:  They have taken away the Lord out of the sepulchre:  and we know not where hey have laid him.
20:3  Peter therefore went out, and the other disciple:  and they came to the sepulchre.
20:4  And they both ran together:  and that other disciple did outrun Peter and came first to the sepulchre.
20:5  And when he stooped down, he saw the linen cloths lying:  but yet he went not in.
20:6  Then cometh Simon Peter, following him, and went into the sepulchre:  and saw the linen cloths lying,
20:7  And the napkin that had been about his head, not lying with the linen cloths, but apart, wrapped up into one place.
20:8  Then that other disciple also went in, who came first to the sepulchre:  and he saw and believed.
20:9  For as yet they knew not the scripture, that he must rise again from the dead.
20:10 The disciples therefore departed again to their home.
20:11 But Mary stood at the sepulchre without, weeping.  Now as she was weeping, she stooped down and looked into the sepulchre,
20:12 And she saw two angels in white, sitting, one at the head, and one at the feet, where the body of Jesus had been laid.
20:13 They say to her:  Woman, why weepest thou?  She saith to them: Because they have taken away my Lord:  and I know not where they have laid him.
20:14 When she had thus said, she turned herself back and saw Jesus standing:  and she knew not that it was Jesus.
20:15 Jesus saith to her:  Woman, why weepest thou?  Whom seekest thou? She, thinking that it was the gardener, saith to him:  Sir, if thou hast taken him hence, tell me where thou hast laid him:  and I will take him away.
20:16 Jesus saith to her:  Mary.  She turning, saith to him:  Rabboni (which is to say, Master).
20:17 Jesus saith to her:  Do not touch me:  for I am not yet ascended to my Father.  But go to my brethren and say to them:  I ascend to my Father and to your Father, to my God and to your God.
20:18 Mary Magdalen cometh and telleth the disciples:  I have seen the Lord; and these things he said to me.
The Feast of Saint Mary Magdalen: July 22
Pictorial Lives Of The Saints Stories
From Pictorial Lives of the Saints, with Reflections for Every Day in the Year (Amazon), from Butler's Lives. Imprimatur, 1878.

Disclosure: I show products that I think will help you. If you use my links, I may earn ad commissions at no extra cost to you. As an Amazon Associate I earn from qualifying purchases.
Penitent Mary Magdalen
Of the earlier life of Mary Magdalen we know only that she was "a woman who was a sinner." From the depth of her degradation she raised her eyes to Jesus with sorrow, hope, and love.
All covered with shame, she came in where Jesus was at meat, and knelt behind Him. She said not a word, but bathed His feet with her tears, wiped them with the hair of her head, kissed them in humility, and at their touch her sins and her stain were gone.
Then she poured on them the costly unguent prepared for far other uses ; and His own divine lips rolled away her reproach, spoke her absolution, and bade her go in peace.
Thenceforward she ministered to Jesus, sat at His feet, and heard His words. She was one of the family "whom Jesus so loved'' that He raised her brother Lazarus from the dead.
Once again, on the eve of His Passion, she brought the precious ointment, and, now purified and beloved, poured it on His head, and the whole house of God is still filled with the fragrance of her anointing. 
Christ Appearing To Mary Magdalen In The Garden
She stood with Our Lady and St. John at the foot of the cross, the representative of the many who have had much forgiven.
To her first, after His blessed Mother, and through her to His apostles, Our Lord gave the certainty of His resurrection; and to her first He made Himself known, calling her by her name, because she was His.

Mary Magdalen In Penitence
When the faithful were scattered by persecution the family of Bethany found refuge in Provence. The cave in which St. Mary lived for thirty years is still seen, and the chapel on the mountain-top, in which she was caught up daily, like St. Paul, to "visions and revelations of the Lord." 

When her end drew near she was borne to a spot still marked by a "sacred pillar," where the holy Bishop Maximin awaited her; and when she had received her Lord, she peacefully fell asleep in death. 
Reflection.—"Compunction of heart," says St. Bernard, "is a treasure infinitely to be desired, and an unspeakable gladness to the heart. It is healing to the soul; it is remission of sins; it brings back again the Holy Spirit into the humble and loving heart."
The feast of Saint Mary Magdalen is July 22.

See these related coloring pages for your church or school:
Audio Baltimore Catechism, Catholic Worksheets, Catholic eBooks, and Catholic Coloring Pages:
Catholic catechism resources for your Roman Catholic catechism class, Faith formation, Catholic homeschool, religious education, or Sunday school lessons. Save on bundles!
Order our Baltimore Catechism worksheets. Choose your favorite fonts, colors, and SIZES on our fillable digital interactive worksheets and coloring pages. Paperless or printable.
Baltimore Catechism Communion single or bundled downloads: audio, ebooklet, and digital worksheets for kids and adults. Verbatim text in all formats. 
Audio Communion Recording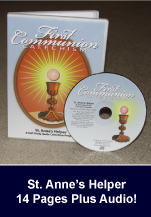 Audio Baltimore Catechism No. 1 questions and answers for First Communion
First Communion Worksheets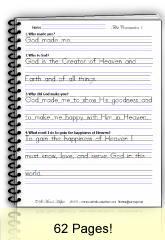 Baltimore Catechism No. 1 worksheets for First Communion: eCopybooks With Cursive Writing Practice
First Communion eBooklet to Print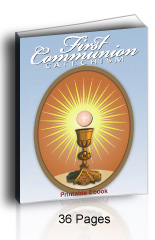 Printable Baltimore Catechism No. 1 Questions for First Communion Ebook
Catholic Coloring Pages To Print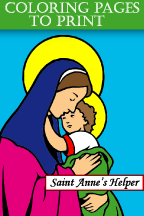 Catholic Catechism Coloring Pages For Saints and Liturgical Calendar