Saint Michael Prayer
And Coloring Page To Print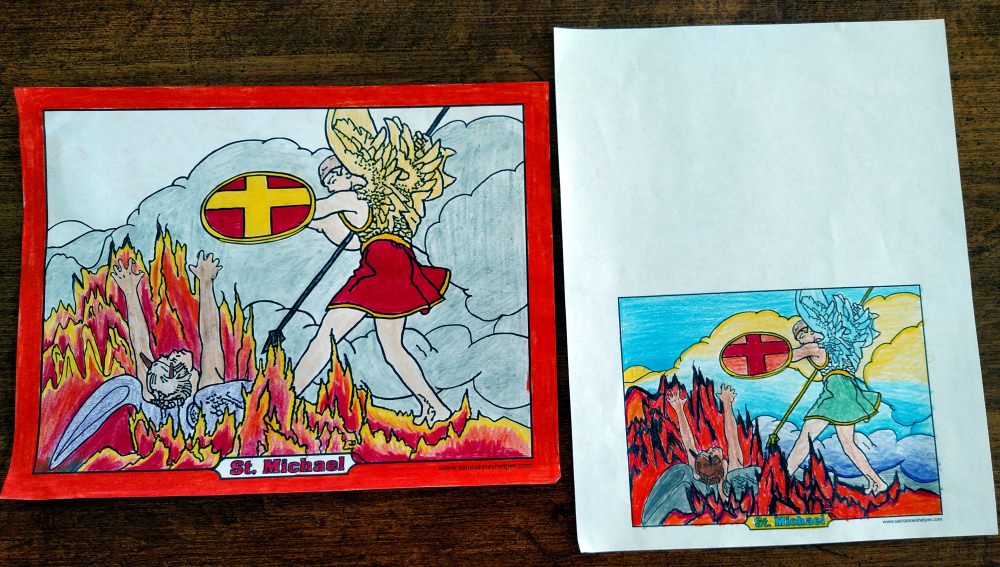 See the Saint Michael Prayer and a Saint Michael coloring page below. Happy feast of St. Michael!
St. Michael the archangel, defend us in battle.... See the Saint Michael Prayer below his coloring page. This coloring page has a picture of the Archangel Michael with sword and shield slaying the devil. This PDF prints 8.5x11" single sided.
Saint Michael Prayer: English and Latin
Prayer to St. Michael the Archangel recommended by Pope Leo XIII. Latin found in New Marian Missal, 1947:
English
Saint Michael the Archangel, defend us in battle, be our protection against the wickedness and snares of the devil. May God rebuke him we humbly pray; and do thou, O, Prince of the heavenly host cast into Hell Satan and all the evil spirits who prowl about the world seeking the ruin of souls. Amen.
Latin
Sancte Michael Archangele, defende nos in praelio, contra nequitiam et insidias diaboli esto praesidium. Imperet illi Deus, supplices deprecamur: tuque, Princeps militiae coelestis, Satanam aliosque spiritus malignos, qui ad perditionem animarum pervagantur in mundo, divina virtute, in infernum detrude. Amen.
---
Customize our interactive PDFs with your favorite fonts, colors, and SIZES.

Buy

 

Catholic Coloring Pages: Saints, Christmas, Easter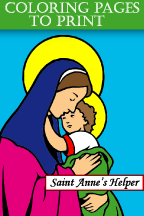 You will receive:
Over 200 printable Catholic coloring pages to print.
Plus 300: Christmas, Easter, animals, patriotic and more.
A wonderland of joyful modest pictures to use through the years.
Years of use.
Catholic Coloring Book Download  $6.98

---
---
See More Catholic Coloring Pages
---
Use printables in your Roman Catholic catechism class, Faith formation, or Sunday school lesson. ~Mary Fifer

If you use the Baltimore Catechism, you'll love SaintAnnesHelper.com!
---
---
See these related Catholic coloring pages: