Catholic Homeschool Curriculum Programs Can Ease Your Planning
* March Only! Free Saint Patrick Ebook Here.
Use interactive catechism worksheets with your favorite fonts, colors, and SIZES.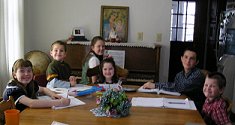 We are SO grateful the many Catholic homeschool curriculum programs there are today. There are so many shortcuts and improvements that did not exist at the turn of the century.
It is so much easier to teach children the Roman Catholic beliefs at home.

When we started homeschooling we looked for the resources that taught the Baltimore Catechism and used the Douay-Rheims Bible. They're so easy to trust and are the kind of Roman Catholic books that teach the Faith as it has lasted for 2000 years.

So many times it is nice to have a real opinion of the different curriculum available. We've used curriculum from each of these providers and think that you'll find some real treasures amongst these Catholic homeschool companies.
These next Catholic homeschool curriculum providers use the Baltimore Catechism to teach the Catholic beliefs and Catholic prayers. It's a bit of a litmus test for Catholic parents.  
There are more and more resources for Catholic homeschooling. It is a God-send to have help teaching the basic Catholic beliefs. Many of these resources were not available 30 years ago, so we extend our gratitude to the good souls who have developed these Catholic homeschool programs so that we have at hand a "homeschool curriculum in a box" or the ability to "pick and choose" the Catholic books we see fit for our families. Several are accredited homeschool programs.
Catholic Homeschool Curriculum Programs

Our Lady of Victory School
Our Lady of Victory also has an excellent Catholic homeschool curriculum and is noted for using the old Baltimore Catechism. See El Cid, St. Fernando III, and other Catholic books at Lepanto Press....

Seton Home Study School has an excellent Catholic homeschool curriculum and has totally rewritten many old Catholic textbooks into a more homeschool user-friendly format....


Kolbe Academy
Kolbe Academy uses the Baltimore Catechism to teach the Catholic beliefs in its homeschool curriculum. Saint Maximilian Kolbe is its patron saint. See its Catholic book store....

Mother of Divine Grace School "Mother of Divine Grace's home school curriculum is a particular application of Laura Berquist's recommendations in her book Designing Your Own Classical Curriculum...."
Our Lady of the Rosary School uses the book Jesus Comes to teach the Catholic beliefs which is the foundation book for St. Anne's Audio Catechism and Copybook for First Communion....
Catholic Heritage Curricula Here is their description: "Catholic Heritage Curricula publishes colorful and current texts for Catholic homeschooling families. CHC offers lesson plans, free curriculum, ...."
Catholicity has a variety of services that can be a great service to Catholic homeschoolers like the Catholic Encyclopedia (1914). See their "Best Catholic Links" an "Exclusive database hundreds of carefully screened links".
Disclaimer - Of course we are not able to research, and therefore endorse, every item from every one of these Catholic homeschool companies; yet we can endorse that each of them have many of our favorite resources. We also trust that the people who run these Catholic homeschool companies intend to teach the Faith well. You will have to make your own comparisons to Catholic principles, yet rest confident you have a great start with these Catholic homeschooling companies.
Order Audio Catechisms and E-Copybooks with PayPal! Hardgood Audio CDs and downloadable E-Audiobooks and E-Copybooks.

Audio Baltimore Catechism, Catholic Worksheets, Catholic eBooks, and Catholic Coloring Pages to Print:

If you use the Baltimore Catechism, you'll love SaintAnnesHelper.com!
Use our printables in your Roman Catholic catechism class, Faith formation, or Sunday school lesson; Pin a picture to remember Saint Anne's Helper; and share with family and friends on Facebook. Thank you so much!
~Mary Fifer

---