The Hail Holy Queen Prayer
The Hail Holy Queen Prayer
Teach The Prayers Of The Rosary
You can teach the Hail Holy Queen, with the Rosary or when studying about the prayers after Mass.
It is said at the end of the Rosary and is easy to learn with practice. Children learn it easily especially they pray the Rosary daily.
Our Rosary videos (links below) have the words printed so that you can say the prayers with the video even if you haven't learned the prayers yet.
Click on the image to color a picture of Mary, Queen of Heaven and earth.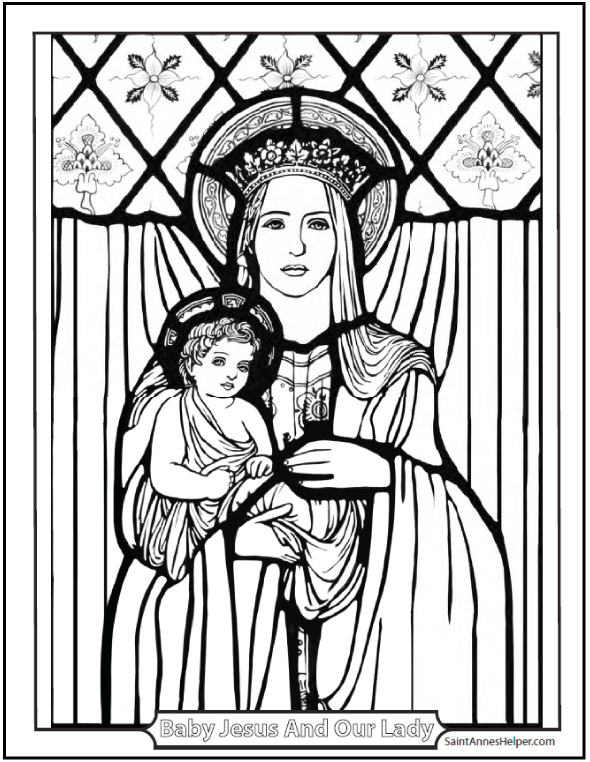 Hail Holy Queen!
Disclosure: I show products that I think will help you. If you use my links, I may earn ad commissions at no extra cost to you. As an Amazon Associate I earn from qualifying purchases.
The Hail Holy Queen Prayer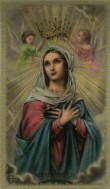 Hail Holy Queen
Catholics pray this prayer at the end of the Most Holy Sacrifice of the Mass during the prayers that Pope Leo XIII requested be added after the Last Gospel. They also pray it at the end of the Most Holy Rosary.
If God is the Creator of Heaven and earth, and if she is His Most Holy Mother, then it follows that she is the Queen of Heaven and earth. This prayer addresses her as Queen.
One of the best known Catholic hymns goes by this same title, too, and is sung on her feast days, May crownings, processions, and during the month of May and October at the Mass and other Catholic liturgical events.
New Saint Joseph Baltimore Catechism No. 1, p. 9
Hail Holy Queen! Mother of Mercy,
Our life, our sweetness, and our hope!
To thee do we cry, poor banished children of Eve.
To thee do we send up our sighs,
Mourning and weeping in this valley of tears.

Turn, then, most gracious Advocate, thine eyes of mercy toward us; and after this our exile show unto us the blessed fruit of thy womb, Jesus.
O clement, O loving, O sweet Virgin Mary,
Pray for us O Holy Mother of God,
That we may be made worthy
Of the promises of Christ. Amen.

Book of Catholic Prayers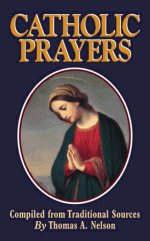 Catholic Prayers - TAN Books
"Catholic Prayers (Kindle TAN edition). This is probably the greatest little Catholic prayer book you will ever encounter because it has over 100 Traditional Catholic prayers and is comprised of 4 Parts or sections:
Part I contains the common prayers every Catholic should know by heart" like the Our Father Prayer and "over 25 including the Acts of Faith, Hope, Love and Contrition, plus numerous short invocations. 
Part II contains over 25 especially powerful prayers: to Our lady, St. Joseph, St. Anne, St. Jude, St. Philomena, St. Anthony, etc. 
Part III contains miscellaneous favorite prayers: e.g., Morning Offering, Prayers to Our Lady, to St. Joseph for Purity, to overcome a bad habit, for grace, the Te Deum, Consecration to the Holy Ghost, etc. 
And Part IV contains various other "favorite prayers," such as for a happy death, the choice of a state of life, for priests, Fatima Prayers, for safe delivery of a baby, for the dying, for the dead, for the Poor Souls, etc. 
For a small package, this little Prayerbook is dynamite, and should be carried by all!" 
List Of Catholic Prayers
Have you learned to pray these Roman Catholic prayers?
You might also like our:
Audio Baltimore Catechism, Catholic Worksheets, Catholic eBooks, and Catholic Coloring Pages:
Get Catholic catechesis resources for your Roman Catholic catechism class, Faith formation, Catholic homeschool, religious education, or Sunday school lessons. ~Mary Fifer
Order our Baltimore Catechism worksheets . Choose your favorite  fonts,  colors, and SIZES on our fillable digital interactive worksheets. Paperless or printable.
You may want to have each of these for your Baltimore Catechism Communion students: audio, ebooklet, and digital worksheets for kids and adults. Verbatim text in all formats. 
Audio Communion Recording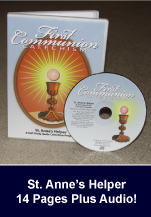 Audio Baltimore Catechism No. 1 questions and answers for First Communion
First Communion Worksheets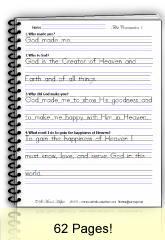 Baltimore Catechism No. 1 worksheets for First Communion: eCopybooks With Cursive Writing Practice
First Communion eBooklet to Print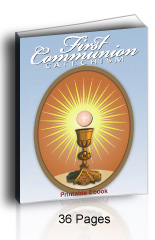 Printable Baltimore Catechism No. 1 Questions for First Communion Ebook
Catholic Coloring Pages To Print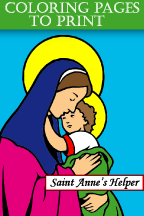 Catholic Catechism Coloring Pages For Saints and Liturgical Calendar