Glory Be To The Father
The Glory Be Prayer
Catholics use the Glory Be prayer daily, in the Mass, the Rosary, novenas, and other devotions.
There's hardly an easier prayer to learn and there's hardly one that gives more glory to God, especially to God as the Holy Trinity.
It is the main prayer that Our Lady prayed when she appeared in the grotto to St. Bernadette of Lourdes in France.
Generally, families that say their daily Rosary have already taught this prayer to their children since you say it at the end of every decade of Hail Marys.
It's actually fun to teach to children because of its poem like rhythm.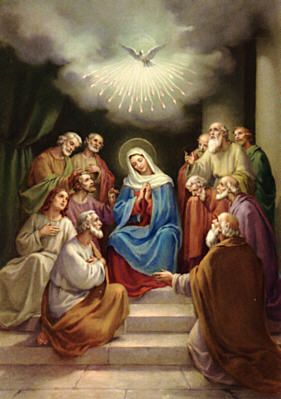 Glory Be to the Father, and to the Son, and to the Holy Ghost....
Glory be to the Father,
And to the Son,
And to the Holy Ghost,
As it was in the beginning,
Is now, and ever shall be world without end. Amen.
Practice Handwriting Copying the Glory Be
Manuscript & Cursive Writing Worksheets
Print these sample Hail Mary worksheets below. The First Communion copybook (from the Baltimore Catechism No. 1) comes with both manuscript and cursive writing as does the Confirmation copybook (from the Baltimore Catechism No. 2). You can print all three.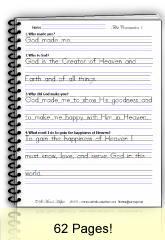 First Communion Manuscript Sample
1. Who made you?

First Communion Manuscript and Cursive Worksheets
 Download - $14.98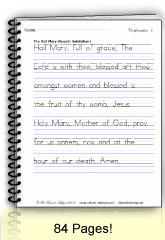 Confirmation Manuscript Sample
Hail Mary Prayer

Manuscript/Cursive Copybook and Bonus Quizzes 
Download - $14.98
---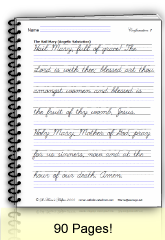 Confirmation Cursive Writing
Hail Mary Prayer

Manuscript/Cursive Copybook and Bonus Quizzes 
Download - $14.98
---
Go to more info: First Communion and Confirmation copybooks.
Catholic Cursive Writing Worksheets
Catholic Sunday School Worksheets: Printing Ideas
You can print these worksheets in several sizes depending on the grade level of your students. Small children sometimes do well with larger fonts, yet older students love the small small font. Small, medium, large. Your choice.
1. Full Sized Worksheets: Simply print full sized and double sided if you'd like to save paper. This is great for first, second, and third grade catechism work. Awesome preparation for a Catholic Confirmation quiz.
K-2 Large Font Cursive Writing Worksheets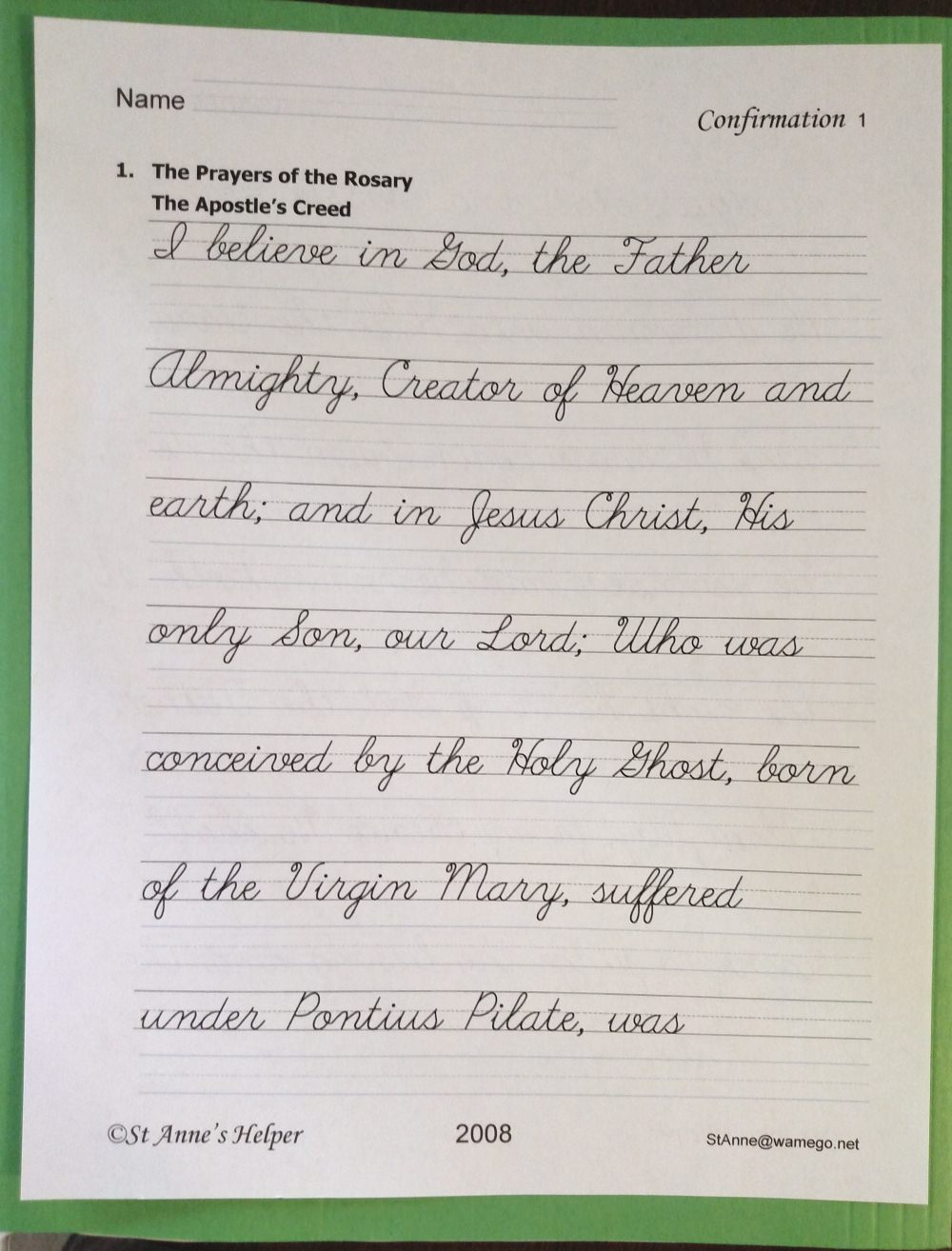 Baltimore Catechism Worksheets: Large Font printed full sized.
3rd Grade Medium Cursive Writing Worksheets Booklet Or Multiples
2. Booklet: Your older children will love this as handwriting practice if you print the download as a booklet. Great for third through eighth grade penmanship. Use thin paper because 23 pieces of paper is hard to fold and staple. You can also sew or zip-tie these together.

Multiples: Print two-up for middle school handwriting practice size. See below.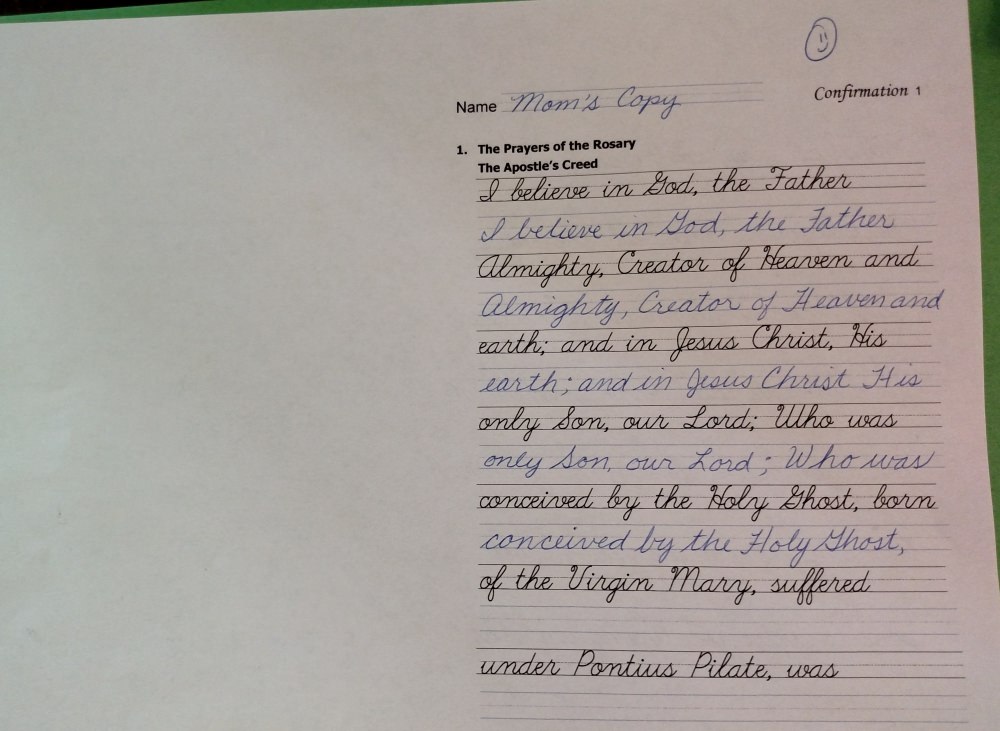 Baltimore Catechism Worksheet: Medium font, booklet setting or print two-up.
7th & 8th Grade Small Font Cursive Writing Worksheets For High School
3. Small Font Worksheets: You can also get your printer to print this download two-up so that the questions will be in consecutive order (ask me why I do that - it's so confusing to the children if the questions are in scrambled order on individual booklet sheets). You can chose Multiple, 2 by 1, horizontal, and landscape orientation for a middle school font.

4. Elegant High School Handwriting Worksheets: For even smaller print you can print these Multiple, 2 by 2, horizontal, and portrait orientation. This looks super elegant! Part of the secret of beautiful writing is control of the pen and a small size. 'Perfect for high school handwriting practice and saves ink and paper.
Both cursive writing and manuscript print.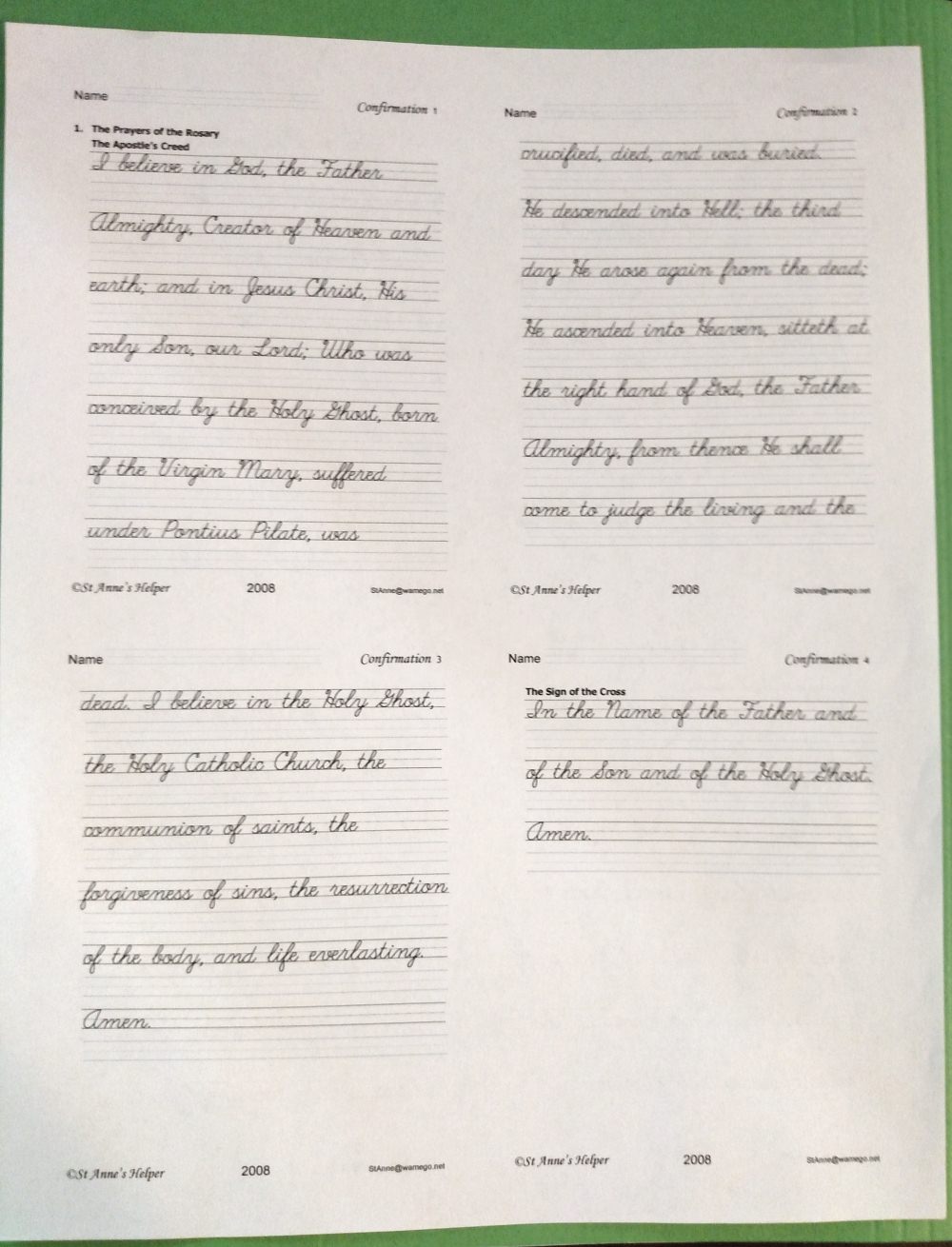 Baltimore Catechism Worksheets: Small font, print four up.
5. Typing Practice: You can also copy the text file to your students' computer files so they can practice typing.
What better than the Baltimore Catechism for learning to use the keyboard?

The Baltimore Catechism Version
The Glory Be prayer from the Baltimore Catechism is easy to learn. Your kids can also learn from the audio version in both the First Communion and the Confirmation catechisms.
Little kids like using head sets to concentrate on learning the prayer. 
You can set the Glory Be on repeat for them to learn it faster.
Confirmation students often already know this prayer from their daily Rosary.
Converts like being able to review while doing light chores or driving.
Disclosure: I show products that I think will help you. If you use my links, I may earn ad commissions at no extra cost to you. As an Amazon Associate I earn from qualifying purchases.
A Priest's Advice How To Say The Glory Be
You'll appreciate these words from a very old priest. He said that it is important to say the "and to the" phrases well so as to preserve the equality between the Three Persons in One God, the Blessed Trinity. The logic and grammar are important to the doctrine.
This also applies to making the sign of the Cross, too. Use care, remembering that God Himself is listening. 

The Glory Be is a statement of faith in the Blessed Trinity. It honors God as three Divine Persons in one Divine Nature.
Father, Son, And Holy Ghost
There are three Persons in One God: the Father, the Son, and the Holy Ghost. We attribute
Creation to God the Father, 
Salvation to God the Son - Jesus Christ, 
and Sanctification to God the Holy Ghost. 
Each time one acts, though all three are present and cooperating as One.
These are the basic facts about the Blessed Trinity that all your children should know as they prepare to receive the sacraments. 
Teaching The Glory Be Prayer
You can teach the Glory Be prayer in  both the First Communion and the Catholic Confirmation Catechisms which are available as Catechism Copybook Ebooks, Ebooklets, and audio recordings.
You can reprint as many as you would like.
The First Communion Catechism Copybook is available in beautiful Manuscript. 
The Confirmation Catechism Copybook is available in either beautiful Manuscript or beautiful Cursive writing - your choice! 
They can be spiral bound at an office supply store, printed on 3-holed paper to keep in a binder (our favorite way), or used as printable worksheets. See our order page here. 
Father, Son, and Holy Ghost Coloring Pages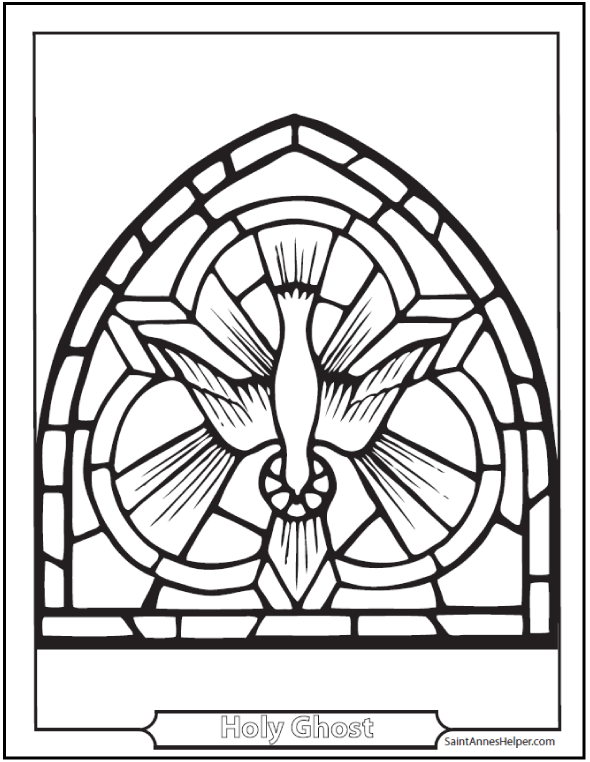 See and buy Glory Be to the Father, the Son, and the Holy Ghost Catholic coloring pages here.
More Holy Ghost coloring pages on our Confirmation symbols page.
Go to our main Catholic prayers page to see more or visit these:
More Prayers Of The Rosary
Audio Baltimore Catechism, Catholic Worksheets, Catholic eBooks, and Catholic Coloring Pages:
Catholic catechism resources for your Roman Catholic catechism class, Faith formation, Catholic homeschool, religious education, or Sunday school lessons. Save on bundles!
Order our Baltimore Catechism worksheets. Choose your favorite fonts, colors, and SIZES on our fillable digital interactive worksheets and coloring pages. Paperless or printable.
Baltimore Catechism Communion single or bundled downloads: audio, ebooklet, and digital worksheets for kids and adults. Verbatim text in all formats. 
Audio Communion Recording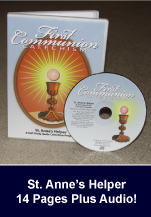 Audio Baltimore Catechism No. 1 questions and answers for First Communion
First Communion Worksheets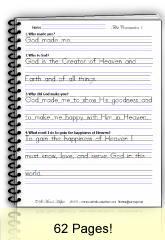 Baltimore Catechism No. 1 worksheets for First Communion: eCopybooks With Cursive Writing Practice
First Communion eBooklet to Print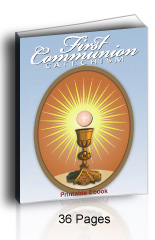 Printable Baltimore Catechism No. 1 Questions for First Communion Ebook
Catholic Coloring Pages To Print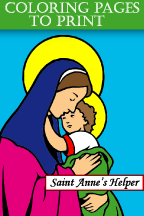 Catholic Catechism Coloring Pages For Saints and Liturgical Calendar