Prayers Before Communion
Coloring Sheet
Order Baltimore Catechism worksheets using your favorite fonts, colors, and SIZES.
This coloring page shows a girl saying her prayers before Communion. Maybe this is a modest wedding? It could be a girl with a Bible. This PDF prints 8.5x11" single sided.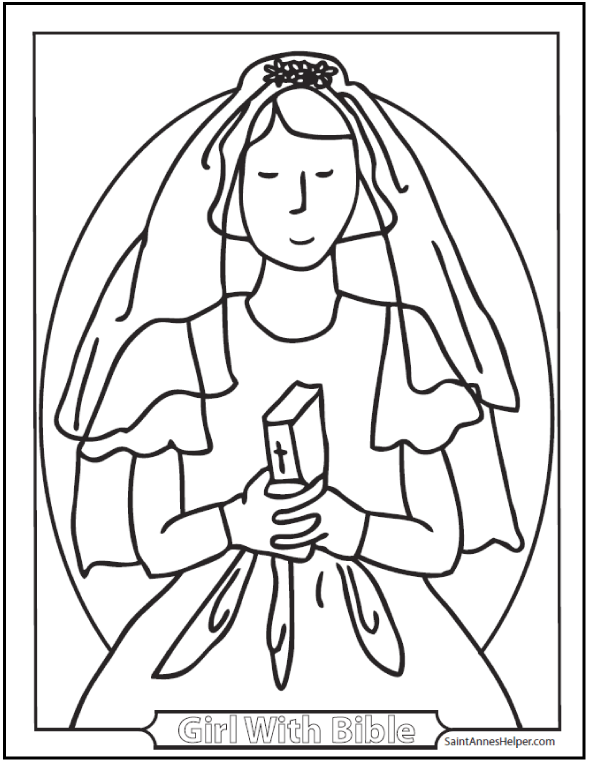 We can think of Jesus, Mary, and Joseph when we say our prayers before Communion.
Children's Prayers Before Communion
It is so nice to have short prayers memorized that we can pray before receiving Holy Communion. Remember to say the Act of Contrition at some point and then ask Jesus, Mary, and Joseph to help you.
1. Mary my Mother, help me to prepare my soul for the coming of Jesus.
2. Jesus, I believe that thou art truly present in the Host, and very soon, Thou shalt be truly present in my heart.
3. I am sorry for all my sins because I love thee and have saddened Thee. I will try not to sin again.
4. I love thee, Jesus; I love Thee with all my heart! I love Thee above all things, and I would like to love Thee more!
5. Come, my Jesus, come to me! My heart is longing for Thee!
6. Mary, my Mother, welcome Jesus into my heart!
The Acts of Faith, Hope, and Charity are beautiful to pray before Communion.
See these related Catholic pages:
---
These downloads use the Baltimore Catechism No. 1 Communion questions for kids and adults. No subjective answers. :-)

---
---
See More Catholic Coloring Pages
Audio Baltimore Catechism, Catholic Worksheets, Catholic eBooks, and Catholic Coloring Pages:

If you use the Baltimore Catechism, you'll love SaintAnnesHelper.com!
Use printables in your Roman Catholic catechism class, Faith formation, or Sunday school lesson; Pin a picture to remember Saint Anne's Helper; and share with family and friends on Facebook. Thank you so much!
~Mary Fifer

---
---
---