St. Patrick's Day
Coloring Pages To Print
Order Baltimore Catechism worksheets using your favorite fonts, colors, and SIZES.
We found some of these wonderful St. Patrick's Day coloring pages in pictures from a glorious old book on Saint Patrick, St. Patrick, Apostle of Ireland (1911).
St. Patrick is famous for his conversion of the Irish and for his description of there being three Persons in one God using the clover. A three leaf clover has three leaflets on one leaf. His description was close enough that they got the idea and we've used it ever since.
Did you know that St. Patrick knew St. Martin of Tours? this book tells of their many years together in a monastery.
The first set of printables below has four pages:
two coloring pictures from the book, one includes St. Martin
and two worksheets with the Irish Blessing, "May the road rise up to meet you..." 
The other two icons link to individual coloring pages. See more throughout this page.

St. Patrick's Day Coloring Pages and Short Irish Blessings
Page 2: Saints Patrick and Martin Coloring Page
Page 3: Short Irish Blessing
Print the traditional Irish Blessing as a poster. Kids love to color the words. Go heavy with green. :-)
Page 4: Printable Irish Blessing Poem
Irish Blessing Worksheet - copy the traditional Irish Blessing as a handwriting worksheet. There's room to draw a picture, too.
The Old Irish Blessing handwriting worksheet.
More St. Patrick's Day Coloring Pages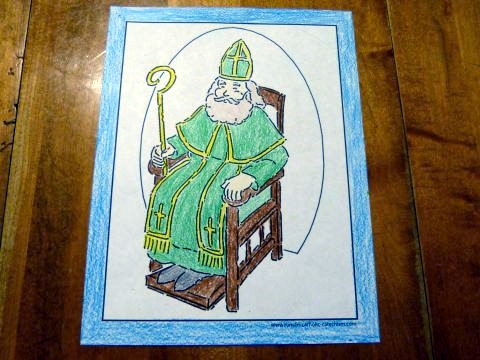 Saint Patrick coloring page or color it for any bishop.
Feast of St. Patrick
Use these coloring pages on the Feast of St. Patrick or for children who are named after St. Patrick as on their birthdays. They're great for realizing that the basis for St. Patrick's Day is the Catholic faith not a party with leprechauns. :-)
St. Patrick's feast day is March 17 and is a holy day of obligation in Ireland. See a chart of holy days of obligation by country.
St. Patrick History Ebook
I've got to repeat, I love this quote from the book St. Patrick, Apostle of Ireland:  "In this way God's name and Patrick's were once more magnified." as it explains some of the many marvels that are told in the story.
It was written in (1911) and has beautiful pictures! Includes Archbishop Healy's "Life and Writings of St Patrick", "Legend of Saint Patrick - Confession of St Patrick".... See the download of the best Saint Patrick History here.
St. Patrick, pray for us!
---
See these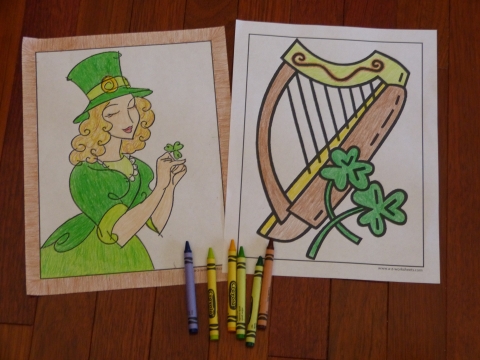 More St. Patrick's Day Coloring Pages are in our Catholic Coloring Pages Download
---
* St. Anne's Helper Catholic Coloring download has a treasure trove of traditional PDF printable coloring sheets.
* Over 200 specifically Catholic pictures.
* 300+ other fun coloring pictures of animals, seasons, patriotic, Easter and Christmas.
* All grouped in files for your convenience and all interactive.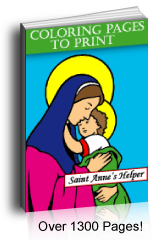 Catholic Coloring Book Download
Catholic Coloring Book Download  $6.98
---
If you use Baltimore Catechism books No. 1 and 2 for Communion or Confirmation, you will like using our SaintAnnesHelper Baltimore Catechism Worksheets! 
Audio Baltimore Catechism, Catholic Worksheets, Catholic eBooks, and Catholic Coloring Pages:

If you use the Baltimore Catechism, you'll love SaintAnnesHelper.com!
Use printables in your Roman Catholic catechism class, Faith formation, or Sunday school lesson; Pin a picture to remember Saint Anne's Helper; and share with family and friends on Facebook. Thank you so much!
~Mary Fifer

---
---
---
Home

›
Coloring
› St Patrick Day Coloring Pages