Catholic Confirmation Symbols:
Holy Ghost, Pentecost, Bishops
Catholic School Bundles: Catechists, Teachers, and Parents

You'll love the following Catholic Confirmation symbols for Confirmation or to teach little ones about the Holy Spirit and Pentecost. You can also click on the images below for free coloring sheets to print your own custom coloring book for younger students who are learning about the sacrament of Confirmation. 
The Holy Ghost is a spirit so He is tricky for some children to imagine, so the Catholic church has always used symbols to teach about Him. Here's an example.
Save money! First Communion, Confirmation, and coloring bundles 16%-30% discount.
Disclosure: I show products I think will help you. If you use my links, I may earn ad commissions at no extra cost to you. As an Amazon Associate I earn from qualifying purchases.
The wind is a classic symbol of the Holy Spirit. We can not see the wind, yet we can see its work. In a similar way we cannot see the Holy Spirit, yet we can see His work sanctifying the saints of all ages. 
The same goes for the image of a cloud or water. Children easily see how He rains down graces from Heaven. See our Holy Ghost symbols below.
Catholic Confirmation Symbols
Confirmation Symbols: Holy Ghost
The Holy Spirit is often depicted as a dove and as the tongues of fire over the Apostles and Mary at Pentecost are symbols of Confirmation since these symbols are taught in Confirmation: "The symbols of the Holy Ghost are: 
Dove, 
Oil, 
Cloud, 
Water, 
Fire.

If you use the Baltimore Catechism, you'll love SaintAnnesHelper.com! Digital Communion and Confirmation ebooks, worksheets, and coloring downloads.
Buy Our Saint Anne's Helper Ad-free PDF Catholic Coloring Pages to Print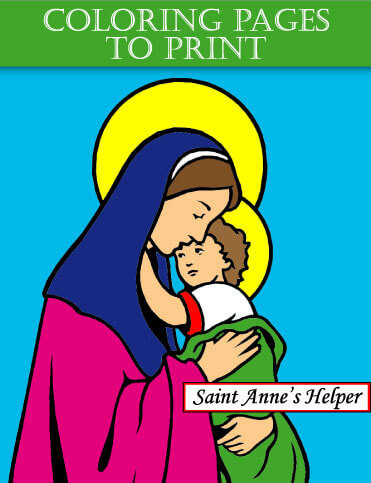 Catholic Confirmation Coloring Sheets
Catholic Bishop Coloring Pictures
Saint Patrick and Saint Nicholas were bishops, too, so these next pictures of Bishops are also great for their feast days on March 17 and December 6.
See more Bishops on our Saint Patrick's Day coloring pages here.

Catholic Confirmation Symbols: Blessed Trinity
Symbols of the Blessed Trinity can be hard to find on the internet - especially those that are both copy right free and respectful can be hard to find.
A symbol of the Blessed Trinity is a shamrock. 

There are others as with the triangle.
There are two Trinity Knots on one of our other websites in section 3 of this page at ColorWithFuzzy's Celtic coloring pages here.
God the Father is the Creator. (See our Creation coloring sheets here.)
God the Son is the Savior.
God the Holy Ghost is the Sanctifier.
The color red is symbolic of Confirmation so sometimes girls will wear dresses that have the color red, boys may wear a red tie, and some decorations at home can be done in red. Remember to include the five symbols of the Holy Ghost: a pure white dove, oil or Holy Chrism, a cloud, drops of water, and flames of fire. You can make a mobile with these symbols to hang as a center piece and keep for all your Confirmation events.
You might also like our Descent of the Holy Ghost pictures with our Rosary coloring page as it is also the Third Glorious Mystery of the Rosary. This is also a great collection for the feast of Pentecost, fifty days after Easter.


If you use the Baltimore Catechism, you'll love SaintAnnesHelper.com! Digital Communion and Confirmation ebooks, worksheets, and coloring downloads.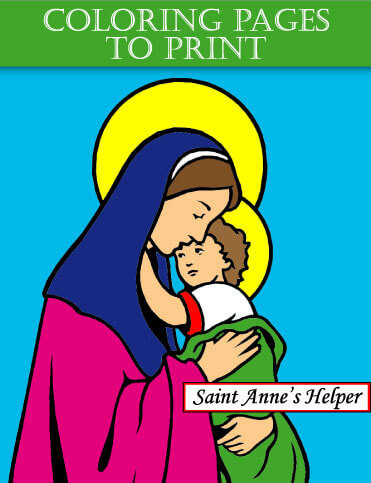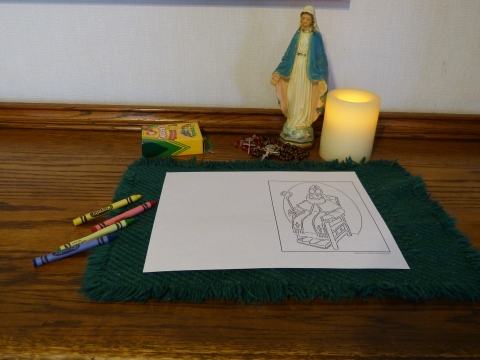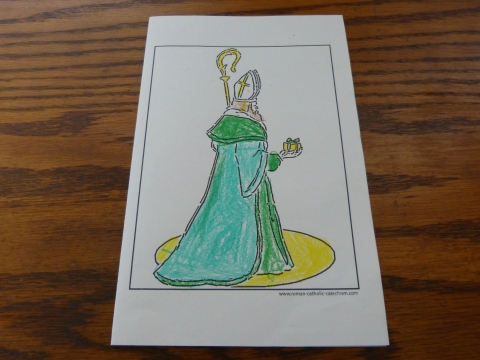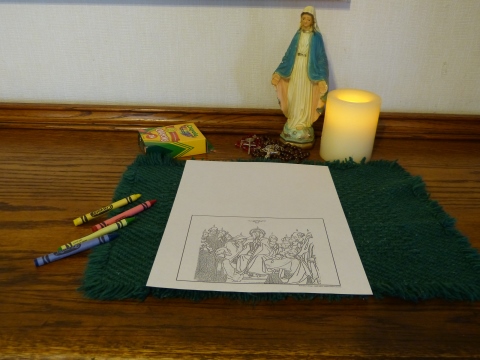 Ideas To Use With Our Catholic Coloring Pages
Since the stories around the Blessed Trinity cover the Incarnation of Our Lord Jesus Christ  as the second Person of the Trinity, you will like our Free Christmas Coloring Pages that can be used with our Confirmation symbols.
Printable Easter Coloring Pages can help you teach about the Redemption. Easter is the Resurrection of Our Lord Jesus Christ. He really rose from the dead by His own omnipotent power. It's the proof that our Catholic Faith is true.
Free Bible coloring pages make beautiful handmade gifts and instructive catechetical aids for religion class for Creation and the New Testament. Our free Rosary Coloring Pages are helpful for teaching little ones how to say the Rosary and they can learn about Pentecost with the Third Glorious Mystery, the Descent of the Holy Spirit.
You can use these symbols for other themes, too. Print coloring sheets as preschool activities, fun projects when friends come over, and creative busy work for busy hands while babysitting or visiting. Send these pictures with the children when they visit Grandma and Grandpa.
See these other St. Anne's Helper's products: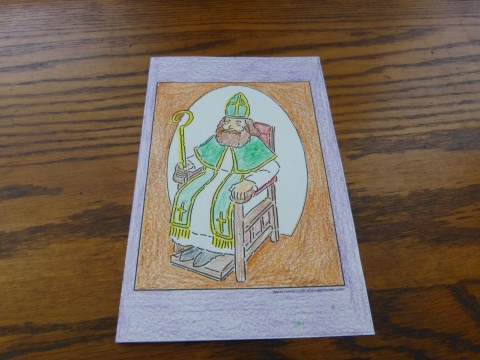 A Bishop confirms us at Confirmation.